This post about baby's firsts has been brought to you by Pampers. All opinions are mine.
Baby Brother is our third child, but yet, everything seems brand new all over again. It has been amazing to me that we are still sometimes confused about what to do and how much we have forgotten since D was a newborn…just three years ago! I'm also pleasantly surprised that all of Baby Brother's firsts are so special. I was worried that he would have "third child syndrome" but so far, I do believe he's getting more love and attention than the other two did. Probably because his brothers adore him so much!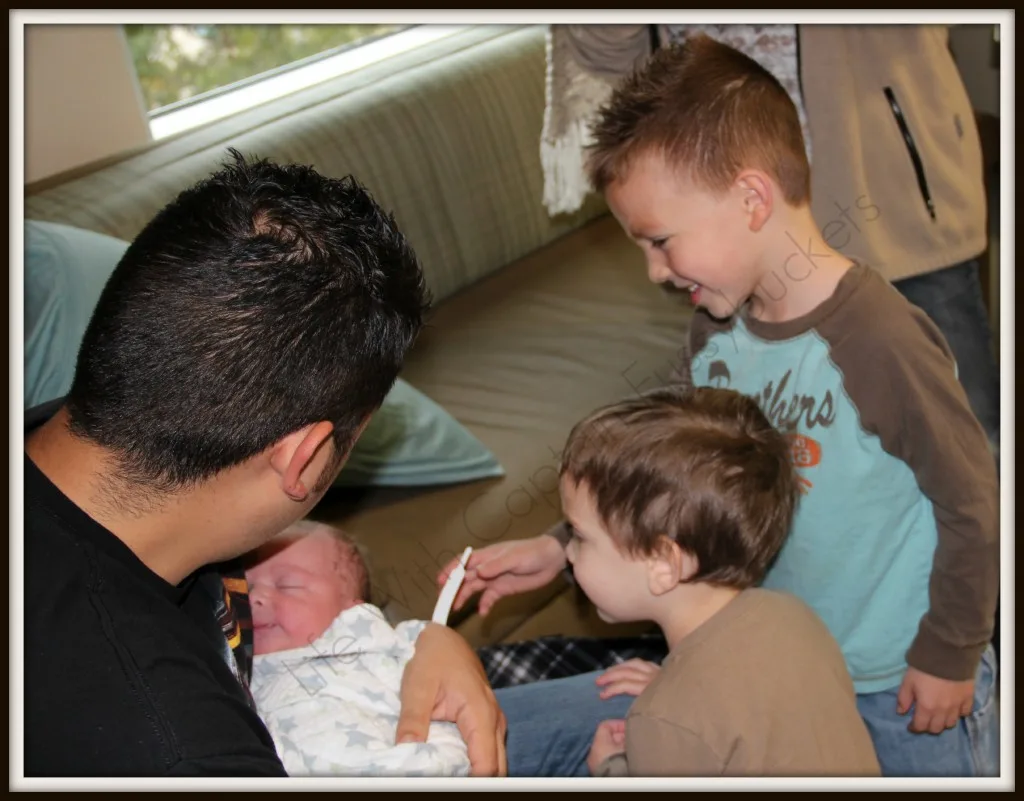 Baby Brother is just eight days old, but he has already had a few "firsts." His first breath, his first dirty diaper, first outing, and more. My favorite first of his, however, was the first time he met his older brothers and they met him, shown in the picture above. It was the first time we were all together as a new family and it was very sweet. The boys did not know what to expect, but they were very excited about their baby brother from the moment we told them we were expecting a new baby. I'm sure he didn't know what was coming either, but he has been showered with love and affection from his brothers….so far.
In the hospital, Baby Brother's first diaper was Pampers Swaddlers. It has been all of the boys' first diapers and while we do cloth diaper most of the time, it is definitely comforting to know that their first diaper was Pampers. Pampers has always been my favorite disposable diaper. They smell amazing, are dependable, and Pampers Swaddlers are Pampers' softest diapers ever, which is just what a newborn and mommy need. Swaddlers are now available through size 5, which I love! I was sad when the older boys grew out of their Swaddlers when they were babies.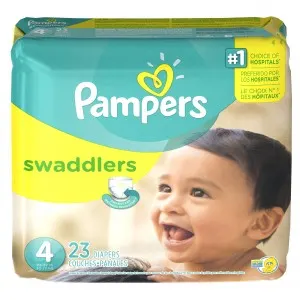 To celebrate all of Baby's Firsts and Swaddlers' new availability in sizes 4 & 5, Pampers has 30 days of awesome giveaways and a grand prize of FREE Swaddlers diapers and wipes for a year! Join the celebration and enter the 30 days of sweeps on the Pampers Facebook page.
The celebration continues with a fun Twitter party, too! The #SwaddlersFirst Twitter party will be on December 5th at 9 PM EST. RSVP here: http://twtvite.com/SwaddlersFirsts
Prizes that will be given away during the Twitter party include:
3- Celebrating Firsts Gift Packs, which include:
Baby's First Friend Plush Doll

Baby's First Tooth and First Curl Treasure Box

Baby's First Words Book

Baby's First Steps Push Toy

$50 Shutterfly Gift Card to celebrate all "firsts" moments

Baby's First Bath Robe

Pampers Swaddlers

Grand Prize: Canon EOS Rebel T3 DSLR camera worth $450!
To participate, follow your hosts @DoubleDutyDivas, @BridgetteLA, @CeceliaMecca @AngieKcom @WhatMommiesNeed @RamblingChick, and our sponsor @Pampers.
Here at Life With Captain Fussybuckets, you can enter to win your own Pampers Swaddlers Prize Pack that includes:
Baby's First Friend Plush Doll

Baby's First Tooth and First Curl Treasure Box

Baby's First Words Book

Baby's First Steps Push Toy

Pampers Swaddlers diapers
​To enter, simply complete at least one of the entries in the Rafflecopter form below. Giveaway will end on December 17th. Good luck!
Follow Pampers on Twitter and Facebook and check out the Pampers website, too.
This review was made possible by Double Duty Divas and Pampers. I was provided the featured product free of charge to facilitate my review, but all opinions are 100% mine.