This chocolate covered strawberry Mickey Mouse cereal bars was brought to you by Post cereals. All opinions are mine.
As a child, I always loved it when my mom made peanut butter cereal balls. They were SO good and would disappear very quickly. While these ARE delicious (especially with Malt O Meal Peanut Butter Cups!), I wanted to make a different cereal bar that wasn't focused on peanut butter so my littlest could enjoy it.
I picked up some Honey Bunches Of Oats with Real Strawberries cereal at Walmart because my husband LOVES it, but it was THE perfect cereal to make this recipe with! It turned out so delicious!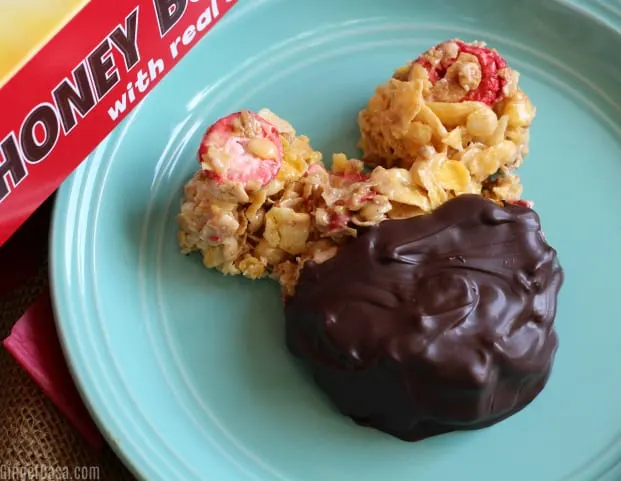 Chocolate Covered Strawberry Cereal Bars
Ingredients
1 package of marshmallows, 10 oz.
6 cups of Honey Bunches of Oats with real Strawberries
one container of milk chocolate melt wafers for dipping
3 TBSP butter or coconut oil
Directions
Melt butter or coconut oil over low-medium heat in a large sauce pan.
Add marshmallows and stir until completely melted.
Remove from heat.
Add in Honey Bunches of Oats with Real Strawberries cereal.
Stir until mixed well.
Spread cereal mixture onto a large piece of wax paper with a buttered spatula.
Let cool for about 15-20 minutes.
Using a Mickey Mouse cookie cutter, cut out individual pieces and set aside on a plate or piece of wax paper.
For best results, place Mickey Mouse cereal bars into the freezer for about 20 minutes to get firm.
Melt chocolate wafers according to package directions until smooth.
Dip each Mickey Mouse cereal bar into chocolate and set back on the wax paper to harden.
Serve and enjoy!