Cool Down With Easy Chocolate Slushies!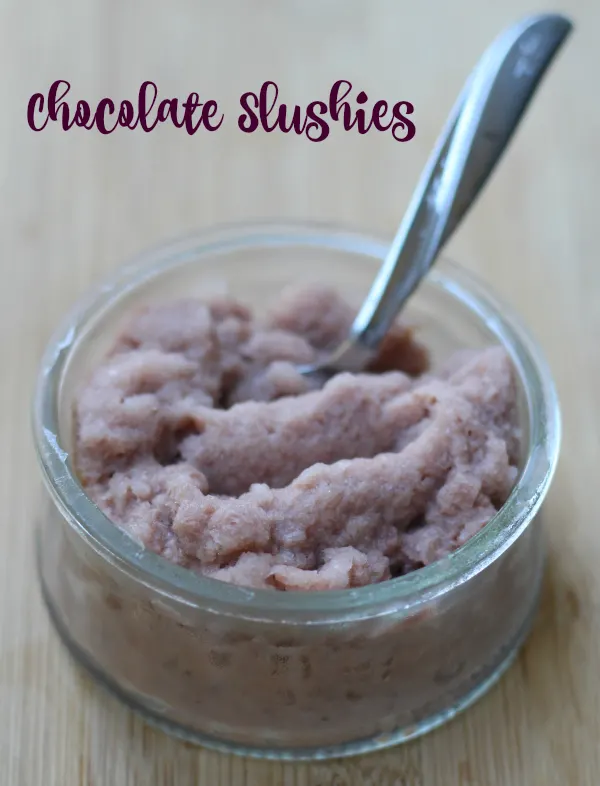 Last year, I scored an awesome, new-in-box snow cone/ shaved ice maker at a garage sale. It is so simple because you can freeze a block of ice and within a few hours, make a super smooth snow cone! I did cave and buy some snow cone syrup but wow….that stuff has a TON of sugar and food dye, so we started using juice with our shaved ice.
D and Baby Brother LOVE chocolate milk, so I had this great idea to create a chocolate slushie with our favorite summer machine! Disclaimer: I am pretty sure I read to not use anything but water with the shaved ice machine, but I am a rebel and I could not find any part of this machine that could not be cleaned. The motor part is attached to the "teeth" that hold the ice block, but I can easily wash it without it hurting the motor. Use your own judgment, but if I am out $2 for using something other than water, so be it.
Moving on…
I love using something healthier with actual vitamins and minerals in it for the kids, as opposed to just sugar water and food dye. This chocolate slushie tastes like chocolate ice cream. It's so good! Sure you could use an ice cream machine, but if you already have one of these machines in your house, why not have a smooth and creamy slushie?
Ingredients: (serves 2)
3/4 cup of milk

2 tsp chocolate milk powder

(we like this one because of the added vitamins and minerals)
Directions:
​

Mix milk and chocolate milk powder together well.

Pour into molds from snow cone machine.

Freeze 6 hours, or overnight.

Shave ice according to machine directions.

Serve and enjoy! Chocolate sauce and whipped cream optional!
SaveSave