This shop has been compensated. All opinions in this easy 10 minute strawberry s'mores recipe post are mine.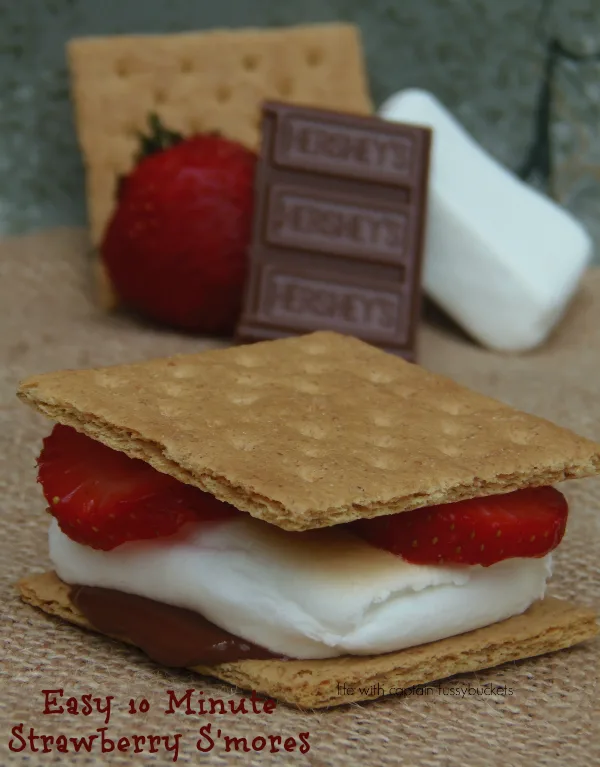 Some of my fondest memories are being surrounded by friends and sometimes family, around a campfire, laughing at making s'mores together. It is always a good time when you try to brown marshmallows over a fire because it's so hard to get them well…not black!
A few years ago, when we were house parents at a children's home, I started making oven s'mores because they are a quick, easy solution for snacktime. They were, of course, always a huge hit! I occassionally make them for my own kids now and they truly do enjoy them. It is the perfect summertime snack, especially lately since it has been dreary and rainy outdoors. We whip up these strawberry s'mores and dream of being able to go outdoors. This recipe goes to show that you absolutely do not need a campfire to make delicious s'mores.
As the recipe title suggest, it's super simple to make these Easy 10 Minute Strawberry S'mores, which is handy when you have a lot of hungry mouths to feed!
These 10 Minute Strawberry S'mores are great for an after dinner dessert, too! Perhaps you have guests who stop by at the last minute and you don't know what to prepare? You can fix these in less than 10 minutes and make just the right amount, too. Make them for summer BBQs, parties, and more!
Now that I've shared our favorite way to make s'mores…I'd love to hear yours! How do you like your s'mores?