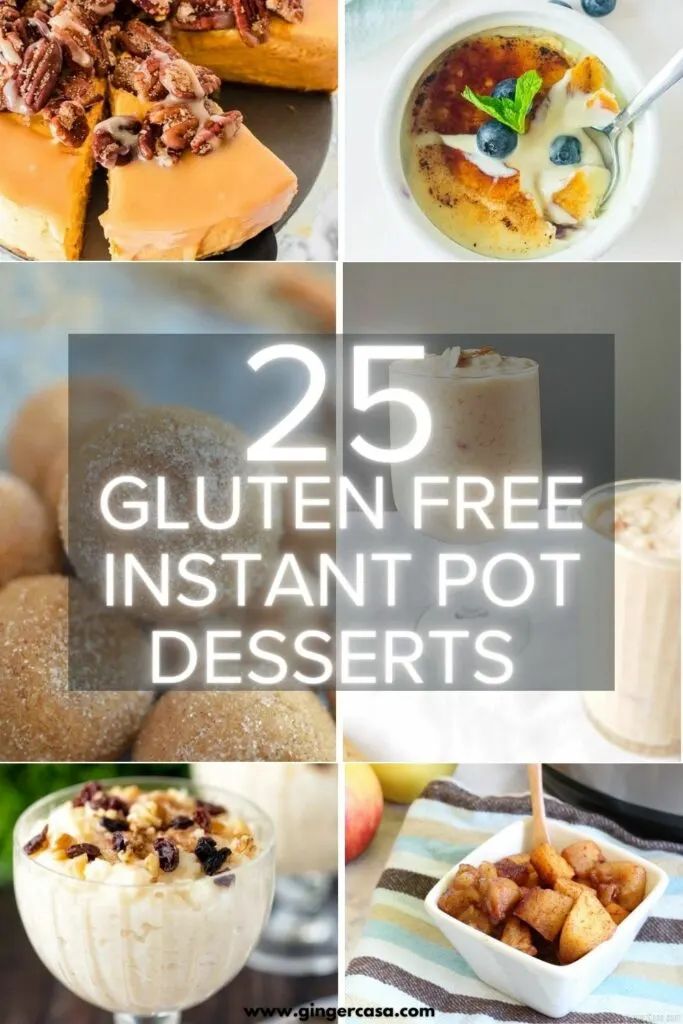 Indulge your sweet tooth with these delectable gluten free instant pot desserts, featuring a mouthwatering collection of easy-to-make treats that cater to your dietary needs and cravings. These recipes are great for any electric pressure cooker, but make sure to follow manufacturer's instructions because they could differ, as these are all tested for the Instant Pot, specifically. Pay attention to cook time, natural release or quick release options with the pressure release valve, sealing position, etc, but overall, the instant pot makes for the perfect dessert for the whole family, even if it is your first time making the instant pot dessert!
In recent years, the Instant Pot has become an indispensable kitchen appliance for many, simplifying meal preparation and saving precious time. But did you know that this versatile gadget can also help you whip up delectable gluten-free desserts in a flash? If you're on a gluten-free diet or simply looking to explore new options, read on as we discover some delicious Instant Pot desserts!
The Instant Pot: A Dessert Game Changer
The Instant Pot is renowned for its ability to cook meals quickly and efficiently, thanks to its combined high pressure cooking, slow cooking, and sauté functions. But it's not just for savory dishes! This multi-purpose appliance can also create mouthwatering desserts that are gluten-free, hassle-free, and are just an easy recipe.
Here are a few reasons why the Instant Pot is a game-changer for gluten-free dessert lovers:
Time Efficiency: Traditional gluten-free desserts can be time-consuming and require precise temperature control. The Instant Pot's pressure cooking function reduces cooking time significantly, making it ideal for busy individuals or those with limited baking experience.
No Need for a Traditional Oven: For individuals with celiac disease or gluten sensitivity, avoiding cross-contamination with gluten-containing foods is crucial. The Instant Pot eliminates this concern, as it doesn't share oven space with gluten-containing items.
Moist and Flavorful Results: The sealed environment of the Instant Pot locks in moisture, resulting in desserts that are consistently moist and flavorful. This is particularly beneficial for gluten-free recipes, which can sometimes turn out dry and crumbly.
Navigating the Gluten Free Diet
For those with celiac disease or gluten sensitivity, maintaining a gluten-free diet is essential for overall health and well-being. It's important to remember that gluten is found in wheat, barley, rye, and their derivatives. Check out these hidden gluten containing foods. Fortunately, there are plenty of gluten-free alternatives available, such as rice flour, almond flour, coconut flour, and gluten-free oats.
When embarking on a gluten-free diet, here are some essential tips to keep in mind:
Read Labels: Always read food labels carefully to identify gluten-containing ingredients. Many packaged foods now have gluten-free labels, making it easier to make safe choices.
Cook at Home: Preparing meals and desserts at home gives you full control over ingredients, reducing the risk of cross-contamination. Some people choose to have a dedicated gluten-free instant pot, especially if there are others in the family who eat gluten.
Explore Gluten-Free Flours: Experiment with various gluten-free flours to find the ones that work best for your recipes. Different flours have unique textures and flavors, so don't be afraid to mix and match.
Stay Informed: Keep up-to-date with gluten-free resources and support groups to stay informed about safe products and recipes.
Easy Swaps
If you find a recipe that you like that isn't gluten free, you usually can swap out 1:1 gluten free flour for regular flour. Sometimes it does not work and you might have to investigate why not, but quite often, it will. If a recipe calls for brown sugar or sugar and you would like to go a paleo route, you can swap out maple syrup or coconut sugar. If a recipe calls for dairy like butter or cream cheese, and you are dairy free, you can usually substitute it with a dairy free butter or cream cheese. I like using butter flavored coconut oil.
The Instant Pot has revolutionized the way we cook, making it easier than ever to create delicious gluten-free desserts. There's no shortage of delightful options to explore. Combine the convenience of the Instant Pot with a gluten-free diet, and you'll discover a world of sweet possibilities that cater to your dietary needs without compromising on taste. So, get ready to embark on a gluten free instant pot dessert adventure that's sure to satisfy your cravings!
Gluten Free Instant Pot Dessert Recipes