Did you know that today, August 15th, is the official National Relaxation Day? There you go, that's all the excuse you need to kick back and relax!
What do you do when you need to relax? Maybe get a massage? Go shopping? Lie down in bed and go to sleep? Or possibly leave the kids with Dad and go soak in the tub?
Here are a few ideas for simple ways for stay at home moms to relax! It's hard when you have little ones demanding your attention all day long, but make sure you take some time each day for relaxation!
1. Instead of working while your child(ren) nap, take a nap with them! I do this almost daily. You wouldn't believe how refreshing 15 minutes of sleep midday can be!
2. Take a walk through the neighborhood. Push the kids in the stroller and give them snacks and a drink and they might just be so in awe of being outside that they'll be quiet long enough for you to relax and have some thoughts to yourself!
3. Turn on the TV. There is NO shame in letting your kids watch TV while you kick back and relax. Just make sure you're still within earshot.
4. Get a sitter. How you use the sitter time is up to you. Spend time with your hubby, read a book, go shopping, go out for a solo lunch, or simply soak in a bubble bath! Sometimes an hour or two alone is all you need to recharge!
5. Sip a non-alcoholic drink and pretend you're lying on the beach. When combined with #3, this could be Stay-At-Home-Mommy Bliss. Check out some awesome Summery Drink Recipes like the Summer Pineapple Strawberry Cooler: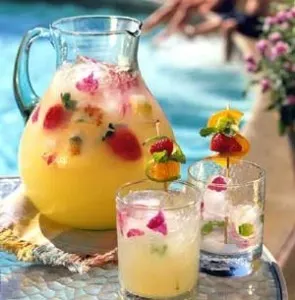 6. Plan a vacation. What better way to relax than head out on vacation? With or without kids is your choice! We just took a mini-vacation with the kids and it was good to get away, if only for a couple of days! It was nice to not have to do laundry or cook or clean for a couple of days!