How To Survive (and Thoroughly Enjoy!) Walt Disney World with an Active Toddler : Part One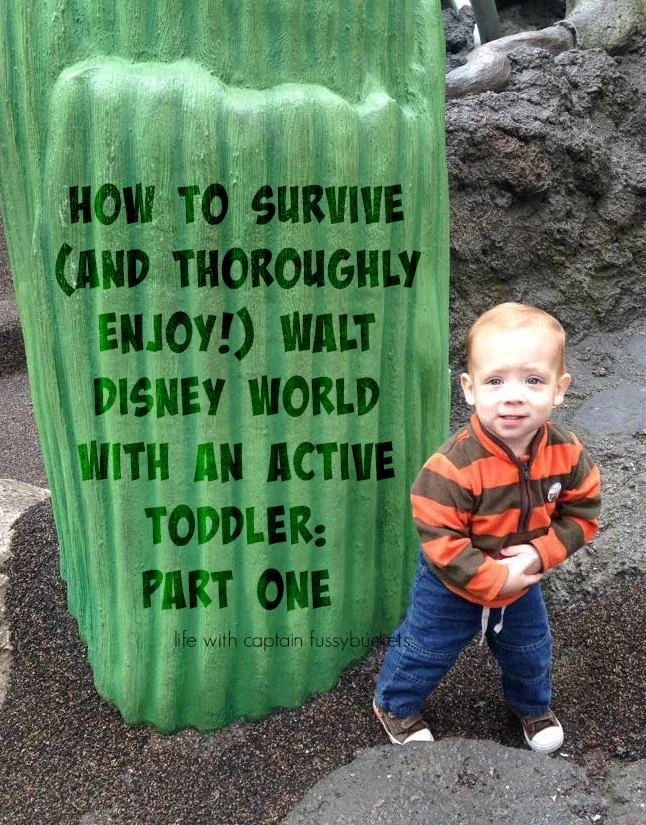 We recently took a family vacation to Walt Disney World in Orlando. It was a great opportunity with a group of homeschool families to participate in Disney's YES class. Hubby had been to Disney World a few times as a child, but I had never been. To say I was apprehensive and nervous to take three young kids is an understatement! Hubby and I talked about it and we also talked with others who had taken friends to Disney World and we decided it was a great opportunity that we should just sign on for and hope for the best! I began reading up and educating myself as to what to expect. I *may* have driven hubby a bit crazy a few times, but hey, I needed to be prepared! We waited until about 48 hours before we left to tell the boys we were going to Disney World, which was the best decision for all of us. It was hard to wait, but it was worth it!
Many people (even strangers at the store, oddly enough) had told me "wait until they're older so they will remember!" and honestly, that did concern me. I was worried that I would be standing around trying to keep Baby Brother, who was 15 months when we went, while the other boys and Daddy rode all the fun rides. I was worried about naps, food, night time sleeping, and more. Would it be a disaster? Our trip was Monday – Friday and oh yeah, we would all fly in an airplane together, too! That was a first for the boys, but I'm so happy to tell you that the plane ride went more smoothly than I could have even imagined. I made sure to pack all of the essentails: diapers, wipes, sippy cups, snacks, snacks, and more snacks! Also, coloring books, crayons, books, and tablets for the older two.
Most people really do know more about Disney World than I did, but just in case you don't, I have thought and thought about the best tips for how to survive and enjoy your trip, even if you DO have an active toddler! Please leave any other suggestions you may have in the comments section, as well. I have broken this into two parts, so make sure to check out Part 2 at a later date, as well!
1. Think about the season when making plans.
If at all possible, plan your vacation during a pleasant season. It's Orlando and it is often hot and/or rainy. We went in March and it was hotter than I would have liked the first three days and cold the next two. You just never know, but I, personally, cannot imagine hauling a toddler around in the summer heat. That's just my preference though! Just make sure, no matter when you go, to pack sunscreen, ponchos, and have lots of water on hand. I was told that any restaurant in Disney would give you free water and ice, but we just took chilled water bottles in a small soft cooler.
2. Have groceries delivered to your room.
We had pre-arranged for a few essential groceries to be delivered to our resort when we arrived. We used Garden Grocer and were very satisfied, but there are other services available, (I just haven't used them so I can't recommend them one way or the other.) If you spend less than $200, you will have to pay a $15 delivery fee, but to us, that was SO worth it! We were without a car, so it was so beneficial to have fresh fruits, deli meats, crackers, yogurt, and bottled water readily available for us. (I highly recommend grapes and apple slices for the kids. They are easy to pack for a day at the parks.) A few days before we left, I ordered online, chose a time frame for delivery, and then when it was delivered, I received a text. We called the front desk and a resort crew member delivered our order to our room. Note: check Garden Grocer's facebook page, because they have a discount available the earlier you order.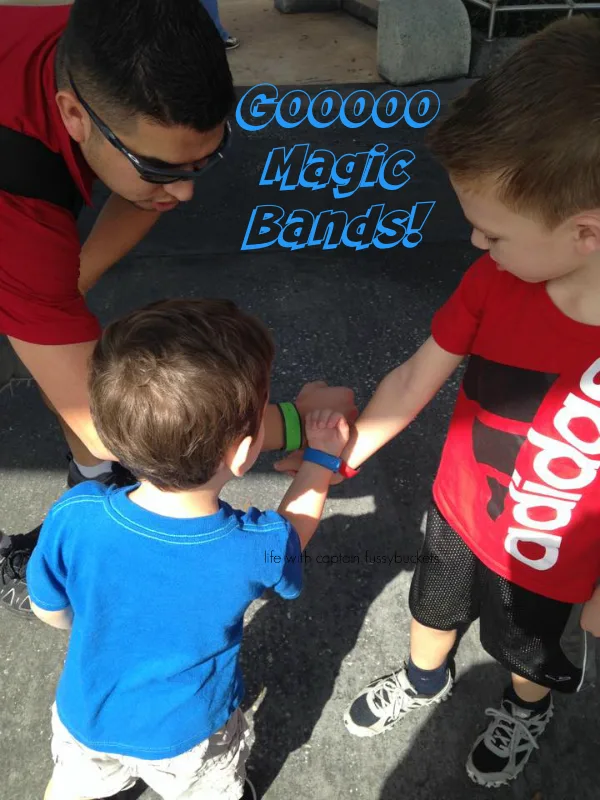 3. Plan fast passes accordingly, as soon as you can.
Fast Passes are available for anyone staying on Disney World property and can be accessed with your ticket or Magic Bands, (which are THE best thing ever, by the way! You can pay with them, get into the parks with them, zoom through a line with your Fast Passes…they're so awesome!) Whenever we received our tickets, I researched which rides the Captain (age 6) and D (age 4) could ride, and also, which rides Baby Brother could ride. I tried to schedule one a day that the Captain could ride with Daddy and at the same time, D, Baby Brother, and I could ride a different ride together. I then scheduled a Fast Pass for the two older boys to use with Daddy, and we used the Rider Switch option so Daddy could ride with the older boys while I watched Baby Brother, and then we switched and I got to ride with the older boys while Daddy watched Baby Brother. (Splash Mountain was especially awesome for this!) Check the Disney World site or app to see what rides Baby can ride and start planning. (More about this in Part Two!)
4. Make reservations early
I had absolutely no clue what to expect for food, so I did a lot of research a couple of months in advance. Turns out you can make reservations 180 days in advance. I didn't, and we managed just fine, but we also didn't have the best options all of the time. We chose not to purchase the Disney dining plan since our boys' eating habits are hit or miss, but it is definitely something to look into if you have a family full of big eaters. We decided to only make three reservations and try out the quick service, resort dining, or delivered food the rest of the time. We made reservations for lunch at Via Napoli at Epcot one day (Mariah from Formula: Mom wrote about her family's great lunch experience at Via Napoli, so check that out!) Make sure to look at the map and see where the restaurant is before making reservations. The worst 15 minutes of our entire trip was lugging three hot, hungry, grumpy boys all the way to Via Napoli in Epcot, but we survived.
Via Napoli was excellent for the boys and us, too! The food was authentic and delicious. We split a pizza and Arancini, which are fried risotto balls filled with mozzarella and meat ragu. Baby Brother really liked those!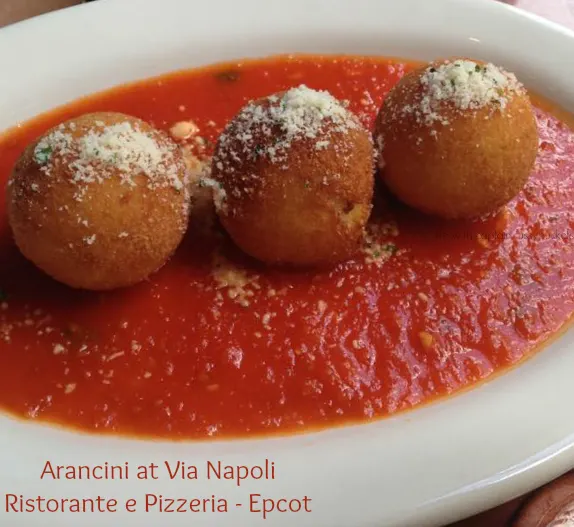 We also had lunch at The Plaza Restaurant in Magic Kingdom another day, which was good and reasonably priced. It is a restaurant filled with mirrors and lots of natural light, and plenty to look at, which was great for Baby Brother. Plus, the boys' meals came with their choice of dessert!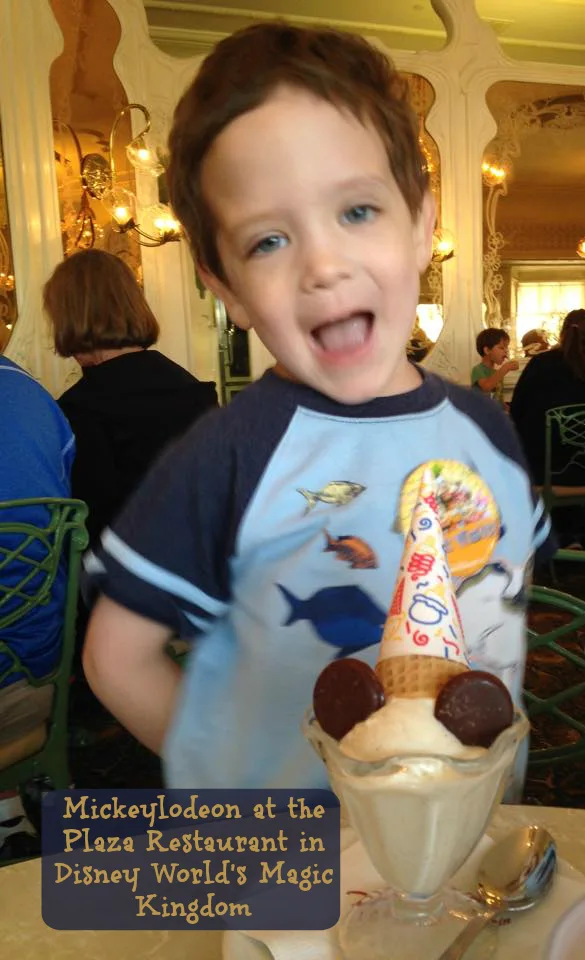 The final day of our trip, we had a character lunch at Hollywood & Vine (or Play 'n Dine) in Hollywood Studios. My boys are still into Disney Junior, so Play 'n Dine was so perfect for us. They were excited to get to meet Sofia the First, Jake, Doc McStuffins, and Handy Manny, all while eating delicious food.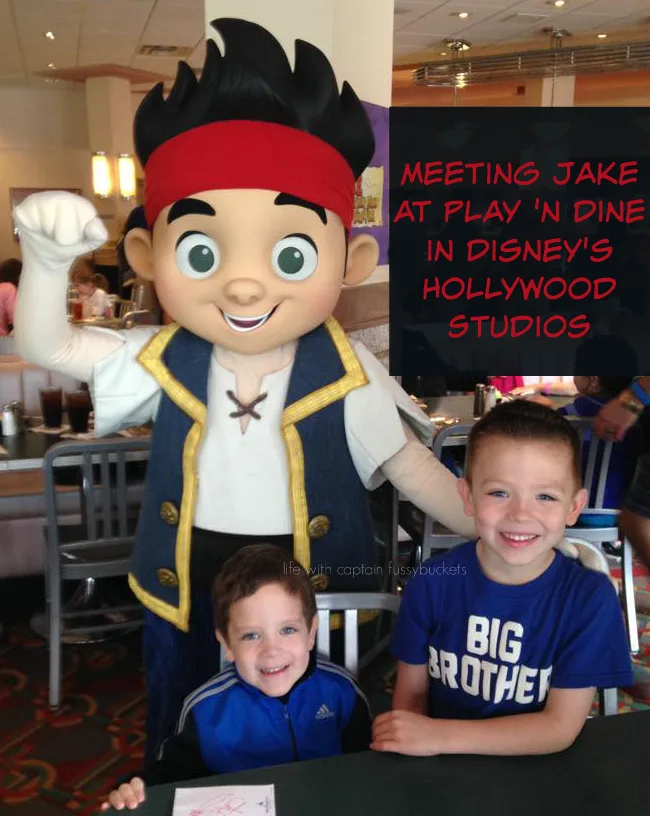 It was over $100 for all of us to eat (Baby Brother was free,) but there was seriously more than enough choices for all of us. It is a full buffet of salad, meat, veggies, fruits, dessert, and many, many different entrees. Hubby's favorite was the lobster and shrimp mac & cheese and mine was the salmon. The boys ate meatballs, salad, chicken nuggets, and more.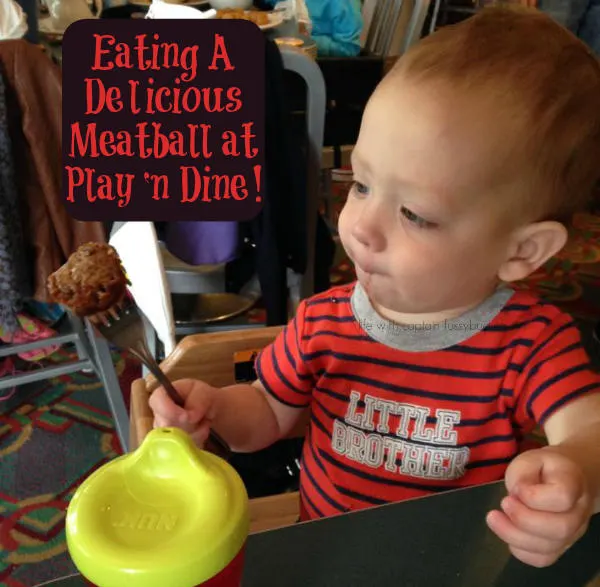 The best part was…. the dessert bar was fabulous! Chocolate dipped everything, ice cream, and pastries. Yum!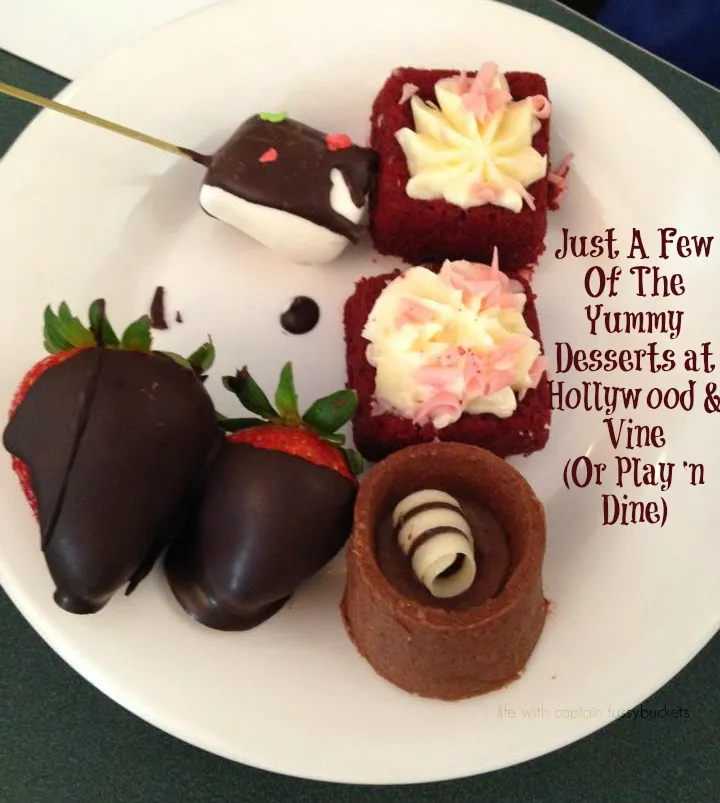 Drinks are included and the tip is automatically added, so keep that in mind when planning. It was well worth it, but I cannot say we would pick the same place again. We might try a different character restaurant next time.
Note about reservations: Just because your reservation is for a certain time, you might still have to wait. I think we waited 15-20 minutes to get a table at Hollywood & Vine, but it was ok. I felt a bit rushed because we had Fast Passes for the Frozen Sing Along show right after lunch, but we made it and all was good.
We found the quick service restaurants to all be awesome. Plenty of choices for everyone and the kid's meals all came with two sides and a drink (water, juice, milk, etc). The kid's meals were a great thing, in my opinion! The favorite kid's meal of the week was at Restaurantosaurus at Animal Kingdom, because they came in their own pail with a shovel, for the same price. Fun!
You can also take small coolers into the parks, as long as they aren't on wheels. Taking a picnic lunch would be a great idea, if you have the space to store it.
5. Request a Pack 'n Play and/or Bedrails at Disney World Resorts
When making your resort reservation, request that any pack 'n play or bedrails you may need be delivered to your room upon arrival. This was SO helpful! Not having to worry about lugging a pack 'n play on the plane was priceless! Baby Brother's pack 'n play even came with a Mickey Mouse crib sheet in it. D's bed had one bed rail, and that really helped, as well, so I did not have to worry about him falling off of the bed.
Check out Part Two of How to Survive (and Thoroughly Enjoy!) Walt Disney World with an Active Toddler for the rest of what worked for us, rides Baby Brother loved, what must-have baby gear you truly need and how to get the most out of your vacation, despite naps and bedtimes.