How To Survive (And Thoroughly Enjoy!) Walt Disney World With An Active Toddler: Part Two
(If you haven't read Part 1 of this series, check it out. It highlights the planning phase of surviving Disney with your toddler.)
Our Disney adventure was a bit stressful at first. I wasn't quite prepared enough for the plane ride, but all in all, it wasn't bad. I think we could call it a a successful first plane ride for the boys. When we landed in Orlando, it was so exciting! We searched for the Magical Express line at the airport and to our surprise, it was completely empty. No lines, yes! But then again…we had to wait a little while to have enough people to fill up a bus to take us to the Pop Century resort where we would be staying. We were tired and getting hungry and also getting used to the warm Florida temps. (We are from Texas, yes, but we had left freezing temperatures and SNOW!) Continuing where I left on in Part one….here are more tips for surviving Disney with an active toddler: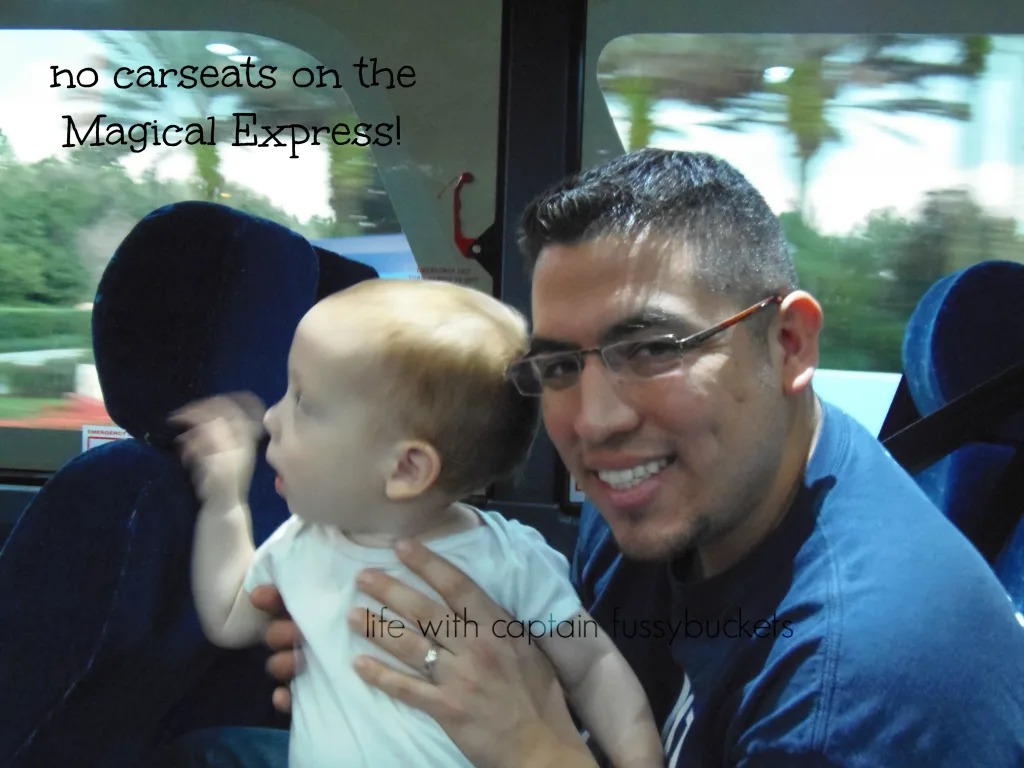 6. Be aware: There are no carseats on the Magical Express.
If you're a carseat nerd like me, you may have an issue with it. I did at first, but had to let it go. Friends assured me that it was safe, legal, and all that jazz. If you have a carseat, they will store it under the bus, but you cannot take it onto the bus. So, we held Baby Brother and hoped for the best. I know, I know, it's true of all buses and it's not really a big deal, but it kind of is. Just don't be shocked when you get there, is all I'm saying. We drove on the highway at pretty high speeds, and there very well could've been an accident, but it was okay. The drivers are very safe.
Moving on…
7. Babywear! Toddlerwear!
A lot of parents know the extreme awesomeness that babywearing is. It's great to be hands free while keeping your baby close. But a lot of parents ditch the baby carrier once their little one becomes mobile. I'm telling you…don't. Baby Brother still loves to be worn at 29 lbs and 17 months old. I brought the Boba 4g on the airplane and wore him in the airport. I wore him while walking the long trek to our room at the resort, in lines, for naps in the park, on the bus to the parks when it was standing room only (although most of the time people offer women with babies a seat…thank goodness,) waiting in line for the bus back to the resort, when D needed to sit in the stroller for a bit, and more! We still let him down to walk and play a LOT, but there were times when the Boba was the most valuable thing in sight! I never left the resort without it.
And in case you didn't know…the Boba can hold kids up to 40 lbs…indeed it can: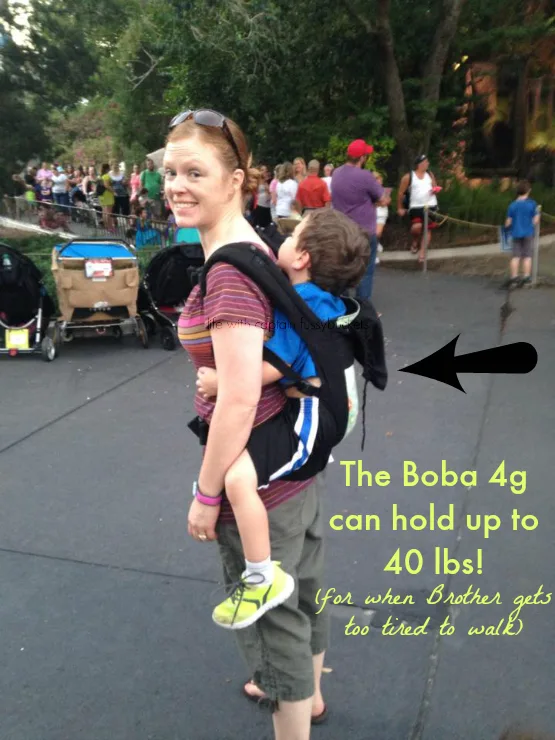 8. Naps.
Okay. Baby Brother is baby #3 for us, so we are definitely more relaxed about naps than we were with the first two. Some days he naps in his crib, some days he doesn't. But I can honestly say that having to go back to the resort every day when he needed a nap would have been a nightmare. First of all, the trip back to the resort would have assuredly lulled him to sleep and he probably wouldn't have napped once we got there. Secondly, there were days he was exhausted at 10 and then days he could go and go and never be tired. So, we planned to stay at the park for as long as we wanted to, or as long as we parents could go. That meant we went back to the resort at 3 or 4, which was far too late for a Baby Brother nap. So again, he napped in the Boba, stroller, or once in my lap at the Frozen Sing Along show. He slept when he could and we managed well! One parent would take the older two so they didn't have to sacrifice their Disney time for Baby Brother and the other parent would take him for a stroll so he could get some rest. This was my favorite naptime: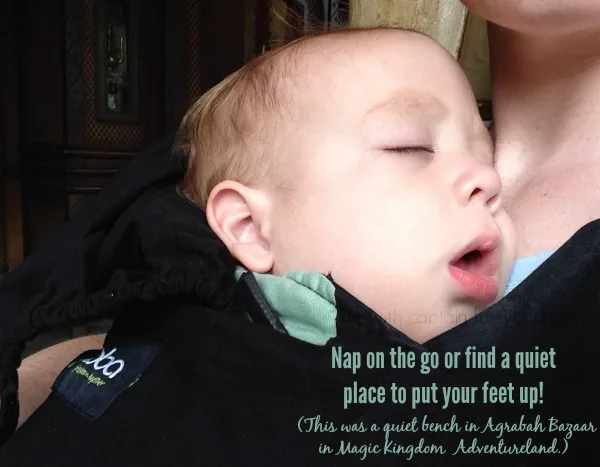 D needed a nap most days, (as did I!) so we pulled it off at 3 or whatever time we made it back to the resort. It worked well for us. You just have to see what works best for your family. If you want to break up the day and have lunch and a nap at the resort, so be it. The afternoon break was good for us to get out of the sun, take a rest, and then come back for the night time activities.
9. Take advantage of the play areas.
We didn't really think of play areas as an option until Hubby found the awesome, age appropriate play area while the older two boys and I were riding Splash Mountain. It wasn't crowded at the time and Baby Brother LOVED it. It gave him a chance to run around and play and have something to do while we were on the ride AND gave Daddy a chance to sit down and rest. We also loved the play/waiting area of the Dumbo ride. It was perfect for him and while I assume it can get pretty crowded, it is a secure area that has a center area just for toddlers and prevents them (for the most part) from running off. Both of these play areas are out of the elements and are just fun. I'm sure there are many more play areas for toddlers in the parks, but we just didn't discover them. At Disney Hollywood Studios, all of us loved the "Honey, I Shrunk The Kids" movie set adventure area. There are slides, places to climb, and just a cool place to check out. Baby Brother loved it, too!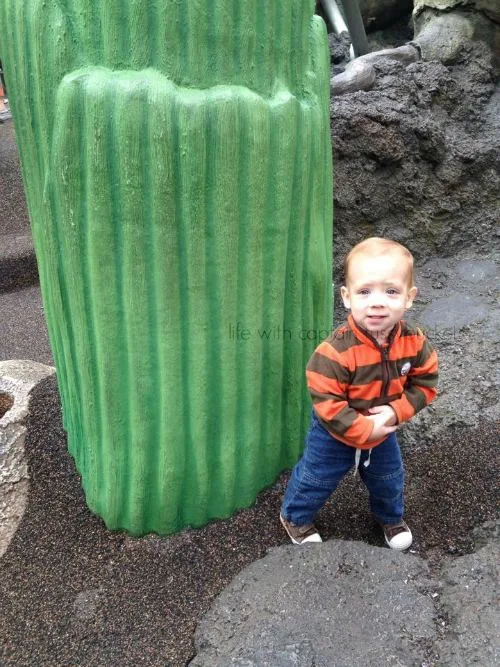 10. Take a stroller with storage. Rent one if you must.
I don't know why I actually thought about this one for longer than 10 seconds. We flew, so I didn't want the stroller to be a huge inconvenience, and I didn't know about storing it on the Magical Express or the bus, and I didn't know how difficult it would be to maneuver in the parks. Seriously though, if you have kids under the age of 6, you need a stroller with storage. Not an umbrella stroller, mind you, although that would work if that's all you have. You need a comfortable stroller with a good canopy that is easy to push and also has a big basket underneath for storage. If you don't have one, there are stroller rental places at the front of each park. Strollers can be annoying, for sure, especially when you're staring at a sea of strollers and can't locate yours… because a cast member moved it to a different location, perhaps. If your child is far too excited to ride and wants to walk the entire time…still…take a stroller. You can store anything and everything in it and one with cup holders to hold your drink is worth it. Make it happen! We took our Graco Jogger and while a slightly smaller, lightweight stroller (like the Graco Verb) would've been easier to manage, this stroller was a lifesaver. It carried kids (all three at one time or another,) beverages, diaper bags, backpacks, gift shop purchases, snacks, water bottles, maps, freebies, extra clothes, ponchos, and much more. The only downside was it's size and the fact that Hubby had to lift it onto the bus and off, but he did that while I wore Baby Brother in the Boba and it wasn't a big deal. If I were alone, I'd definitely take a lightweight stroller, but we had two people so it worked.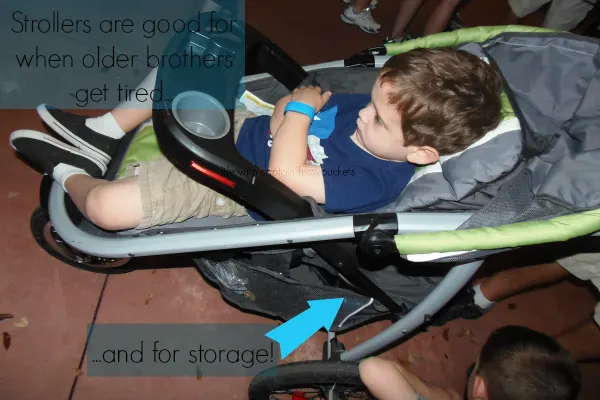 11. Take, apply, and reapply sunscreen.
Slather on sunscreen before you leave your room and take a bottle with you. The Florida sun beats down and can burn a person very quickly. We relied on TruKid while we were there.
12. Take snacks.
In part one of this series, I talked about Garden Grocer and how we had groceries delivered to our room. This was so helpful in packing snacks for the day, too. We could take grapes, apple slices, crackers, and lots of water bottles and not have to buy snacks at the park. We did, of course, as a treat, but not just because we were starving.
13. Know that there are Baby Care Centers available.
In each park, there is a Baby Care Center for parents with infants and toddlers. Each facility is complimentary and includes a private nursing room with rocking chair; changing room with tables and a unisex bathroom; feeding area with high chairs; kitchen with microwave, oven, and sink; main room with TV, table, chairs, and sofa; and an on-site shop offering formula, baby food, juice, diapers, wipes, sunscreen, OTC medicines and clothing available for purchase. Most restrooms in the park DO have baby changing stations, but the Baby Care Centers have everything you might need to take care of the littles. This is also the place that Cast Members will escort children who have become separated from his or her parents so the parents can be reunited with their lost child.
14. What will you do if your child gets sick at Disney?
We all got hit with a case of allergies while we were at Disney and Baby Brother was cutting his molars at the time, but thankfully we avoided all other illnesses. I could list out everything to prepare, but Jeannette experienced it first hand and she wrote a brilliant post, so make sure and read "What To Do If Your Child Gets Sick At Disney."
15. Not all kids like characters!
Every time we approached a character, such as Daisy Duck, below, Baby Brother flipped out. If I switched him to the other side, opposite the scary (to him) cast member, then he was better, but he never wanted anything to do with them!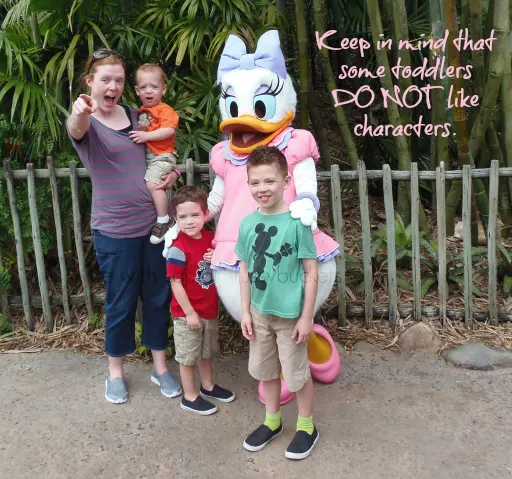 Once the characters were far away, he really enjoyed them! He really loved seeing Sofia the First at Play 'n Dine…from a distance, of course!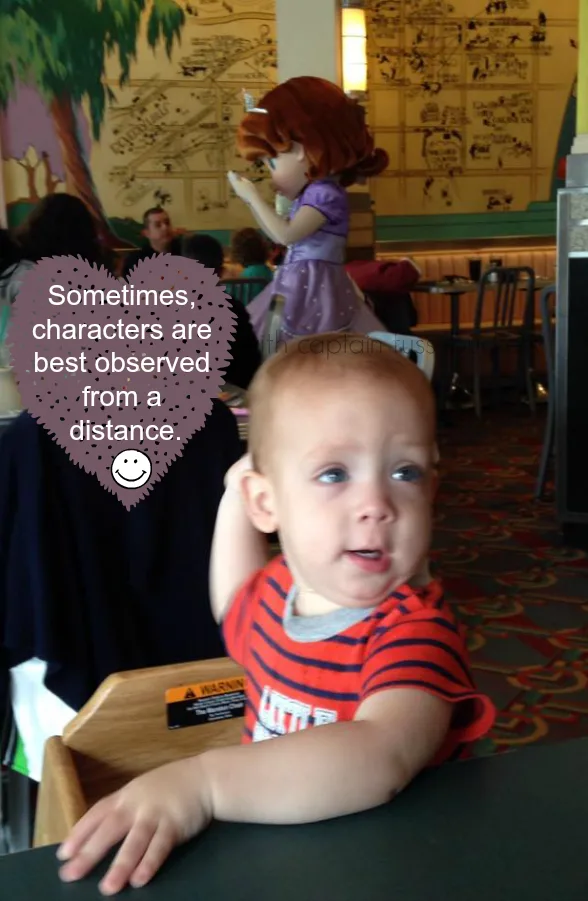 16. Take your toddler on rides…especially "It's A Small World!"
We took Baby Brother on the "It's A Small World" ride twice, and I really wish we had taken him at least once more. It's a truly fun, magical ride that is slow and easy and a great escape from the heat. He ADORED this ride so so much. Check out this fun video I took of his first ride.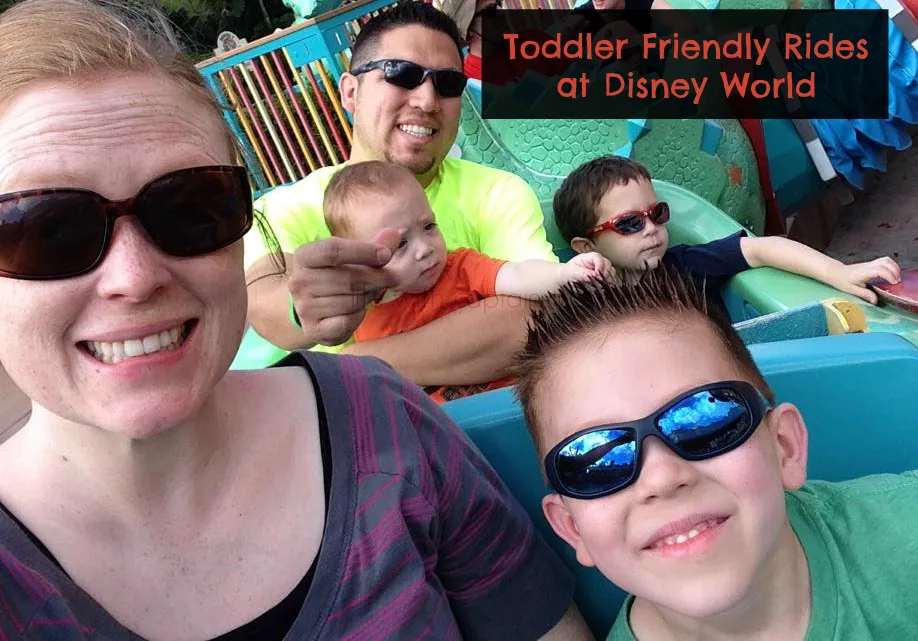 There are many other rides that have no height restrictions, so toddlers can ride. Some of our favorites were:
It's A Small World (of course), Magic Kingdom

Buzz Lightyear's Space Ranger Spin, MK

Dumbo the Flying Elephant, MK

Kilimanjaro Safaris, Animal Kingdom

The Magic Carpets of Aladdin, MK

The Many Adventures of Winnie the Pooh, MK

Prince Charming Regal Carrousel, MK

The Seas with Nemo & Friends, AK

Tomorrowland Transit Authority PeopleMover, MK

TriceraTop Spin, AK (pictured above)

Jungle Cruise, MK
There are many more rides with no height restrictions, but these were our favorites. Check out the Disney World site for more information.
17. Watch the Parades
Make sure you watch the parades. There are parades in the day at different times and at night, each one magical and special. I didn't really want to fight the crowds, but twice we were kind of in the right place at the right time, and we all had a great time. This was from Baby Brother's first parade:
The line to meet Anna and Elsa were way too long, but we got to see them in one parade and for me, that was awesome! And Baby Brother loved it, too! He was waving at all of the characters and the older two were very excited, as well.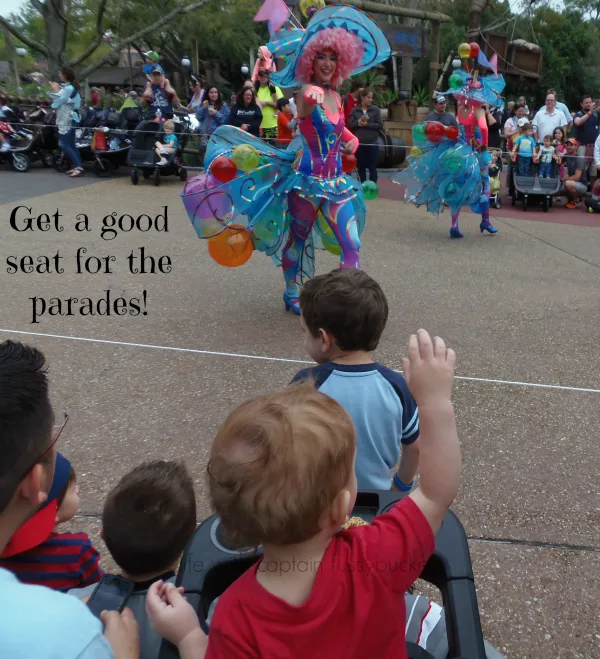 18. Stay for the fireworks, at least one night.
When we were planning this trip, I did not know HOW we would swing staying up late for the fireworks, but we did, twice, once at Epcot and once at the Magic Kingdom. The fireworks are amazing and magical and all that jazz. And seeing it through your children's eyes…..there is nothing like it. The most excited I saw my 6 year old son all week was the first night during the fireworks at the Magic Kingdom. He was excited most of the week about everything, don't get me wrong. He was MEGA excited at the fireworks show at MK. He was sharing in the joy of his baby brother and it was just overwhelming to me because…well, it's hard to explain. You just have to experience it for yourself. Just don't miss out on the fireworks!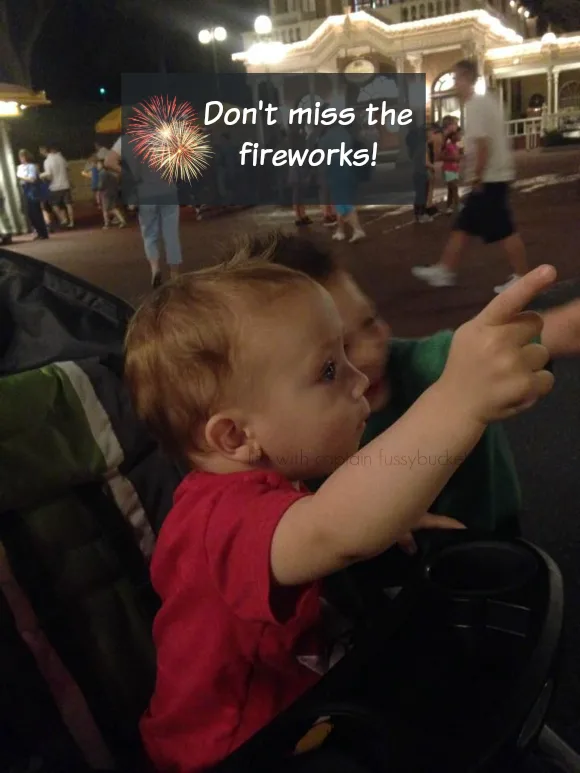 Well, that's it! My tips on how to survive and thoroughly enjoy Walt Disney World with an active toddler! It was such a great experience and we are all dreaming of when we might be able to go again. Which is another thing…. not to be a downer, but there is such a thing as Post-Disney Letdown Syndrome, but well, let's just say every good thing must come to an end, but the memories you and your kids will make at Disney will be worth it all.