We have seen Mark Gungor's "Laugh Your Way To A Better Marriage" DVDs two times now, so it was a treat to get to see him live last week! The hubby and I were lucky enough for Grammy and Grampy to watch the boys while we enjoyed listening to Mark on Friday night and Saturday morning. We were both wondering how he was going to get everything in from the DVDs into the seminar, but Mark seems to have been doing it for so long, that he condensed the information on the DVD down to the perfect length at the seminar, without leaving out vital information. Of course, I think everyone, married or not, should watch the DVD series, but the seminar is a fantastic start. And there's really nothing like seeing Mark Gungor live and hearing him talk!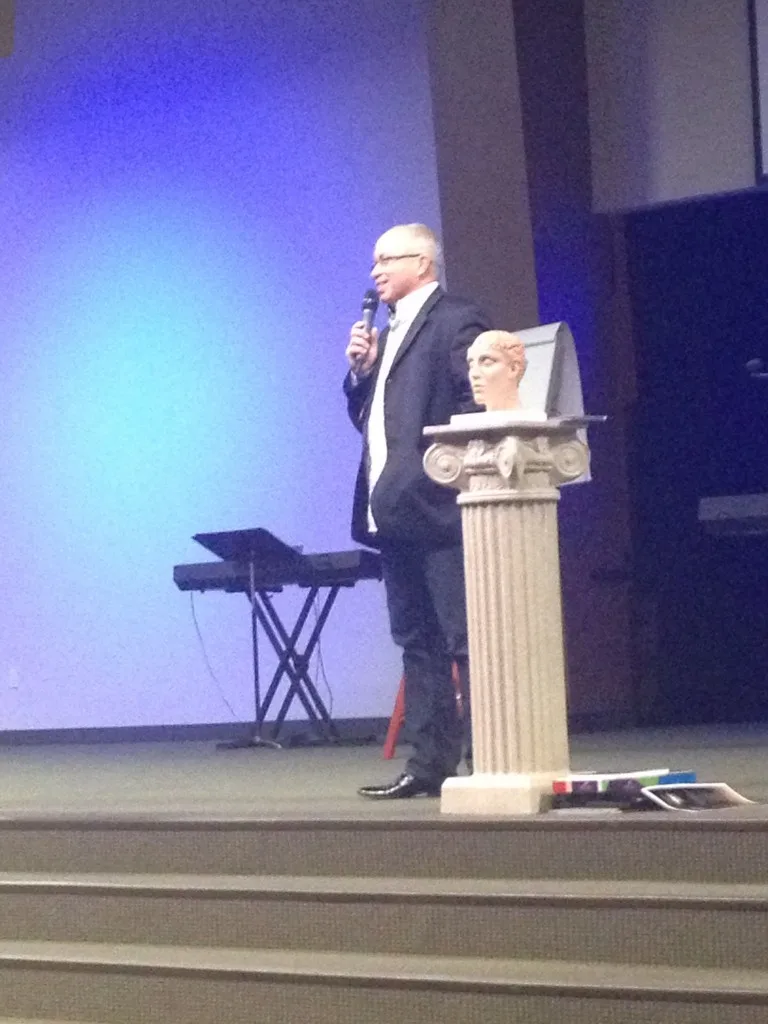 Mark spent time talking about how women and men just think differently, how to get along, and simply how to love and respect each other. Mark has a fantastic way of getting the point across to both men and women. I'm not sure how he does it, but it is definitely a God given talent and he uses it well. However, we learned at the seminar that it hasn't always been that way. He was told that, as a pastor, he couldn't do certain things or talk about certain things in church, but later in his life, he finally was encouraged by someone from the church to be who he was and by that one person's faith in him, he has touched thousands of lives and saved hundreds of marriages. He certainly has touched our hearts and made us think about our marriage and each other in a way that we had never heard before.
Mark is funny, smart, and talented as a speaker. Not once in the 2 1/2 ish hours on Friday and 2 1/2 ish hours on Saturday was I bored, even when hearing some of the stories from the DVDs. There was a lot of new stuff, too, which was great. He spent about 45 minutes talking about the Flag Page and how simply finding out what is important to you, your spouse, and even your kids can make a world of difference in your relationships. His presentation was so convincing that there was a line at the merchandise table, and we bought the book and two codes, as well. This stuff just works and there's no psychological equation behind it. It's simple, easy to use, and on everyone's level, and that is great. If it works, why try to complicate it?
We had an EXCELLENT time and I can't wait for Mark to come back to our area so we can hear him speak again. He has lots of fantastic resources for married people, women, men, teens, and kids and while I haven't heard/read all of it, I would be willing to bet it's all equally fantastic!
You can listen to the Mark Gungor radio show FREE online or via his app. Just search for "Mark Gungor" in the app store. Also, check out the "Laugh Your Way To A Better Marriage" DVD series and the other great DVDs, books, and more at the Mark Gungor website.
And now…it's your turn to see Mark Gungor live OR go to a video event of "Laugh Your Way To A Better Marriage" with your spouse! Just enter in the Rafflecopter form below!
Giveaway is over and Jamie is the lucky winner!