We have been honored to visit Medieval Times in Dallas, Texas a few times for Ginger Casa. We went again earlier this week, as a celebration and last hurrah before the busy back to school and work life began after the holidays. It has become a great way to celebrate victories we share at home.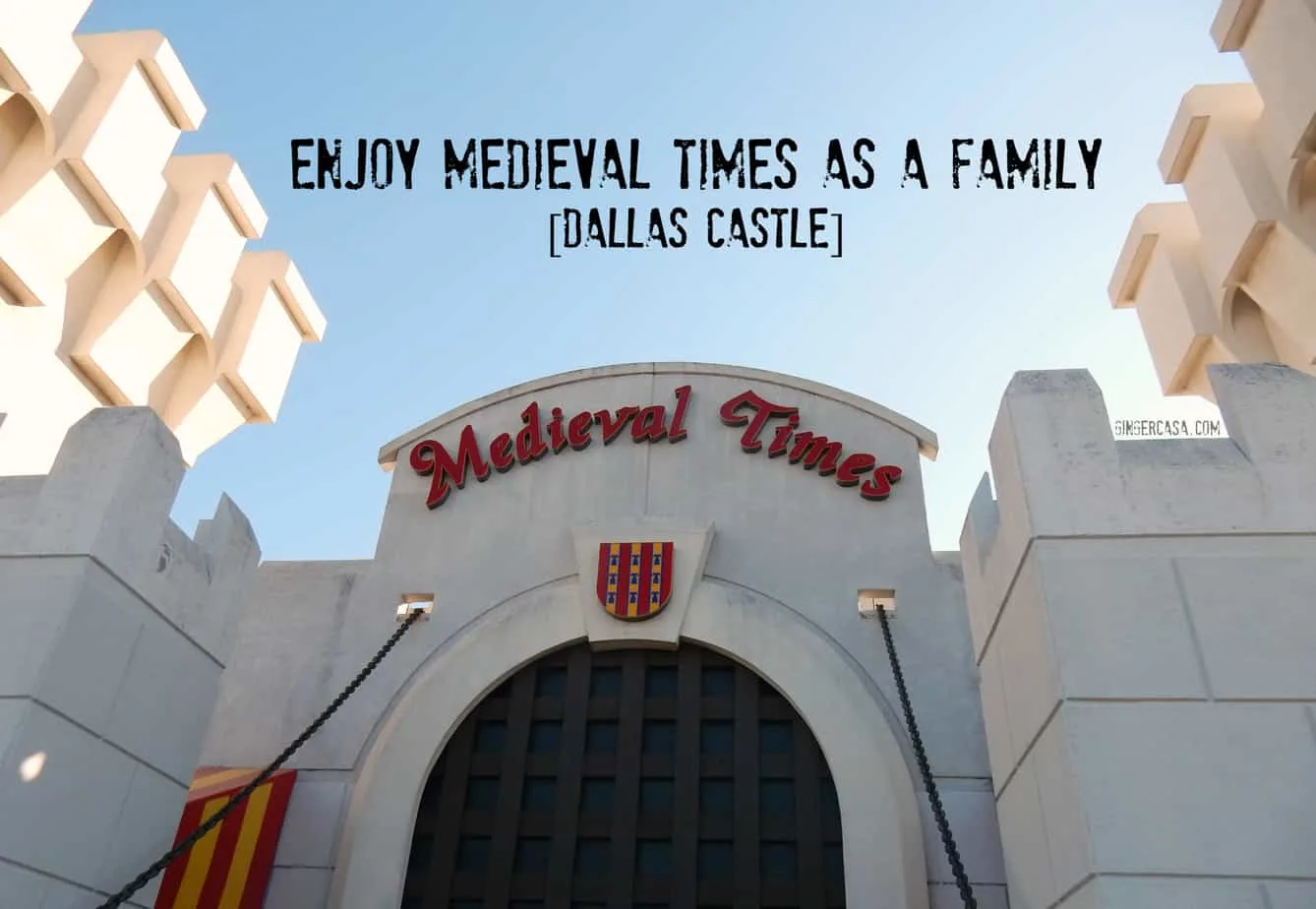 This 2 hour experience is a unique, family-friendly experience, for all ages and genders. They have great food, music, drama, and sportsmanship. Medieval Times is a dinner theater, if you will, so it does cost more than just a dinner or just a show. However, I do recommend that you go on special occasions and take advantage of their specials. It can be affordable for families. They are always running specials that are promoted on their website. One of my husband's favorite perks of this outing is that it includes free parking in a lighted parking lot. That is rare in downtown Dallas.
Our kids love to dress up as knights, so we bought them costumes years ago. This is a great place to let your kids wear their knight costumes because the atmosphere is very imaginary. Get there early to take all the photos. This was from a few years ago, but look at how precious our little knight was: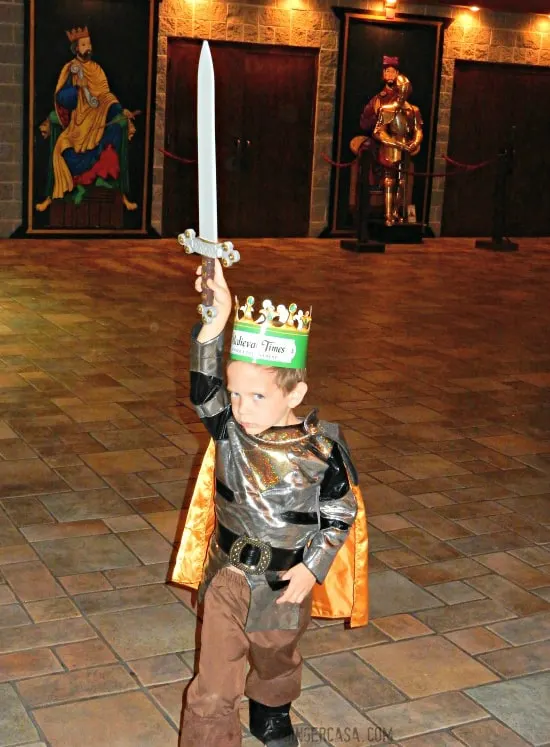 When the showtime approaches, you are seated in a designated area that matches your crown's color. This color/seat also coordinates with the matching knight that will be performing in the tournament during your dinner. Our knight was the blue knight when we attended!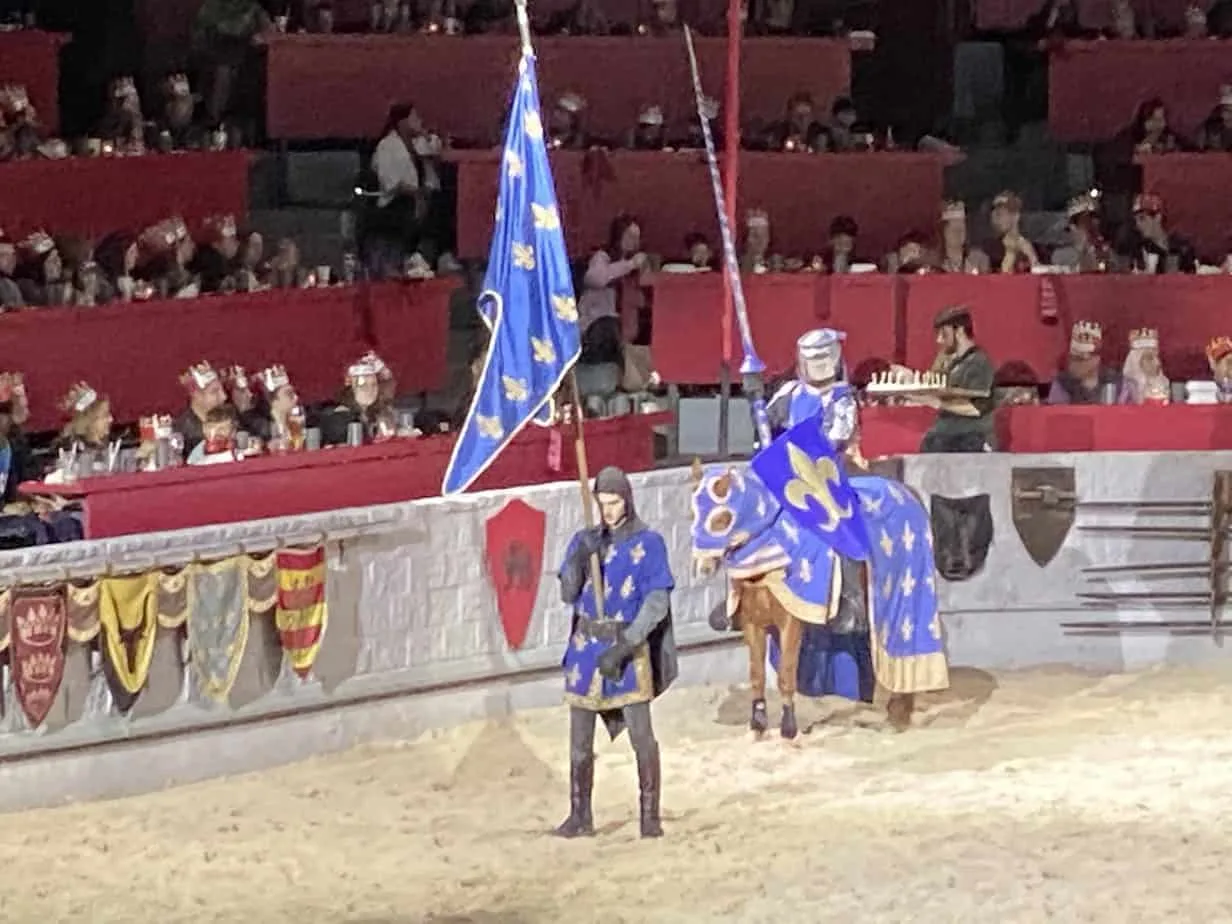 The performance by the knights, the queen, the horses and their trainers, and everyone else that has a part in this show are very entertaining. Our boys have always been highly engaged. And if you think that it is just for kids…that is so far from the truth. My husband gets into the show every single time, as do the boys, at all ages! It really helps that they start bringing dishes out pretty quick after the show starts. The food and drinks are all delicious, too! This is a great way to keep both children and adults happy.
Love horses? Check out this post for many horse photoshoot ideas!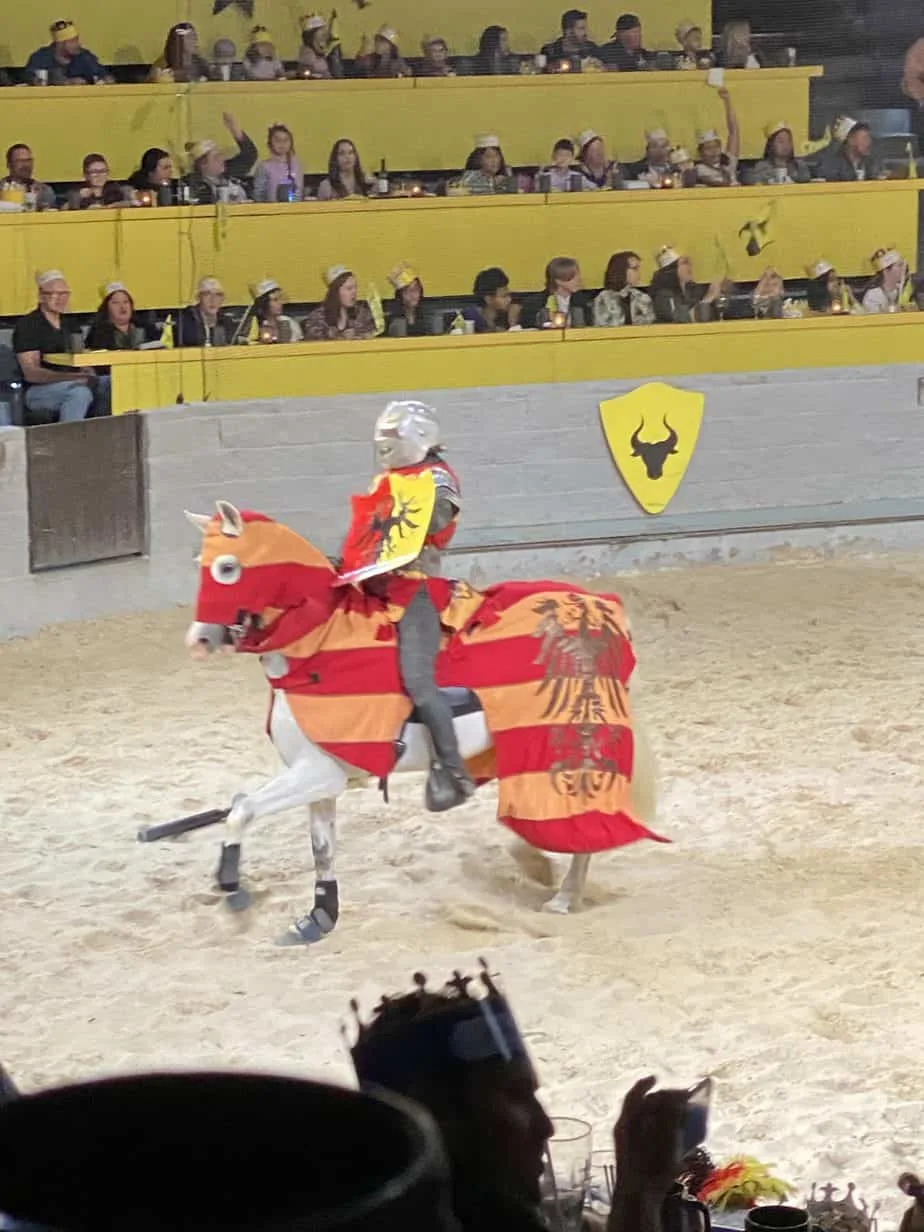 The only negative to having a toddler and a pre-schooler eating what they serve is that they don't offer utensils, so as to keep in the spirit of the medieval era. So you may want to bring a disposable but sturdy set of utensils for your toddlers. Once your child is 5 or 6 years old, it is way more fun to just eat everything with their hands. They also bring out a large, warm, wipe, to each person after the meal is done.
The best part of the show is defintely the last 30 minutes, so make sure you don't miss it. The show culminates in a very climactic way, with jousting, dueling, and victories that really engage the audience. If you are lucky, your knight will win the tournament.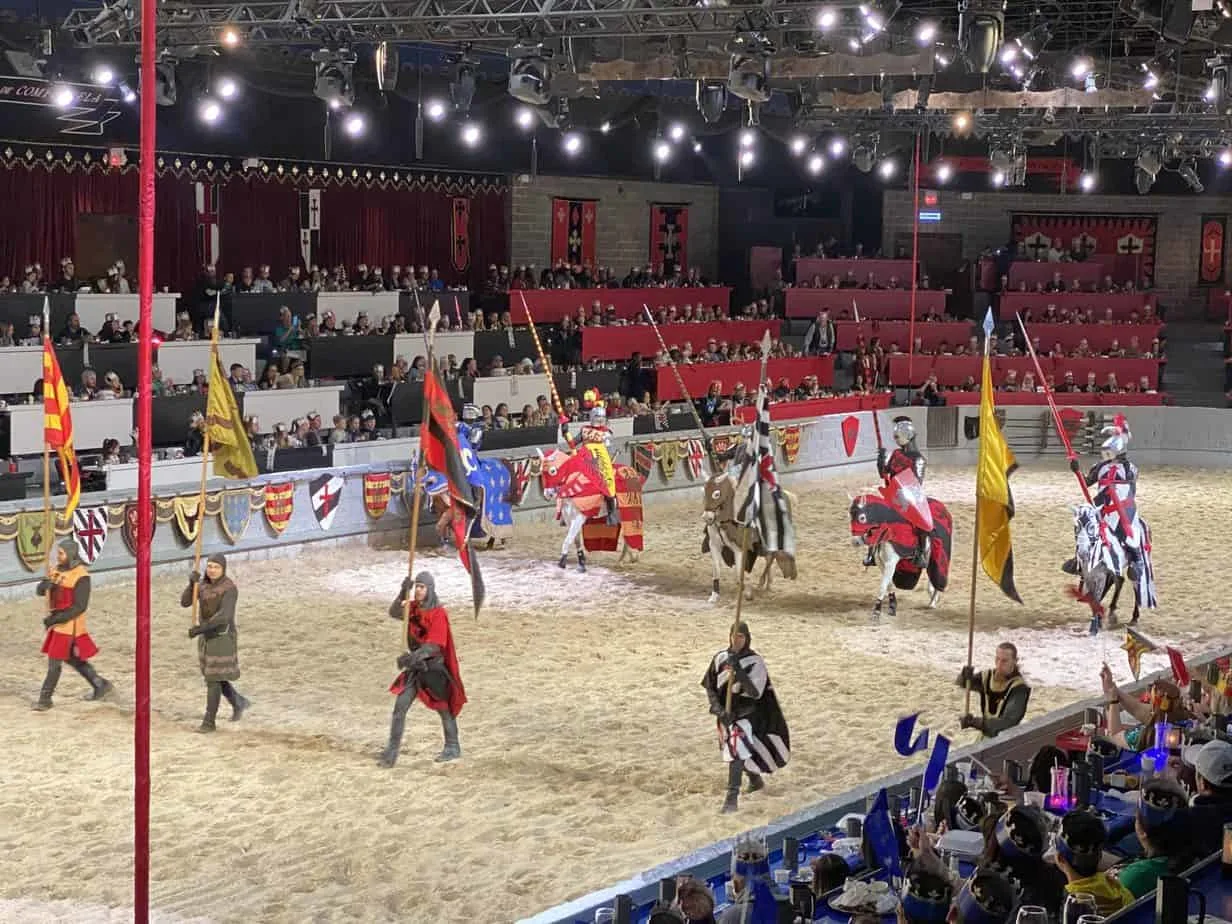 Tips for making your Medieval Times experience fun and enjoyable for everyone:
1. Arrive early (at least 30 minutes) and enjoy the castle and the free features they have in the foyer. They keep their horses in visible stalls, as well as a couple of rare birds on a viewable perch that sits outside, but can only be accessed through a door inside.
2. Bring plenty of cash for a tip. The servers place a tip folder on your party's bar at the end of the show. The amount is up to you, but definitely consider the price of the ticket and the fact that they have to do a LOT of work. If you invite other people and it is their first time, make sure they know this is something they can expect, if you aren't planning on tipping for their seats.
3. Use the restroom before the rush. Most people wait to use the restrooms at the very end when leaving. This line will be very long. I would suggest going to the restroom about halfway through the show and then planning on getting out of the facility without using it again, if you can.
4. Be prepared to be offered extras at a price. They will ask to take a picture of you at the your party's entry. Be prepared for them to come to your table/bar and ask you if you want to purchase an 8×10 framed copy of that picture. They have a whole store inside the foyer with everything from sword-shaped letter openers, to actual swords. On the way out, be aware of the store with shiny objects that kids love to beg us to purchase. Have a discussion with your spouse, and your children before you exit the arena, so as to come to an agreement about your limits before emotions escalate.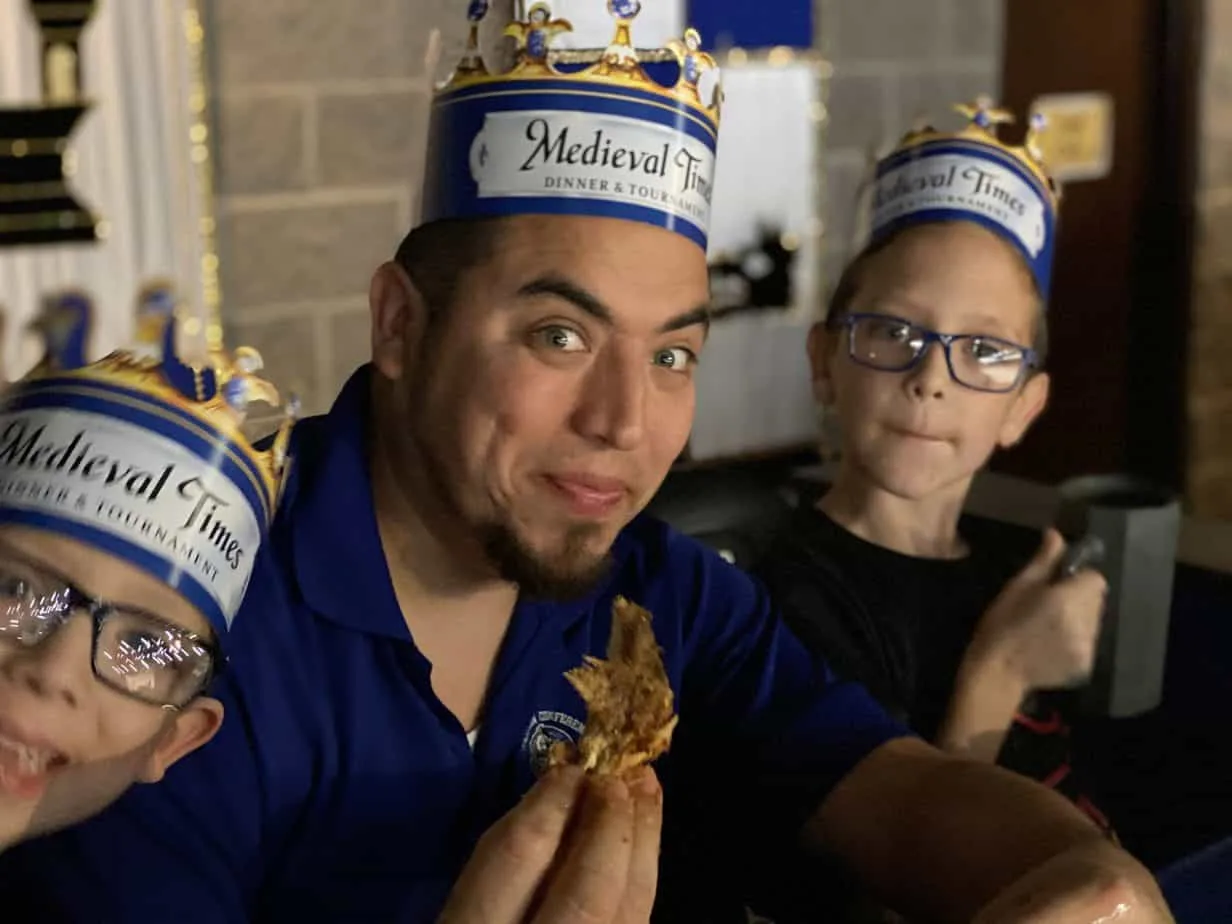 5. Prepare for leftovers. If you're like us, you eat leftovers from restaurants. Since every seat is served a half of a chicken, it's almost never finished by each person, especially little ones. They will offer a take-out box for every guest who needs one. My husband always has my family pile our leftover chicken in one box and take it home. It's that good! It tastes good leftover.
6. Drink choices are limited. Your choices are tea, pepsi, lemonade, or water. They do also offer alcoholic beverages for purchase.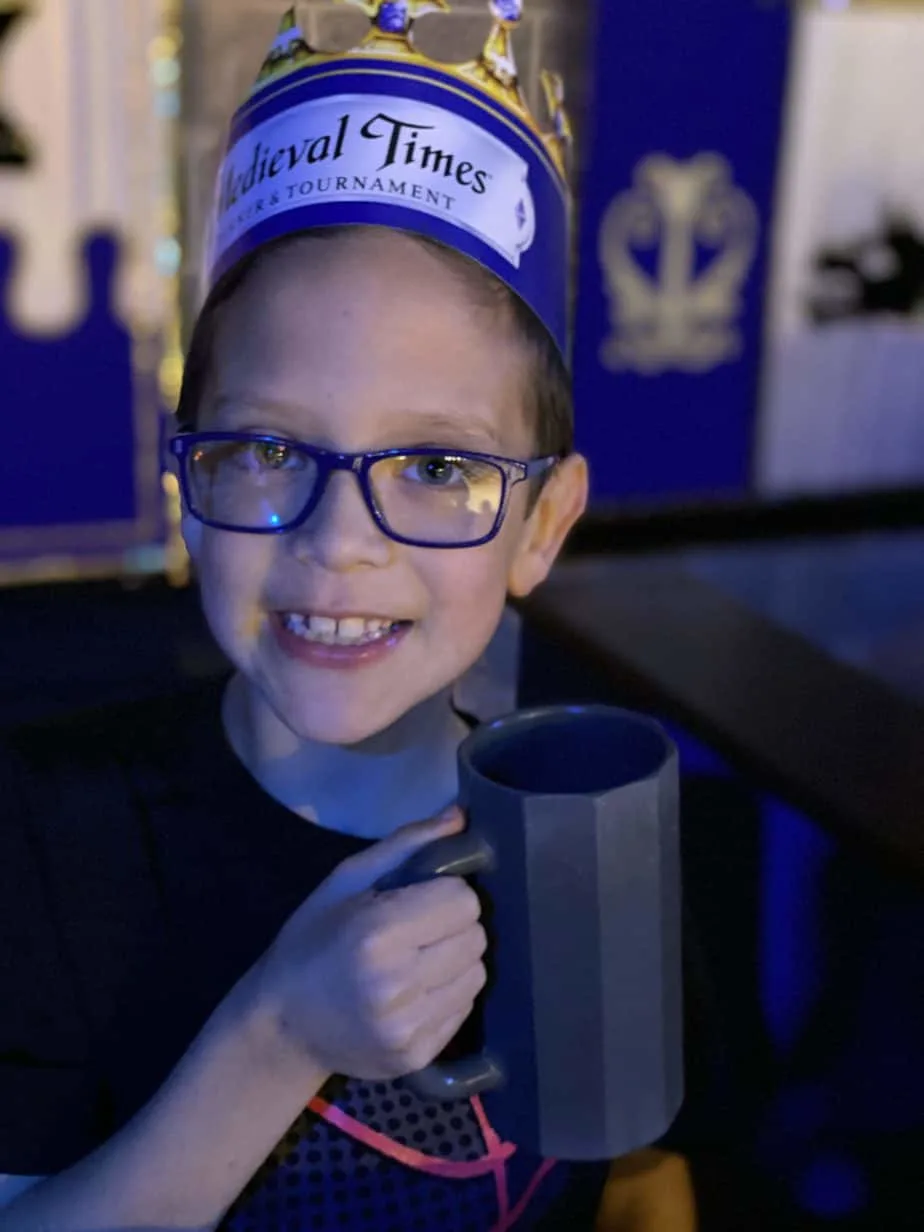 7. Know your exit. When you plan to head to the Dallas Medieval Times, you will be exiting in a very busy stretch of I 35. Make sure to use your phone to get to the right place without being late.
8. Take lots of pictures. This place is a unique experience that you most likely won't see in any other venue. There are so many photo opps that you'll want to remember these moments for a long time. I don't know if this is still the case, but sometimes after the show, the knights would come out for pictures.
Just remember to do your research for Medieval Times ahead of time, so you can relax when you're there. If it's your first time going, it can be a little overwhelming, especially with children. Take an extra adult with you that is going to help you with the kids, so you can enjoy yourself too. We've had all good experiences there, and we plan on going back soon.
Check here for more family friendly things to do in Dallas!