Memorial Day is a vacation for many US citizens. It's a day to head out to the lake, go fishing, have a bbq, or whatever, but let's not forget what it's all about! Did you know that Memorial Day was originally called "Decoration Day" and it was created to commemorate the fallen Union soldiers of the Civil War. Then, it was changed to Memorial Day to honor all Americans who have died in wars. This is a pretty difficult thing for a preschooler to grasp, but I think it's important to try. It is okay to have fun on Memorial Day, but I want my kids to know that's not what it's all about. So, here are a few ideas to teach your preschooler to honor those who have served.
1. Make a card or cards for veterans or people currently serving in the Armed Forces, thanking them for their service to our country. If you don't know anyone personally, check with your church leaders, care home workers, friends, and family to see if they know anyone and chances are, someone does. If not, go to LettersToSoliders.Org and find out ways you can send letters, packages, and even emails to soldiers!
2. Make a meaningful Memorial Day craft. Here are a few that I found on Pinterest to get you started: (click on picture to take you to the original, how to blog post!)
3. My father, a veteran himself, always places flags on the graves of our family members, as well as other veterans. I think this is a great idea. You might check with your City Hall to see if anyone will be doing that this year for Memorial Day. This photo is from last year: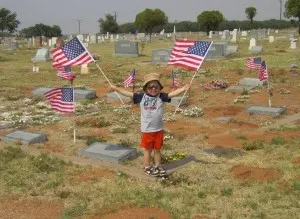 Anything you choose to do with your kids will be memorable, whether it be a craft, visiting veterans, writing a letter, or simply saying a prayer for those serving our country.