The other day, we participated in the Bountiful Baskets food co-op for the first time, and were delighted what we had in our box! Delicious strawberries, blueberries, kiwis, apples, a pineapple, zucchini, tomatoes, a yellow bell pepper, broccoli, lettuce, and……green chard. Huh? Green what? What was I supposed to do with this? I read that it was kind of like spinach, which I like. I found a recipe for cooking green chard (well, it was called Swiss chard in the recipe…I'm still unclear about all of these different kinds of chard when I didn't even know one kind ever existed…) Anyway, you can find the recipe here -> Swiss Chard recipe.
So here's how my first experience with green chard went: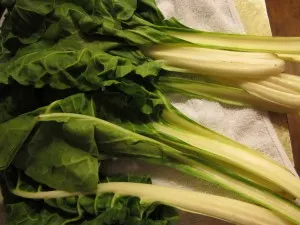 Step one: Wash the chard and cut the tough ends off. The recipe said 1/3 of the stalk, but if I did it over, I would chop the whole stalk off because I don't like stalk. Just like I don't like broccoli stalk.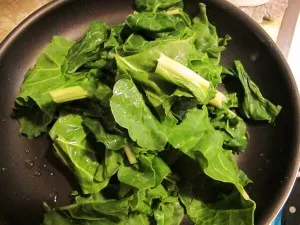 Step two: Put some olive oil and garlic in a pan. (The recipe said to add some dried crushed red pepper, but I didn't have any.) Add the chard.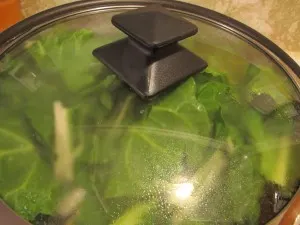 Step three: Saute' chard and cover for about five-ten minutes.
Step four: Turn over leaves and cook for another five minutes.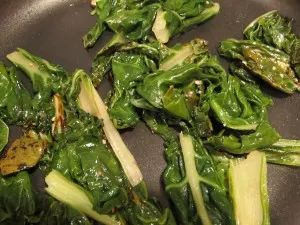 Step five: Eat the chard.
You see I burnt a few leaves, but they were still tasty. My hubby said it tasted like spinach, and all he wanted was one bite because he's not a spinach fan. Baby D liked to play with it, but wouldn't take a bite. The Captain would even look at the stuff, hardly, let alone put it anywhere near his mouth. So I was left to eat it all, but I didn't eat it all. I ate all that I could. It wasn't BAD, but it definitely wasn't something I'd request again. It had sort of a buttery taste, and the garlic really complimented it.
One of our friends said we could use it in a salad like spinach. I think that if we do get chard in our box again, that'll be the way to go.
Thanks for reading about my experiment in chard!