Have you always wanted an outdoor pizza oven? You're going to learn everything you need to know to become the ultimate pizza master with your outdoor oven. From choosing the right oven to mastering dough and toppings, get ready to dominate your pizza nights like a pro.
There's nothing quite like al fresco dining in your own backyard, and if you're a pizza enthusiast, then you need an outdoor pizza oven in your life. Within minutes, you can create restaurant-quality pizzas with that all-important charred crust, and become the hero of your next gathering.
Choosing the perfect outdoor pizza oven
There are different types of pizza ovens, so it's important that you choose the oven that's right for you.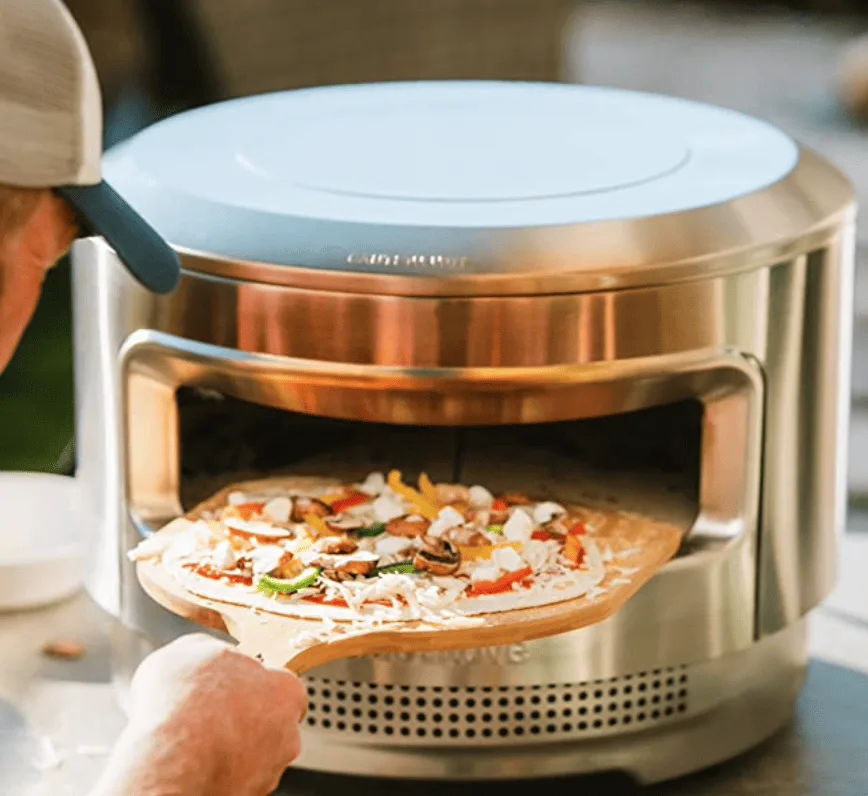 Wood-fired pizza oven: A wood-fired pizza oven gives the most authentic smoky flavor that traditional pizzas are known for. They cook pizzas quickly as they reach very high temperatures, and you can cook some pizzas in as little as 90 seconds. However, some people find achieving the correct temperatures a little difficult, and there's a fair amount of cleaning up with them.
They are versatile, and you can bake bread, roast meats and vegetables. They do tend to be expensive and often need professional installation.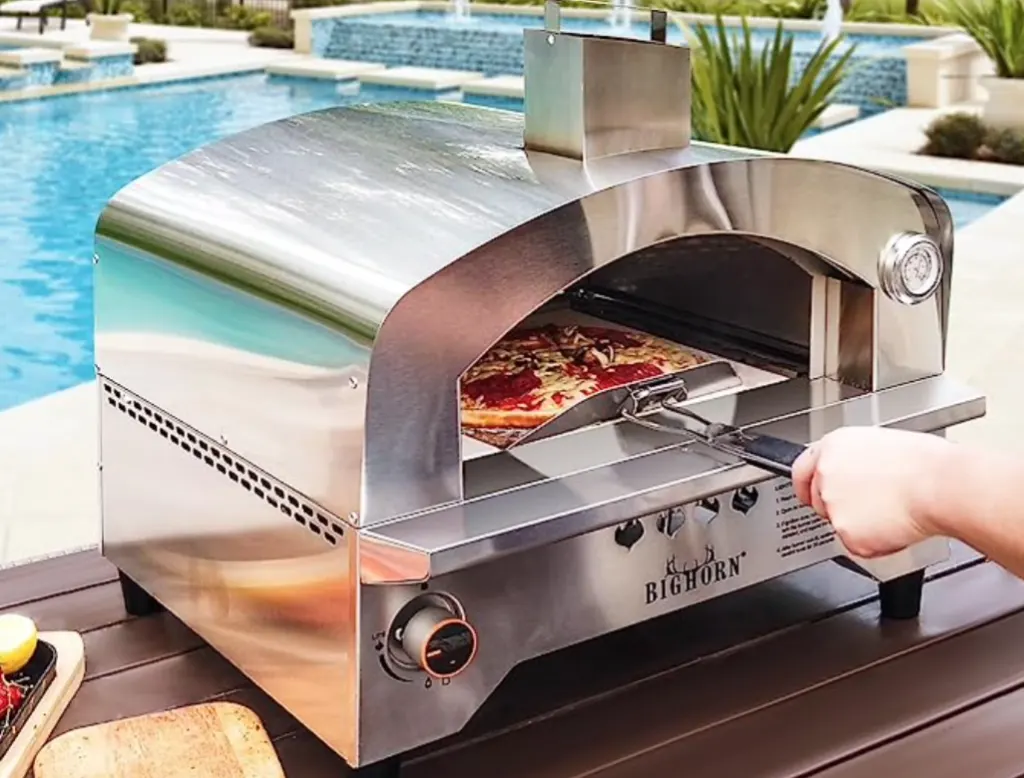 Gas pizza ovens: The correct temperatures are very easy to achieve as it's controlled by the turning of a knob. The heat is consistent, and depending on the brand of the cooker, you can cook some pizzas in as little as 90 seconds, just like the wood-fired oven.
You won't get the smoky flavor of a wood-fired oven, but the clean-up is far less. You will also need a continuous gas supply, so you need to make sure you don't run out mid-cooking.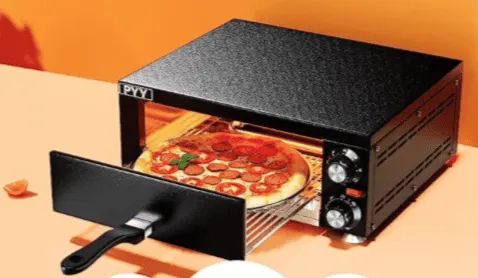 Electric ovens: Usually the domain of commercial kitchens, electric ovens can now be found suitable for home cooking. It won't have the same smoky flavor or speed of cooking that both the wood-fired and gas ovens have, but you can use them both indoors and outdoors (as long as you have power).
Tools and accessories
If you make pizzas in your pizza oven, then you'll need some tools to make the most of it.
Pizza stone: Most pizza ovens come with a pizza stone that retains the heat up to very high temperatures. This allows the pizza crust to cook perfectly.
Pizza peel: This is crucial. A pizza peel is a large flat paddle with a long handle used to transfer pizzas to and from the oven. You place the uncooked pizza on the paddle, then slide it into the oven; this prevents you from burning yourself.
Pizza turning peel: A pizza turning peel is a round-shaped, smaller long-handled peel that lets you turn the pizza in the oven. Pizzas need to be turned every 20 seconds to ensure an even cook.
Pizza cutter: also known as a pizza wheel, is a handheld rotating circular blade that allows you to cut slices like a pro.
"I love my outdoor pizza oven. There's nothing quite like sitting around on a warm summer evening making pizzas and sharing them with friends and family as they come hot out of the oven. They're a real treat for us, and I love the authentic pizza oven taste with no mess in the kitchen!"
— Chef Jenn Allen, Cook What You Love
Mastering the art of dough
Pizza dough is made from just four ingredients; flour, yeast, salt and water, although some recipes also call for sugar.
The secret to making pizza dough is in letting it rest so that it doubles in size and also knowing how to knead the dough properly. Once you master homemade pizza dough, you'll elevate your pizzas to a new level.
Elevating your sauce and toppings
Pizza sauce and toppings are where your creativity kicks in. You can experiment with different flavors and finetune the perfect pizza combination for your tastes; try making the classic Margherita pizza or maybe the controversial pineapple pizza; the choice is yours.
If you are planning a pizza party, set up a pizza bar, this lets everyone choose the perfect topping for them.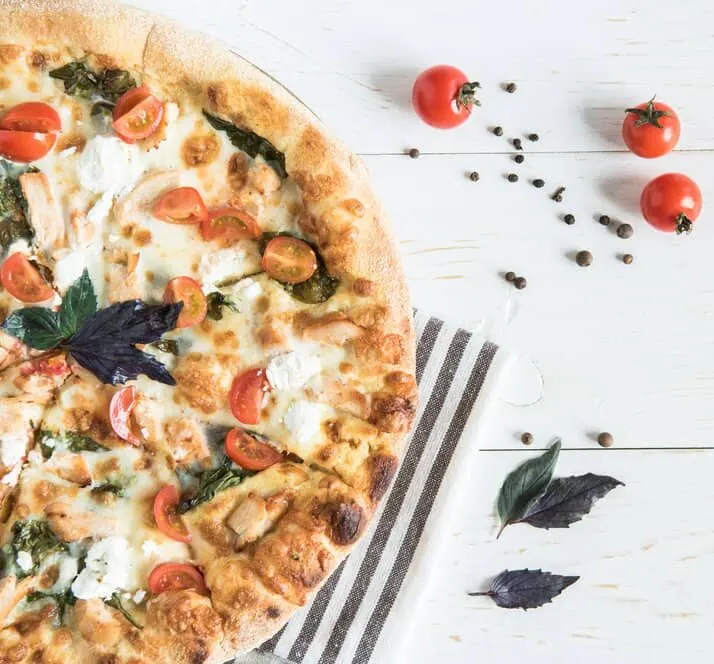 Pizza Cooking Techniques
Cooking pizzas in an outdoor oven takes practice, don't be surprised if your first pizzas don't turn out great; remember, practice makes perfect. Here are a few tips to help you master the art.
Preheat your oven: You must preheat your pizza oven, typically from 450°F (230°C) to 900°F (480°C). Preheating may take 30 minutes to an hour, depending on your oven. Ensure that your oven has a baking stone for a deliciously crispy crust.
Prepare your pizza: Aim for a thin, even pizza crust, and make sure you assemble it on a pizza peel sprinkled with flour which allows the pizza to slide into the oven easily. Less is more with pizza toppings, don't overload your pizzas, or you could end up with a soggy pizza that isn't cooked evenly.
Cooking: Once you've slid your pizza into the oven, shut the door immediately so the heat is retained. Watch your pizza closely and rotate it every 20 seconds to ensure an even cook. When the crust is charred or golden brown, and the cheese has melted and started to bubble, the pizza is cooked. Remove it from the oven, allow it to rest for a couple of minutes to let the toppings set, and then use a pizza cutter to slice it.
Troubleshooting and common challenges
When cooking pizzas in an outdoor oven, it's typical to run into a few problems; here are some of the more common problems.
Uneven cooking: If you notice that some areas of the pizzas are burning while others are still raw, this could be because you're not turning the pizza regularly enough. Use a peel to turn the pizza every 20 seconds.
Pizza sticks to the peel: You may not have sprinkled your peel with flour; the flour provides a barrier between the dough and the peel and allows you to slide the pizza with ease into the oven.
Soggy pizza crust: A soggy crust could happen because you haven't heated the oven sufficiently or overloaded the pizza with toppings. Preheat for 30 minutes and reduce the amount of toppings you use.
Congratulations! You've now completed the Outdoor Pizza Oven 101 guide; you should now be able to select the right oven for you and begin to experiment with the pizza dough and toppings, creating the perfect pizzas and making you everyone's favorite pizza host. So fire up that oven, let your creativity soar, and enjoy the delicious rewards of your outdoor pizza oven adventures.
Mandy is the enthusiastic creator of the vegetarian website Splash of Taste; she makes meat-free cooking fun and easy. When Mandy's not cooking and writing, you'll find her traveling, exploring countries and cuisines, and spending time with her chihuahua. Download her free 5 x Easy Vegetarian Meals eBook.
This article originally appeared on Food Drink Life.