Although I love a hot, delicious Pumpkin Spice latte, I also love Peppermint Mocha lattes. The flavor combo of peppermint flavor and chocolate is one of my favorite holiday traditions. Serve up a holiday cookie tray of these Peppermint Mocha cookies at Christmas parties and family gatherings this year! If you like these chewy peppermint mocha cookies, try my Peppermint Mocha Glazed Donut Holes, too!
This recipe is great because not only do these cookies look fun and festive, the kids can help dip and sprinkle. It is so super easy and delicious! If you want another fancy Christmas cookie, check out this recipe for raspberry bow tie cookies.
As the chilly winds of winter begin to sweep across the landscape, there's nothing quite like snuggling up by the fireplace with a warm cup of cocoa in one hand and a plate of peppermint mocha cookies in the other. These delightful treats capture the essence of the holiday season, combining the rich coffee flavor and chocolate with the cool, refreshing zing of peppermint. Let's find out why these cookies are one of the favorite holiday cookies!
A Brief History of Peppermint Mocha Cookies
Peppermint mocha cookies, a festive fusion of coffee and peppermint, have gained popularity in recent years, thanks in part to the widespread love for peppermint mocha beverages during the holiday season. However, the origins of these delectable cookies can be traced back to the traditional holiday flavors and the evolution of the modern dessert.
The Perfect Blend of Flavors
Peppermint mocha cookies are the perfect harmony of flavors. The rich, robust notes of coffee or espresso blend seamlessly with the deep, cocoa-rich chocolate, creating a decadent base. But it's the addition of crushed peppermint candies or candy canes, and peppermint extract that elevates these cookies to another level. The bright, minty freshness of peppermint acts as a beautiful counterbalance to the deep, dark chocolate and coffee, making every bite a heavenly experience. And I have added an extra flavor with white chocolate!
Recipe: Homemade Peppermint Mocha Cookies
Now, let's roll up our sleeves and get baking with a delightful homemade peppermint mocha cookie recipe. These cookies are perfect for gifting, sharing with loved ones, or simply indulging in on a cozy winter evening.
(And if you make them with this Bosch mixer, the process is easier and more fun!)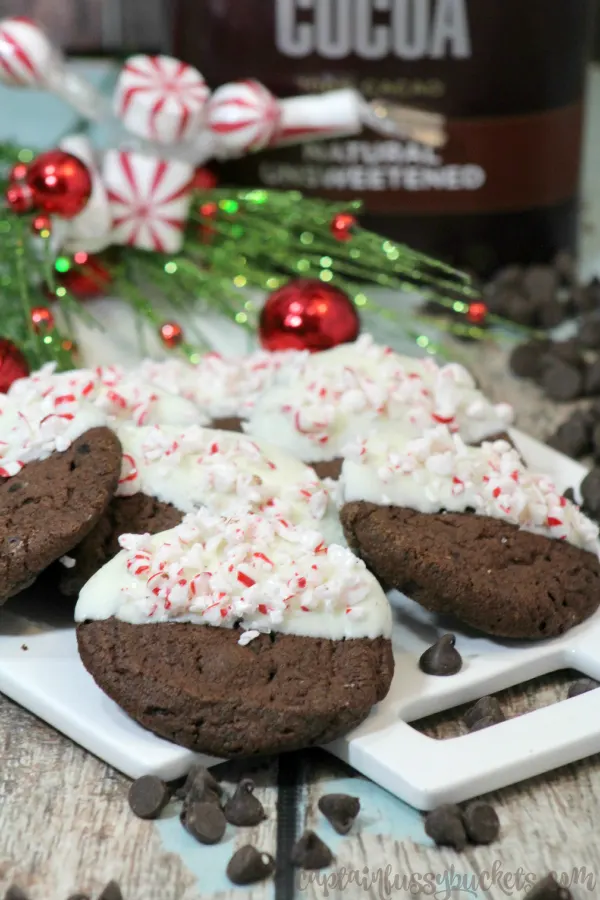 These cookies would be delicious alongside your favorite peppermint mocha coffee recipe or with a glass of milk on Christmas Eve!
This post was originally written in November 2015, revised October 5, 2023.