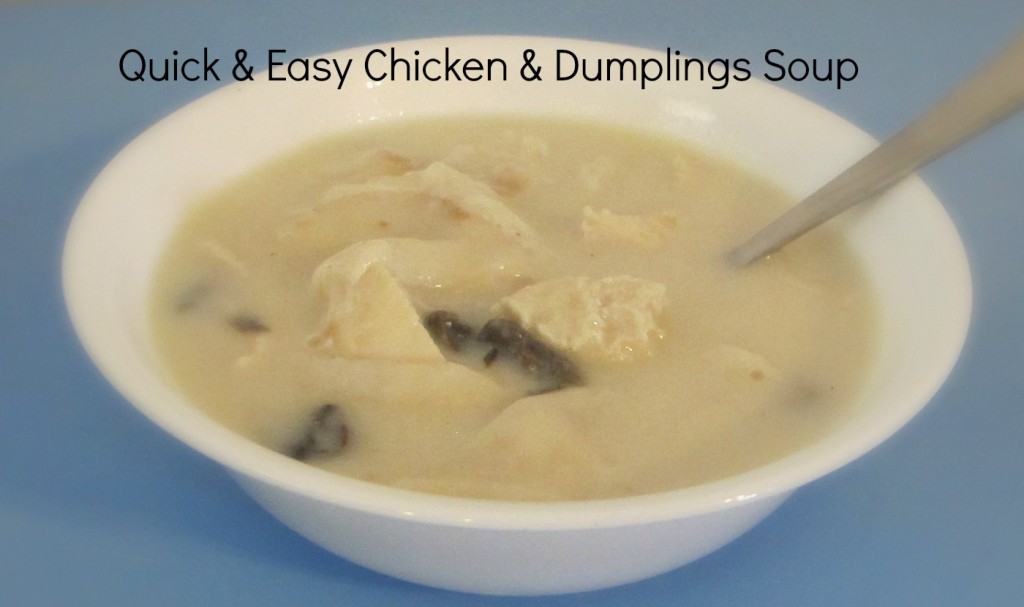 This isn't your traditional Southern Chicken and Dumplings, but it's yummy and easy, perfect for a cold day. The whole family loves this recipe, which my mother-in-law shared with me! The tortillas make the "dumplings," and you can hardly tell they're tortillas after the cook. I have added carrots and cream of celery soup, but they're not necessary for a delicious, hearty bowl of soup!
Chicken and Dumplings Soup
Ingredients:
3-4 chicken breasts

1/2 tsp salt

1/4 tsp pepper

cream of mushroom soup (one can or make your own!)

10 flour, taco sized tortillas (more or less, depending on preference)
Directions:
Fill a stock pot half full with water.

Add chicken breasts (frozen or refrigerated) and boil until done.

Carefully take cooked chicken out and cut into bite sized pieces.

Add salt, pepper, and cooked chicken back to water in pot and bring to a boil.

Add in your cream of mushroom soup and return to a boil.

When boiling, add in tortillas, cut or torn into strips.

Let cook for about 15 – 20 minutes on medium-high, making sure to stir often.

Serve and enjoy!