​Did you know that RSV is a common seasonal virus that affects two-thirds of all infants by age one and almost 100% of babies by age two? RSV is highly contagious and can live on surfaces for several hours or can be spread by kissing, touching, and hugging. RSV usually only causes mild to moderate cold-like symptoms, but in some babies, it can result in a very serious repiratory infection. Preemies are especially at risk because of their under developed lungs and fewer antibodies to fight off infections. There is no cure for RSV and it usually runs it's course with no major side effects, but it is important for parents to remember to keep sick kids home so RSV doesn't spread to those little ones whose bodies can't fight off the illness.
I remember being a brand new mother to Captain Fussybuckets, four years ago. He was born in November so I was a bit anxious about the fact that it was cold and flu season. I had heard scary stories about babies getting sick within the first few weeks and months of life. I'm sure some friends thought I was looney when I wouldn't take him to church for the first three weeks and after that, I kept him close and was careful to whom I passed him off to. It was actually his pediatrician's recommendation to "come late and leave early" from church to help keep baby Captain Fussybuckets well. Luckily, he avoided RSV and Baby D avoided it with his December birth, two years later. You can't be a hermit all winter most likely, but it is important to use common sense, even if it hurts others feelings. Here are a few tips for keeping your baby and older kids well this season!
Limit visitors in the hospital/birthing center when Baby is born. It really is okay to tell people you would prefer no visitors, or limit it to (well) family members.

When you must go out, wear Baby to protect him from germs and eager Baby cuddlers. There are many great choices in baby carriers, from slings to wraps, and more!

If your baby or child is going to daycare, check to see what the facility's policy is about sickness and handwashing.

Wash, wash, wash. Even if your baby is very young, make sure you wash his hands often! If you have an older child, make handwashing fun with a sticker chart or special song to sing while they are washing their hands.

Boost your child's immune system with foods high in vitamin C like oranges and pineapples and high in antioxidants like berries, beans, and artichokes!

Teach your child to not touch their face with their hands. It's hard to avoid it, but it's how germs are spread and how many kids get sick.

​
Learn more about RSV at RSVprotection on the website and in the helpful infographic below and stay well this season!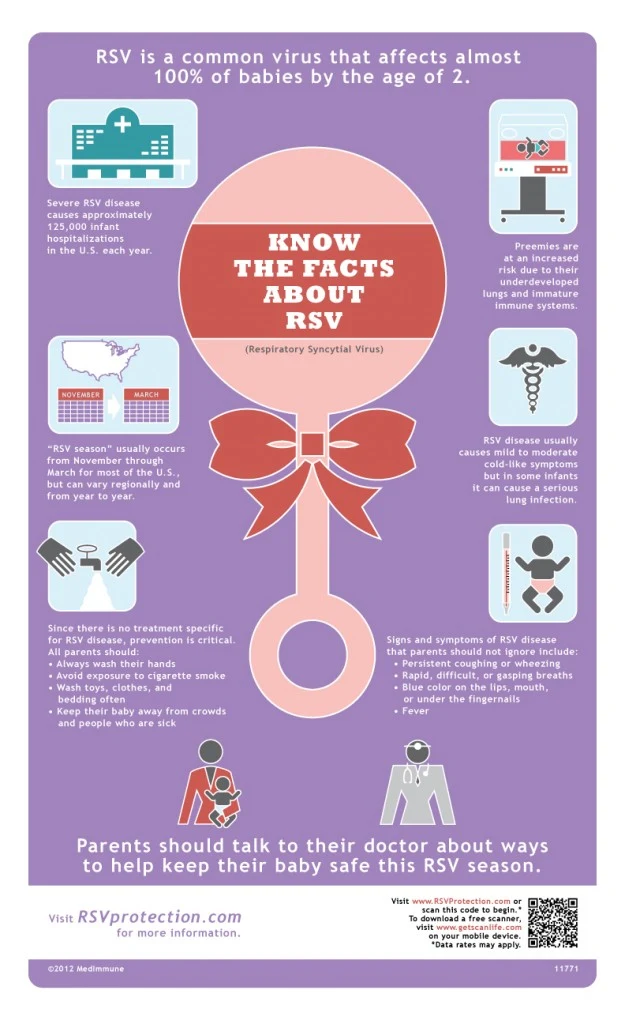 I wrote this review while participating in a campaign for Mom Central Consulting on behalf of MedImmune and I received a promotional item to thank me for my participation.