Sofia the First's Purple Princess Popsicles
My guys definitely have a favorite Disney princess and her name is Sofia! Sofia the First on Disney Junior is entertaining because Sofia is smart and kind. We all love watching Sofia and friends in this adorable show. She is definitely more than just a pretty princess.
In the newly released Sofia DVD – "The Secret Library," Sofia's Aunt Tilly returns to give her a gift that will unlock a secret world and appoint Sofia storykeeper of magical books without endings. Sofia pursues adventures that will finish the narratives, including rescuing Minimus' brother from an evil prince and setting out on a mission to stop Miss Nettle from stealing all the beautiful snowdrop flowers from the wintery kingdom of Freezenberg. Merida from Disney•Pixar's "Brave" and Olaf from Disney's "Frozen" make special appearances, too!
To celebrate the release of the newest Sofia the First DVD, we made Purple Princess Popsicles!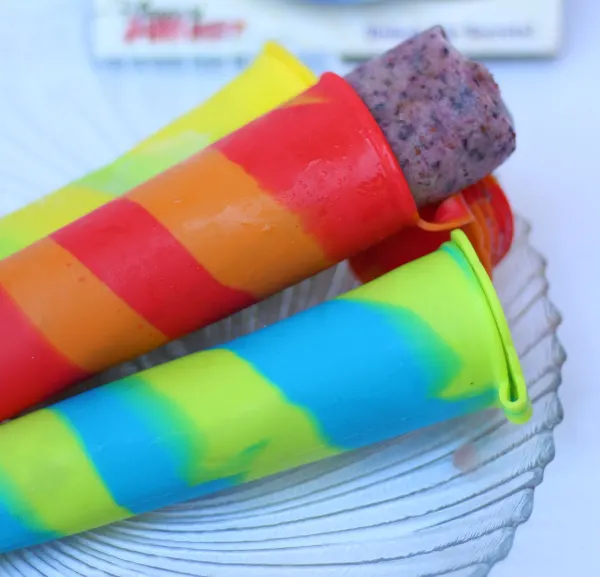 Of course, I did not tell the boys I was calling them "Purple Princess Popsicles," because, being manly men, they would not have eaten them. Funny thing about kids and popsicles…..they don't really need a name because well, "popsicles" is somehow always good enough.
To make these popsicles, all you need is three ingredients, a reliable blender or food processor, and some popsicle molds. It does not matter what molds you use, but we all prefer these popsicle molds because they have an attached, easy to remove lid, are BPA free, and are made of silicone so they do not break when you drop them. I cannot tell you how many popsicle molds that have been broken over the years. Frozen things in plastic WILL break when dropped.
Ingredients for 4-6 popsicles:
1 1/2 cup of fresh or frozen blueberries, washed

3/4 cup of milk (any kind will do – coconut, dairy, soy, etc, or you can use juice)

1 1/2 cups of fresh or frozen pineapple chunks
Directions:
Add all ingredients to the blender and blend on the highest setting until mixture is smooth.

Pour mixture into popsicle molds.

Freeze for about 6 hours, or overnight and enjoy!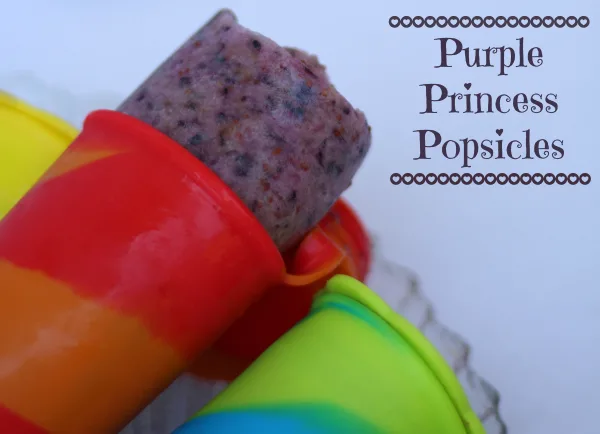 Baby Brother was a huge fan!!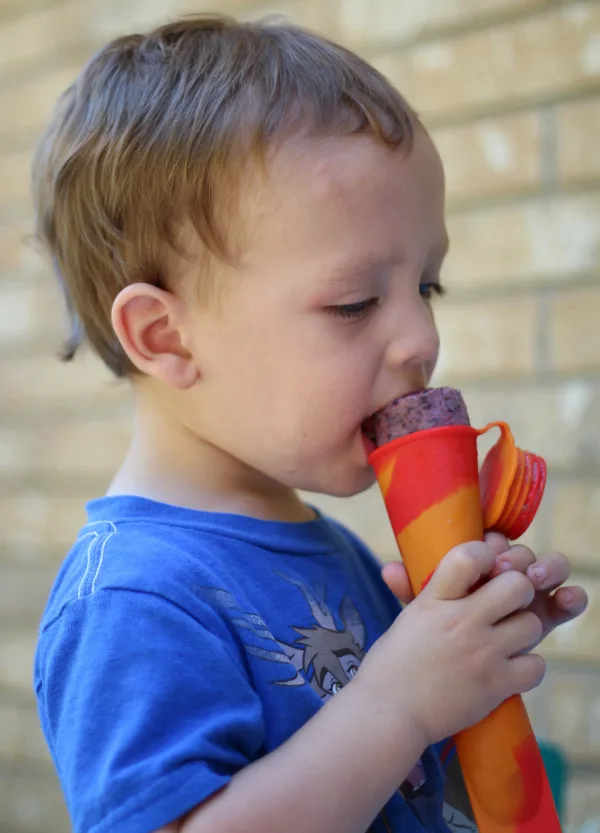 Sofia The First: The Secret Library
Sofia the First The Secret Library: Purchase Includes Disney eBook! by Disney Book Group (September 1, 2015) Hardcover
The Trusty Baker- Silicone -Popsicle molds- set of 6-NON BPA- Unattached lids- FREE SHIPPING
&