I am not sure what started this family's love of Star Wars, but it has been present for a very long time! There is something about Darth Vader, Luke Skywalker, and the whole Star Wars storyline that is fun for everyone! The older boys have only recently been allowed to see the latest Star Wars movie, so they are living it up! We recently had a Star Wars movie night a few weeks ago and we all had a blast!
To prepare for movie night, I went to Kroger and picked up some yummy movie watching party snacks, including popchips Star Wars Galaxy Puffs. My family always loves the white cheddar flavor!
We often have movie nights at our house, but this night, we went outdoors. There was a projector and a "big screen," which made it all the more awesome! The boys were excited to dress up and bring their lightsabers and Star Wars guns, too. We all sat in camping chairs and brought blankets for when the night air became chilly.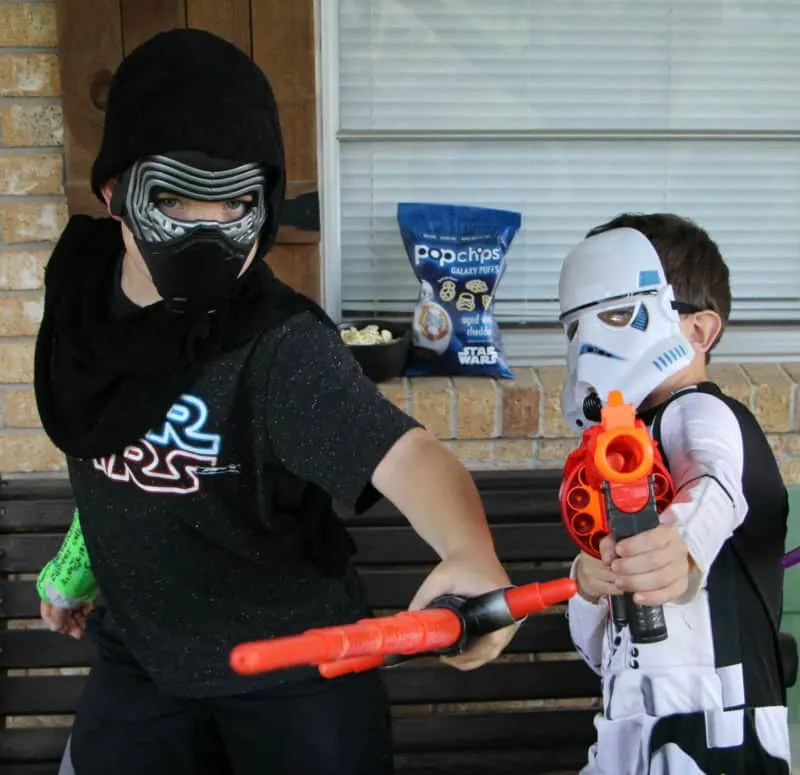 (Yes, one can still wield a lightsaber with a broken arm..just so you know!)
We had a Kylo Ren and Stormtrooper, but then we had a last minute costume change to Anakin Skywalker. Hey, being able to choose your Star Wars character is super important when going to a Star Wars movie night!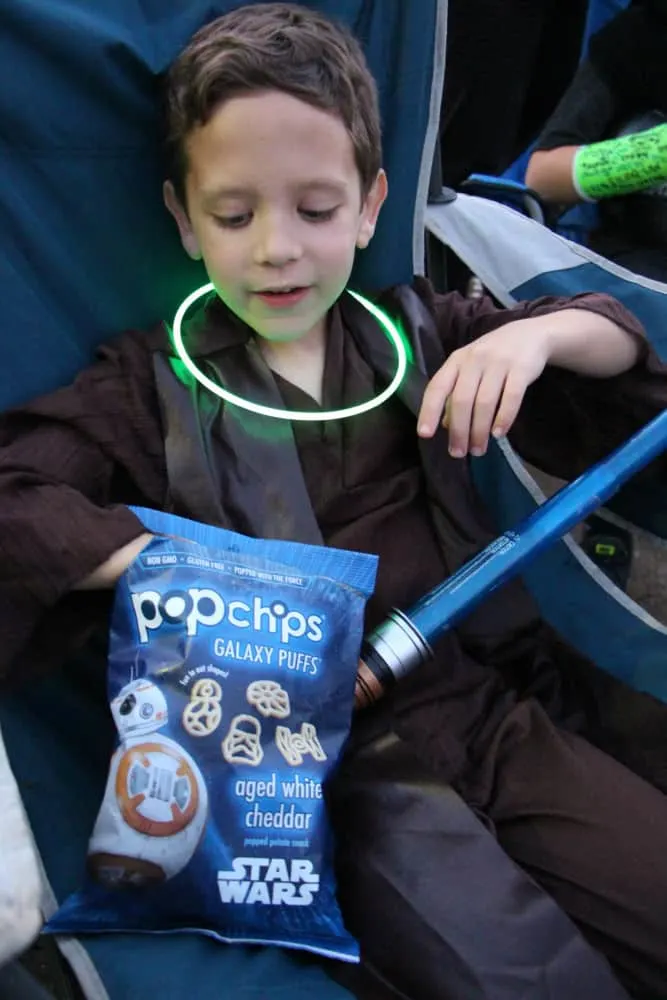 The popchips Star Wars Galaxy Puffs were a big hit! I love that are not, non-gmo, gluten free, and made with real aged white cheddar. The kids loved the Star Wars shapes.
Galaxy Puffs are a better-for-you movie night snack. And if there are any leftover after the family has shared a bag, they make a great lunch box surprise, too!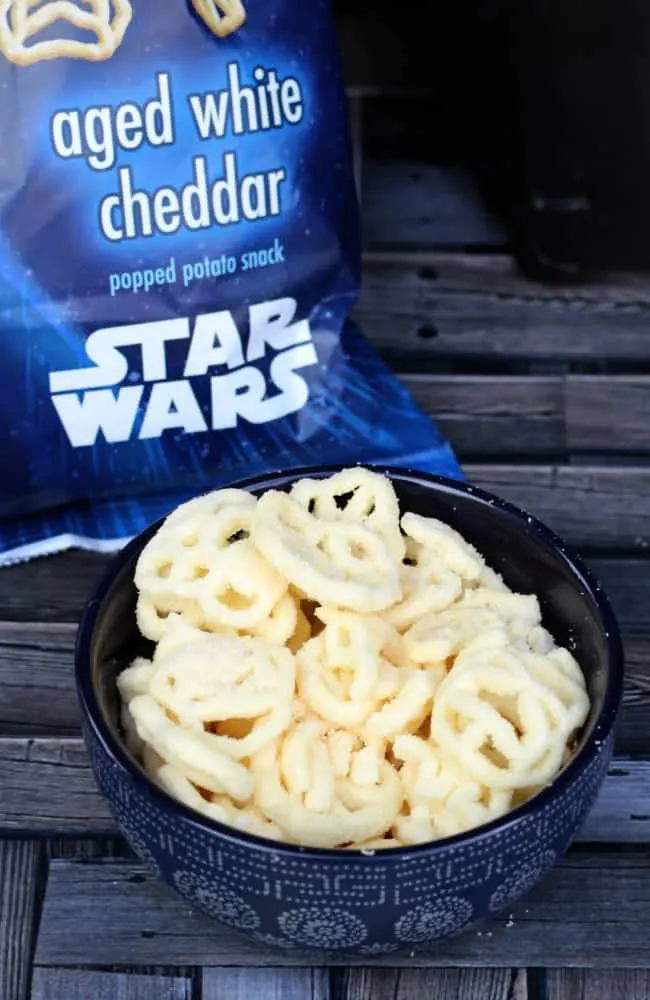 What you need for an outdoor Star Wars movie night:
projector
screen (the side of a house or a white sheet works well, too!)
table
camping or lawn chairs (or blankets and pillows)
lots of snacks, like popchips Star Wars Galaxy puffs
drinks
blankets
Star Wars costumes and light sabers!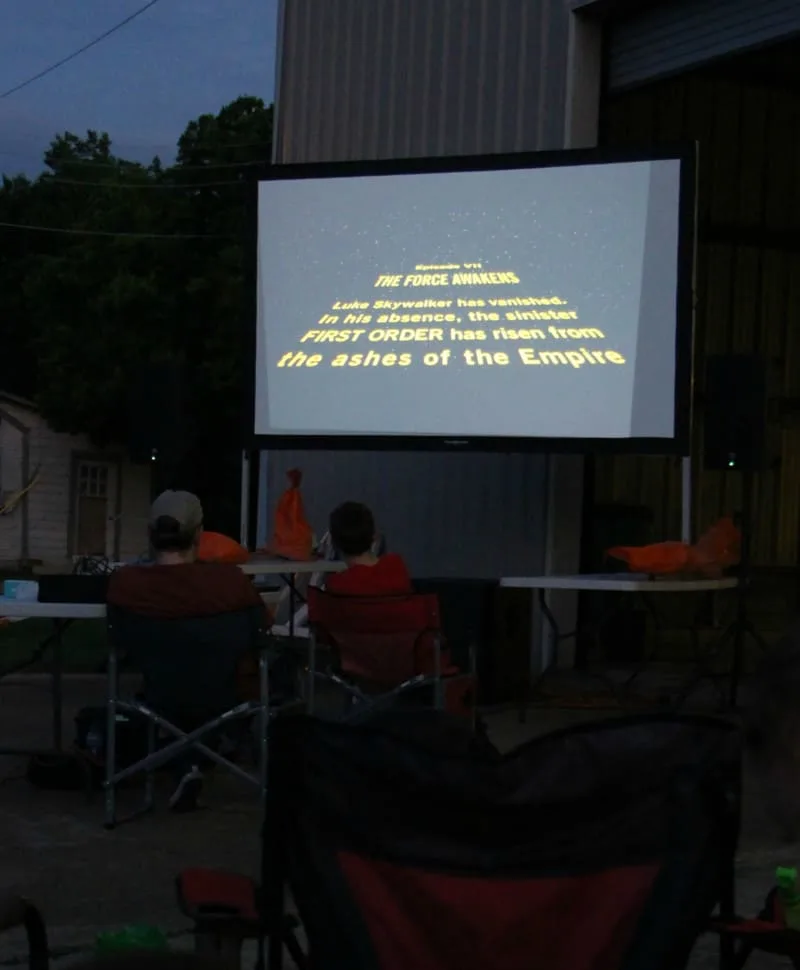 Star Wars movie night was a HUGE success! Outdoor movies are so much fun, especially a Star Wars movie…under the stars. Dressing up in Star Wars costumes and eating snacks like popchips Star Wars Galaxy Puffs are a fun way to fully incorporate the Star Wars theme into the night!