I am guilty of focusing on only what is right in front of me, which is common for busy parents, isn't it? I sometimes forget about the service members who are dedicating their time and lives to protect our country. Hundreds of thousands of service members will remain on duty, away from home, this holiday season. So how do we give to those who are giving their all for our country? The USO Wishbook is a great place to start if you want to support troops around the world!

What is the USO Wishbook?
This holiday season, let's give back to the men and women who give up so much, remaining on duty during the holiday season while we spend time with our families. While we enjoy our favorite holiday traditions, these people are protecting our nation and missing their own families. There is an easy way to support our troops and that is the USO Wishbook.
The USO Wishbook allows anyone to purchase gifts that are comforts that we all love, such as movies, long distance bedtime stories, and comfort food packages, just to name a few. Your gift is tax deductible to the extent allowable by federal law.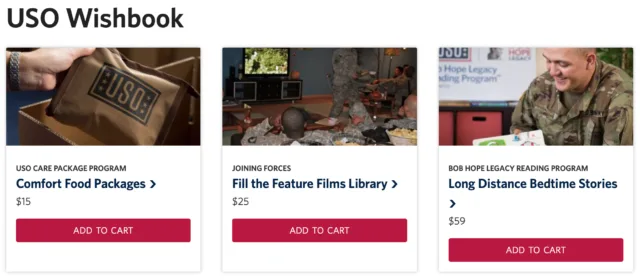 What is the USO?
The USO, simply put, takes care of service members and their families. The USO is not part of the federal government. It is a congressionally chartered, private organization, that relies on the generosity of others to in turn offer support for our troops and their families. The USO asks all military supporters to join in as a Force Behind the Forces® and support its effort to connect service members and their families to home, no matter where they serve.
Other Ways to Support Our Troops
Another way to support service members is to rally others to give via a USO Facebook Fundraiser. Host a fundraiser to rally other military supporters to help support our men and women in uniform, and their families, during a time they need us most. It is simple to set up but it goes a long way, and every dollar counts for these hardworking men and women.
Do you have any other ideas on how to support our troops during the holidays?