Captain Fussybuckets' birthday is in November. Here in Texas, you have to be 5 on September 1st to start to kindergarten. So, while one of his cousins and most of his preschool buddies will be starting kindergarten in the Fall, he will not. He has been in the 4's and 5's class at a two day preschool program since September. It was the first year of this program, so they were still trying to figure out which class to put the kids in when school started. The Captain was three when he began the 4's and 5's class, and that's where he stayed when they pulled some younger kids out and put them in another classroom. This has been such a great experience for him, as he has made new friends his age and learned new things, as well as practiced being away from Mommy and Daddy for long periods of time!
His first daycare experience didn't go quite as well. After his third birthday, we put him in a daycare that was owned by friends of ours from church. In fact, his teacher from church was the director of the daycare. He had been asking to go to school and well, we thought it would be great for him. And it was! For three hours, two mornings a week, he happily went to daycare where he played with his friends and loved his teachers. But then he got sick about six weeks into it and had to miss a few days. I think then he realized how much fun he was missing at home, so he didn't want to go back. We tried to take him back, but he just wasn't having fun and so we pulled him out. There was no sense in forcing him to stay there if he didn't want to and we didn't need him to. I really feel for you parents who have no other choice. I don't know how you do it!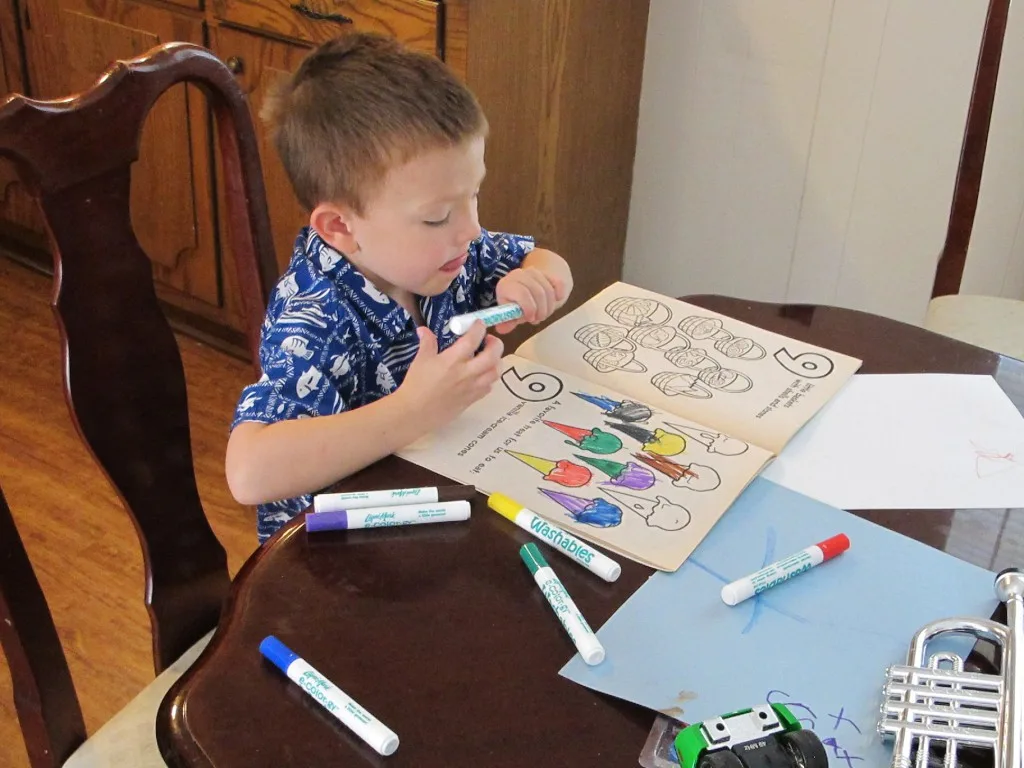 So back to the current situation….a few times he hasn't wanted to go to preschool but that passed quickly, although we thought it wouldn't. But now we have started to realize something….in the fall, he will be going to school with maybe a couple of the kids from this year, but mostly it will be kids from the younger class that have moved up to his class. We assume that he will have the same teacher, in the same room, learning the same things over again. This is great for his social well being, but is there a better option for him? Well, maybe. We have heard the local daycare where he attended before has a great pre-k program. There is also a pre-k at the school that he might qualify for, but being a former teacher, I know those programs are meant for kids who really need them, and I do not want to take that spot away from someone who might need it more than he does.
So where does that leave us? I know how great an extra year can be for some kids. An extra year of maturing, an extra year of preparing can be great, especially for boys. But I've also seen how an extra year can be negative and I've seen a few kids…even boys! with summer birthdays thrive in kindergarten. I do believe that it's all about how you prepare them in the preschool years. Sometimes it depends on maturity, which you can't really teach or force, and maybe the Captain won't be mature enough to handle kindergarten in the fall, even if we were given that option, but as his mother, and also one who taught kids his age in the past, I would say he will be ready and he would thrive in kindergarten in the fall. Of course, though, that's not my decision.
Over the weekend, we went to visit my parents. Luckily my sweet mother had saved my teaching supplies, so I grabbed some of those and brought them home so I can maybe work with him on a few things at home, to keep his learning momentum going. Also, hopefully we can sit down as a family and consider our options and we will find the answer to the question – what's the best choice for our child? I'm just happy and feel so blessed that we do have so many options.
Daycare? Pre-K? Preschool? Montessori? Homeschool? Private school? Public school? I'm interested to hear what the best answer has been for your family and why!