I love the tastes of fall SO much! Pumpkin spice is my favorite, but apples and cinnamon come in at a close second. I love making Apple Cranberry Pecan Crumble, but sometimes just apples is nice. And for this Apple Cinnamon Crumble recipe, I swapped the pecans with walnuts. This recipe is seriously so easy…just dump it all in a pie plate and cook!
Apple Cinnamon Oatmeal Crumble
The hardest part of this recipe is peeling apples and really, with this apple peeling gadget, it can be even more simple. Just make sure to cut your apples similar sizes so it cooks evenly.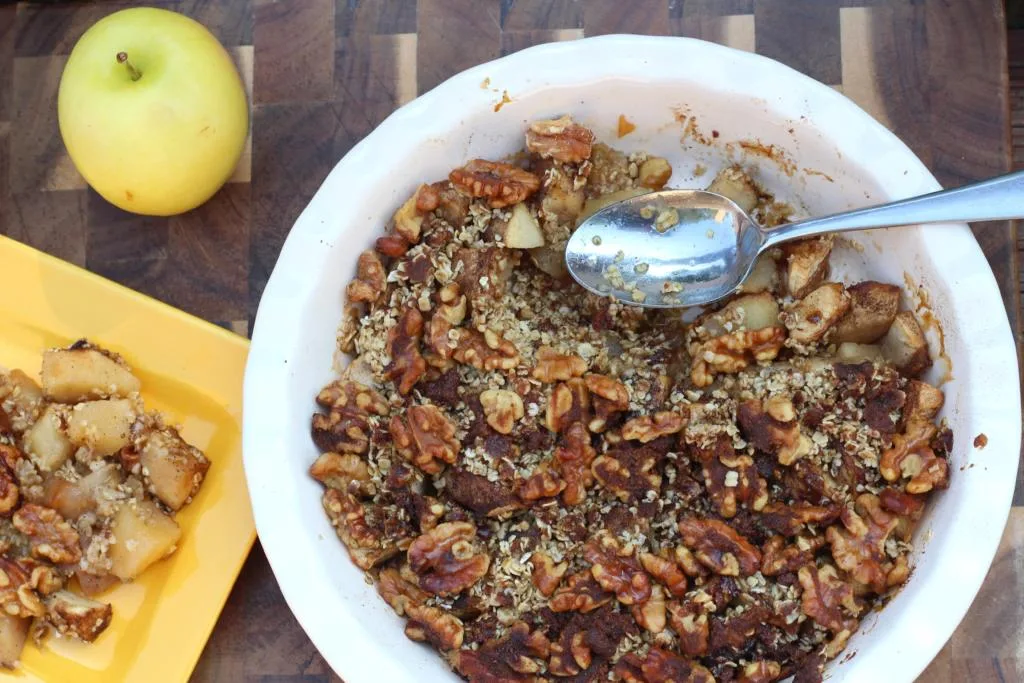 Sure, an apple pie with lattice crust looks more beautiful, but when you need a gluten free dessert, this is just about the best, in my opinion! The oats and walnuts make a delicious topping and you will not even miss a crust!
If you want something more portable, try these vegan apple muffins! And you have to make this gluten free monkey bread, too!
I made this Apple Cinnamon Oatmeal Crumble in my gorgeous new Great Jones Sweetie Pie pie plate! It comes in four colors and truly makes the dessert (or chicken pot pie) really shine on the table!
What is your favorite way to eat apples?