Try this delicious recipe for banana bread – banana mini muffins!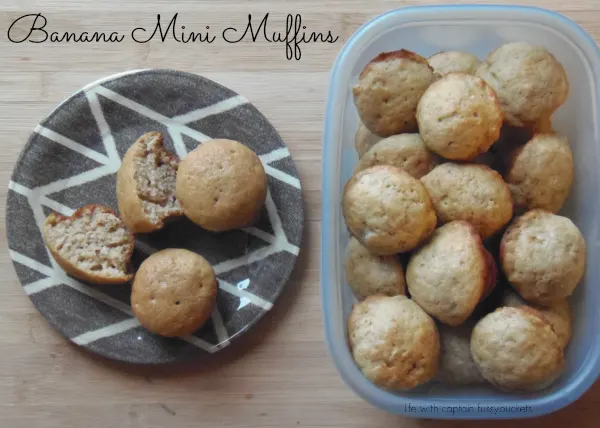 One of the boys' all time favorite snacks is banana mini muffins. We make them quite often and while they usually disappear quickly, sometimes I make an extra batch to keep in the freezer. That way, we can pull out a few at a time, let them thaw or put them in the toaster oven for a few minutes for a warm, delicious treat.
Over the past few months, I have really worked on keeping my fridge organized. I have talked about storing New Year's Eve snacks, keeping leftovers fresh, and even cleaning up my hubby's work fridge and wrapping cloth diapers to make them waterproof. Something I have avoided, however, is my freezer. I don't know why, but I do not like organizing my freezer. I like having it organized, and protecting my food from freezer burn, but somehow it is just easier to open the door, throw something in, and forget about it. But when I actually want something that I know is in the freezer, I have to dig and dig and fight with the toddler as he wants to pull everything out. I gave it a mini makeover, so I could store lots of these Banana Mini Muffins inside! This is the perfect recipe for Banana Bread!
Don't miss my blueberry yogurt muffins, too!
Recipe for Banana Bread