Air fryers have exploded in popularity in recent years, thanks to their ability to cook delicious food fast, with less oil and fat. Having just a few of the right accessories can significantly enhance your air frying experience and make cooking even more effortless.
But there are so many air fryer accessories and the last thing anyone wants is more useless gadgets cluttering up the kitchen cabinets. So it is crucial to choose the right accessories and only buy the ones that will become valuable additions to your kitchen and make cooking faster, more efficient and more delicious.
In this post, we will use our years of air fryer experience to provide you with the necessary accessory knowledge. We will cover the five essential air fryer accessories and another fifteen that you should consider to help make air fryer cooking simple and enjoyable.
The Top 5 Essential Air Fryer Accessories
These essential tools will make cooking and cleaning more manageable and allow you to easily create a variety of delicious air fryer meals.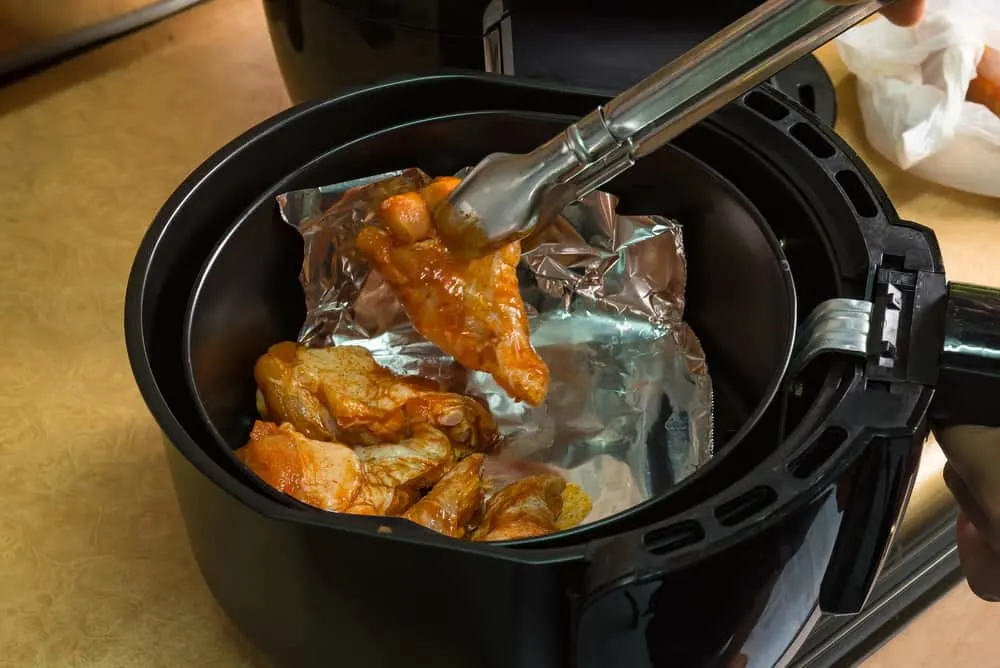 A good pair of tongs is a must-have for any air fryer enthusiast. They make it easy to handle and flip food like sausages without burning your fingers or damaging the non-stick coating of the fryer basket. Use tongs to safely grab hot items or squeeze them together for a secure grip. Having a pair of high-quality tongs will make your air frying experience much more enjoyable. I also have a few pairs of silicone tongs.
While one of the significant advantages of air frying is that it uses less oil, some oil is essential to ensure the food isn't too dry or bland. An oil sprayer or oil mister helps spread the oil evenly on your food so it cooks more efficiently, with an easy-to-control application. We suggest using a glass oil sprayer that you can fill with oil at home. (I personally like these better than cooking spray for my air fryer.)
Basting brushes allow you to evenly spread sauces, oils and marinades on food before and during air frying. A basting brush should have heat-resistant bristles that won't shed or deform. We recommend investing in a silicone basting brush as they are easy to clean and resistant to high temperatures.
A meat thermometer is essential for anyone who loves to cook meat in an air fryer. It ensures that the meat reaches the proper internal temperature for safe consumption and prevents overcooking or undercooking. A digital meat thermometer with a quick-read feature is the easiest to use and will be helpful for other cooking methods like oven roasting and grilling.
Parchment paper will save you time and effort when cleaning up. These liners protect the fryer basket from food residue, reducing the need for scrubbing and preserving the nonstick coating. In addition, it also helps prevent food from sticking to the basket during the cooking process. Parchment paper is perfect these two ingredient chicken nuggets.
>>check out whether or not you should use aluminum foil in an air fryer<<
Other accessories to consider
Here are some additional air fryer accessories that can expand the range of foods you can make.
An air fryer rack creates more cooking space in your air fryer basket. You can achieve crispier results by using this additional layer and allowing better air circulation around your food. It's especially beneficial when cooking multiple layers or different types of food in one basket.
A few baking pans that fit in your air fryer will open up a world of new culinary possibilities. Round pans and small loaf pans are perfect for air frying and making recipes like meatloaf or even small cakes. You can use small oven-safe pans you already own. Metal, silicone and oven-safe glass are all acceptable for use in the air fryer. (Cake pans for the air fryer are also sometimes called cake barrels.)
Get creative with your breakfast or snack-time recipes by using silicone muffin cups. These little silicone cups are perfect for making egg bites, muffins, or appetizers in your air fryer. They're reusable and easy to clean, making them valuable in your kitchen.
A mandoline slicer is very helpful if you want to make homemade chips or fries. It slices vegetables or fruits, ensuring uniform cooking in your air fryer. Make homemade potato chips or zucchini fries in a snap with this handy tool.
A magnetic air fryer cheat sheet conveniently sticks to your air fryer or another metal surface, quickly referencing cooking times and temperatures for various foods. It takes the guesswork out of preparing popular air fryer dishes, so you can enjoy perfectly cooked meals every time.
Crisp up taco shells, reheat fast food tacos, or create your own delicious tacos in the air fryer with these taco molds.
Craft restaurant quality pizzas with a crispy crust and gooey cheese. (always make sure to measure your air fryer and see if the pan will fit!)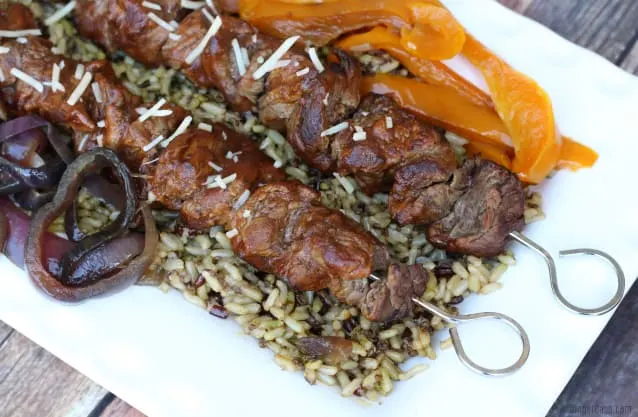 With air fryer skewers, you can transform your air fryer into a mini kabob station. These skewers allow you to cook various types of food, such as meat, vegetables or fruit directly on the skewer. This is perfect for small appetizers or creative meal ideas.
To help with cleanup and extend the life of your air fryer, these silicone liners make cleanup easier.
Steam your way to perfectly cooked vegetables, dumplings, and seafood. It can also be used to crisp french fries more evenly.
Keep your air fryer spotless and free of crumbs and grease buildup.
If you have a Ninja Speedi or one of the Cosori air fryers, especially, you'll want to invest in one of these splatter screens to help keep your appliance clean!
Safeguard your countertop from the heat coming out of the air fryer.
Explore an array of specialized recipes designed to maximize your air fryer's potential. Look for cookbooks that have lots of variety! You will get the best results from cookbooks or online recipes.
Perfect your poached eggs, an essential for breakfast or brunch.
Buying guide
The most important thing to consider when buying air fryer accessories is that there are many air fryer models, different brands and sizes of air fryers, so you will need to know yours before shopping for the best accessories. Some things, like parchment paper, skewers and baking dishes, must be the right size to fit inside your air fryer. So measure your air fryer's basket dimensions and check the compatibility of accessories with your appliance before buying.
Material quality is another factor to consider. You want your accessories to be durable and easy to clean. Most air fryer accessories are made of stainless steel or silicone or have a nonstick coating. Ensure that the materials used are food-grade, BPA-free and dishwasher-safe for easy cleaning.
Finally, how you cook is an essential consideration. If you primarily use your air fryer to heat frozen foods, you only need the essential accessories. On the other hand, if you love to cook and want to make complete meals in your air fryer, you will enjoy some baking pans and extras like a mandoline slicer. If you are ready to up your game and consolidate your appliances, consider something that does many things rather than just air fry, like a Ninja Speedi. My recommendation is that you get this splatter screen if you do get a Speedi, but it is also compatible with other air fryers.
Investing in just a few perfect accessories will help you get the most out of your air fryer. Accessories can cater to different cooking styles and allow you to experiment with new recipes in your air fryer. I have found that air fryers are a great way to start cooking, no matter if you have zero cooking experience. It is the best of the kitchen appliances, especially if you have a small area to cook in.
Air fryer users, what other great accessory for the air fryer do you recommend?
Anne Jolly is the creator of the food blog Upstate Ramblings. She loves to cook with gadgets like an air fryer, sous vide or pressure cooker. In her free time she enjoys hiking, reading, knitting and spending time with her three kids.
This article originally appeared on Food Drink Life