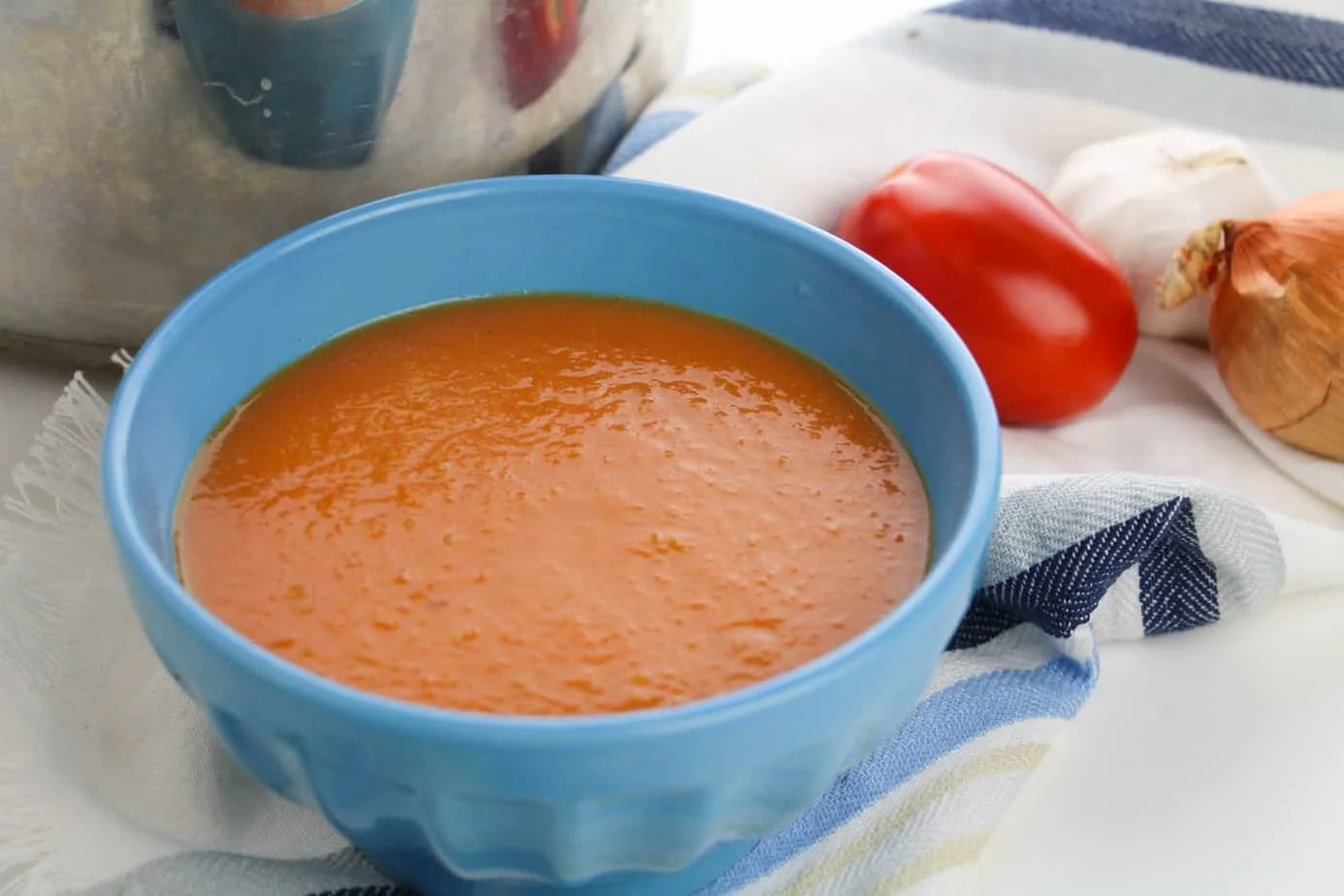 Ahhh Fall… the leaves falling, the acorns crunching under my feet, the cold fronts that blow through…who doesn't love Fall? Sure, Summer is gone and the holidays are approaching, but it seems like Fall is the calm before the storm. I love adding cool weather recipes like this Instant Pot Tomato Soup to my lineup. It is SO good and really good for you! Serve with cornbread, garlic toast, grilled cheese, puff pastry cheese straws…or just serve alone. It is a simply delicious soup and one of my favorite instant pot recipes. A bowl of soup is great for a busy night and it is even better warmed over the next day!
When it comes to comfort food, there's nothing quite like a warm, creamy bowl of tomato soup. And if you have a surplus of fresh tomatoes, there's no better way to put them to good use than by making a homemade tomato soup in your Instant Pot. This recipe is bursting with the flavors of ripe, juicy tomatoes. So, grab your Instant Pot and let's get cooking!
>> Don't have an Instant Pot? I've got you covered! Scroll all the way down for stovetop directions. <<
I have fond memories of tomato soup and grilled cheese sandwiches. Okay actually it was cheese toast, which is just a piece of toast with melted American cheese on it, made in the oven, served with a can of tomato soup. And really, as I remember it, I never was really a fan of tomato soup as a child. Until I grew up and became smarter and realized that tomatoes and garlic pureéd into delicious goodness and served warm was actually downright delicious!
This recipe is super easy. Don't let the roasting of the tomatoes bum you out. You can totally use canned tomatoes and sub them in this recipe and better yet, canned roasted tomatoes. Or you can throw it all in the Instant Pot and have non-roasted tomatoes, it really does not matter. What matters is that this recipe is delicious and your family is going to love it!
If you want a great pasta recipe for your instant pot, try this instant pot ramen!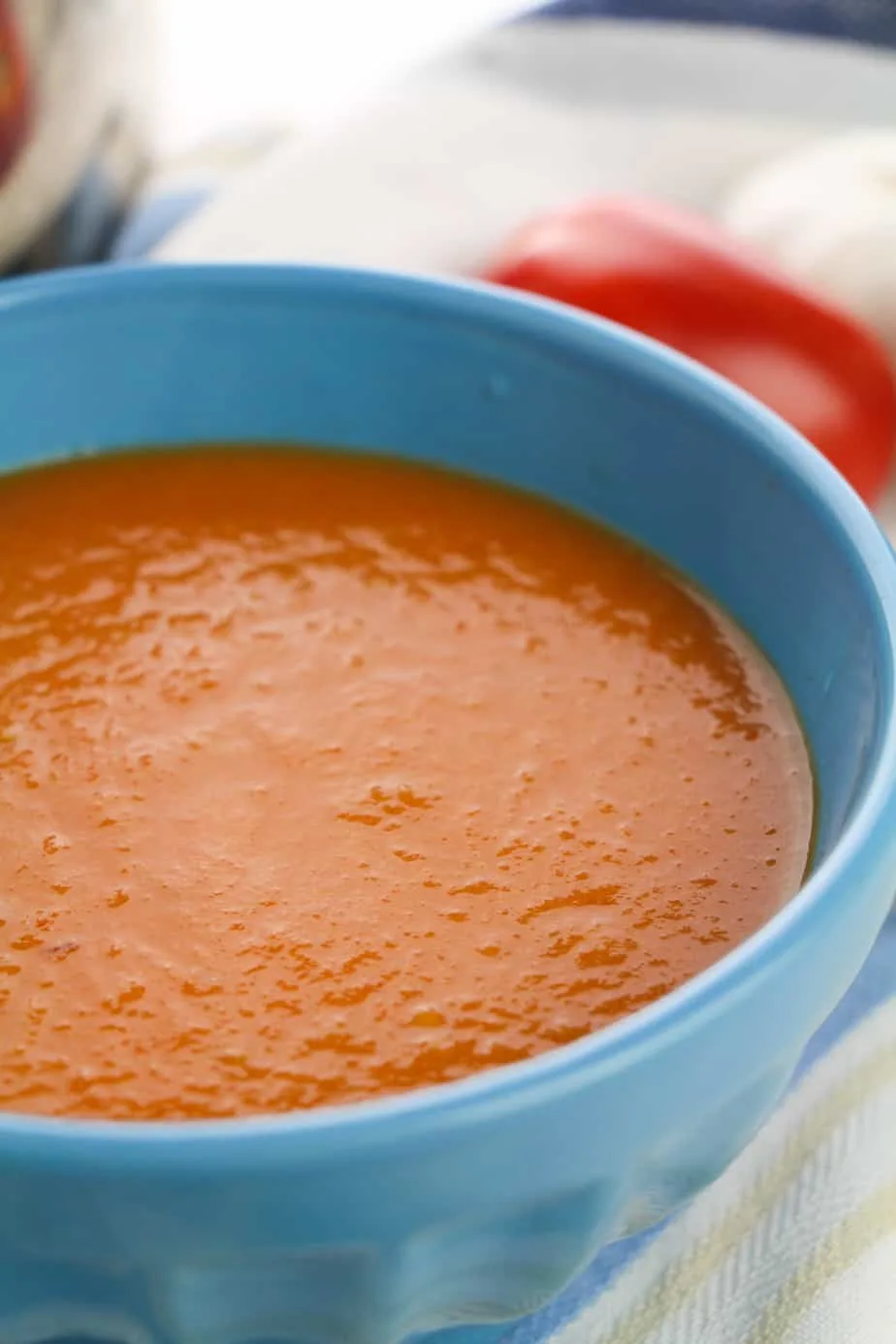 Why Instant Pot Tomato Soup?
The Instant Pot is a versatile kitchen appliance that can significantly cut down on cooking time by using high pressure cooking, all while enhancing the flavors of your dishes. For this tomato soup recipe, the Instant Pot not only reduces the cooking time but also intensifies the flavors of the fresh tomatoes, creating a robust and satisfying soup. Its ability to lock in the natural sweetness and freshness of the tomatoes is truly a game-changer.
Customization and Variations
One of the great things about making tomato soup in an Instant Pot is the flexibility it offers. You can easily customize this recipe to suit your taste. For a little extra heat, consider adding a pinch of red pepper flakes or a dash of hot sauce. I love that this recipe is dairy free, but you can add some heavy cream if you would like to. If you prefer a dairy-free option, you can add coconut cream. You can use chicken stock or vegetable stock to meet your dietary needs and preferences, too.
Additionally, you can experiment with various fresh herbs and spices, such as oregano, thyme, or smoked paprika, to add unique layers of flavor to your soup. Top with homemade croutons or parmesan cheese.
Check out my tomato bisque recipe, that is slightly different than this instant pot tomato soup recipe!
Garden-to-Table Freshness
If you're lucky enough to have a garden or access to fresh, locally grown tomatoes, this soup is a fantastic way to showcase the fruits of your labor. The beauty of using fresh tomatoes is that their flavors are at their peak, resulting in a soup that's bursting with garden-fresh taste. This recipe truly highlights the essence of seasonal cooking and celebrates the deliciousness of homegrown produce. It is a healthy soup recipe with lots of nutrition!
Make It a Meal
While tomato soup is delicious on its own, it can also be turned into a full meal with some creative additions. Try serving it with a grilled cheese sandwich with homemade sourdough (how to make sourdough starter) for a classic and comforting pairing. Or, for a healthier option, consider adding some cooked quinoa or brown rice, along with a handful of fresh, sautéed vegetables, to make it a heartier and more nutritious soup. The possibilities are endless!
Freezing and Reheating
If you find yourself with extra tomato soup, don't worry. It freezes beautifully. Simply ladle it into and airtight freezer-safe container, leaving some room at the top for expansion, and freeze for up to three months. When you're ready to enjoy it again, defrost in the refrigerator and reheat on the stove or in the microwave. The flavors will remain just as vibrant as when it was first made.
Making Instant Pot tomato soup with fresh tomatoes is a delightful experience that elevates a simple and classic dish to a whole new level. Whether you're looking for a comforting weeknight dinner or a way to preserve the essence of summer's ripe tomatoes, this recipe is sure to become a household favorite. Enjoy the wonderful flavors and aromas of this homemade soup, and embrace the joy of garden-to-table cooking.

Don't own an Instant Pot? No problem! Try this recipe on the stove!
There you have it, a rich and velvety Instant Pot tomato soup made with fresh tomatoes. It's a perfect comfort food for chilly days and a great way to make use of your garden's or farmer's market's bountiful tomato harvest. This recipe will surely warm your heart and satisfy your taste buds. Enjoy!
first published October 8, 2019. revised October 29, 2023