I used to be a HUGE peppermint mocha coffee lover. It was my go to holiday drink. Over the years though, I've moved to year round pumpkin spice in my coffee. The other day I saw this dairy free peppermint mocha creamer and had to try it. If you follow me on social media, you know that I stock up on dairy free pumpkin spice creamer from the same company. It's shelf stable so if you order it online, you can keep it for months! Why these aren't year round flavors, I'm not sure, but anyway….
So I tried this new dairy free peppermint mocha creamer in my coffee and it just wasn't my thing. It wasn't bad. It was good. But I am so addicted to pumpkin spice that I didn't want to sacrifice my one cup of coffee a day to peppermint mocha.
I didn't want to let the creamer go to waste, of course. It's DELICIOUS, but just not my style anymore for coffee. So what else was there to do than make dairy free peppermint mocha ice cream!?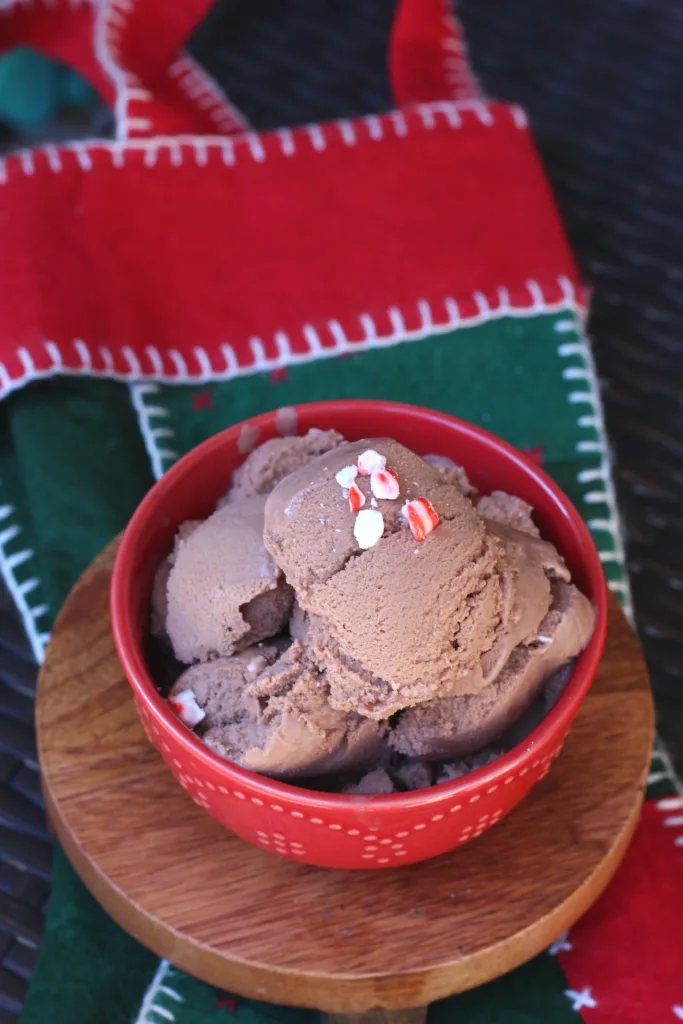 I just poured all the ingredients into the ice cream maker and it was ready in about 20 minutes! It can be stored in the freezer, but it does freeze hard so I just soften it up by warming it in the microwave for about 30 seconds!
Dairy Free Peppermint Mocha Ice Cream
Get other delicious peppermint mocha recipes here!
I am excited to share with you something that has been going on behind the scenes here at Ginger Casa! I am one of Google's paid early testers for their Thank with Google pilot program. Thank with Google is an experimental feature that allows my audience to choose from a selection of virtual stickers to purchase and send to me. These virtual stickers translate into direct revenue to support the work that goes into the content that you are enjoying on my blog.
Thank with Google is a great way to connect with my followers and lets them directly show
their support and appreciation for content on my website. Every time they decide to send a paid sticker, they can include personal messages to express themselves and share what this website and my work means to them.
You can find the Thank with Google button on the top and bottom of this blog post. If you test it out or have questions, let me know! Thank you for being a part of what I love to do!