This shop has been compensated. All opinions are mine.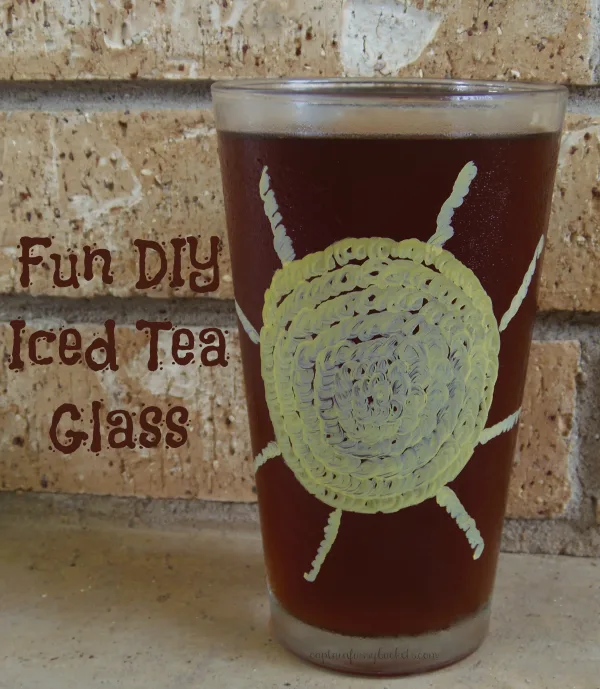 Being from Texas, iced tea has always been one of my favorite drinks. I drink at least one glass of iced tea daily, sweetened with honey. Tea is always my go to beverage of choice at family gatherings, potlucks, and parties. I broke up with soda a few years ago and have not looked back, because tea is just, so so good and has many health benefits, too. Iced tea always seems to quench my thirst like soda never could. It's the perfect drink to enjoy by the pool or park with my family.
I wanted to jazz up my iced tea with a fun, summery design, so I made a DIY iced tea glass with an oil based paint marker. I think it turned out pretty cute, and I'm on the very low end of being artistically gifted. Imagine what you could do!! I also repurposed a pickle jar as an iced tea "pitcher" to match. My tea of choice was Bigelow Half Iced Tea & Half Lemonade!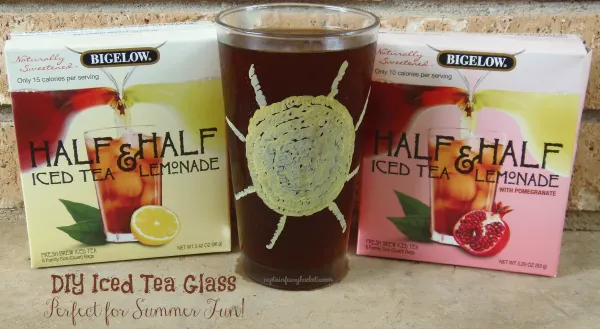 Supplies Needed:
drinking glass of any kind or repurposed glass jars
oil based paint marker(s)
contact paper – optional, but helpful!
oven
your favorite flavor of Bigelow iced tea
Directions:
1. Decide on your design. You can cut something out of contact paper to ensure precision, or you can freehand it, it's up to you! If using contact paper, peel off backing and press to stick on the glass.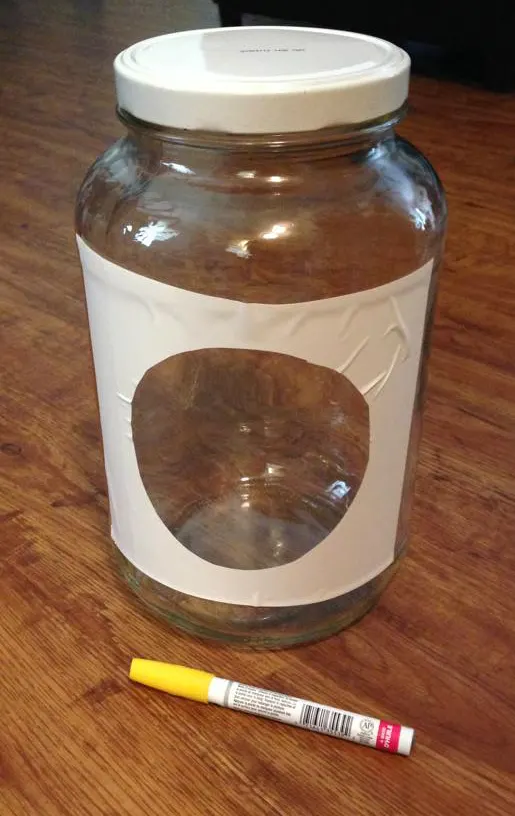 2. Clean the side of your glass/jar that you will be using with rubbing alcohol or vinegar and let dry completely. (Don't touch the cleaned areas or oil will transfer from your hands to the glass.)
3. Use the oil based paint markers to create your design on the glass. (You can use rubbing alcohol to clean off and start over.)
4. When satisfied with your design, peel off contact paper and let your design dry for about 20 minutes.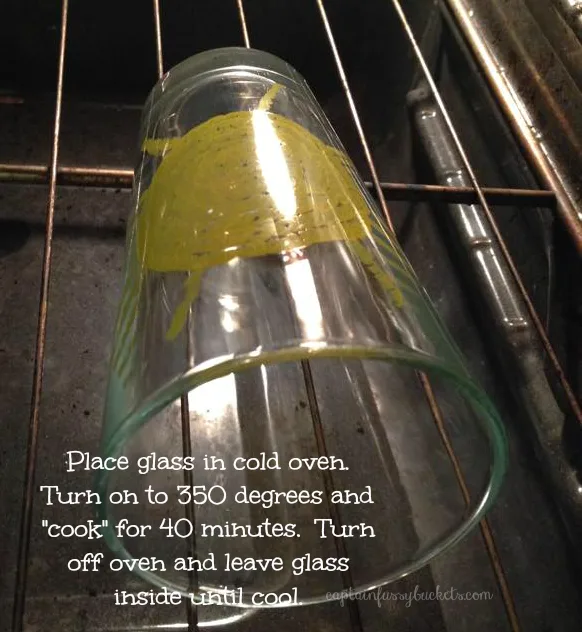 5. Place glass items into a COLD oven and turn on to 350°.
6. Open a window because there will be fumes and let the design "cook" on the glass for about 40 minutes.
7. Turn off oven off and let glass cool completely before removing.
8. Hand wash for best results, but wash them in the dishwasher if you like to live dangerously.
I realized after the cooking process that I should have used more paint on my jar. Oh well, I'll know next time!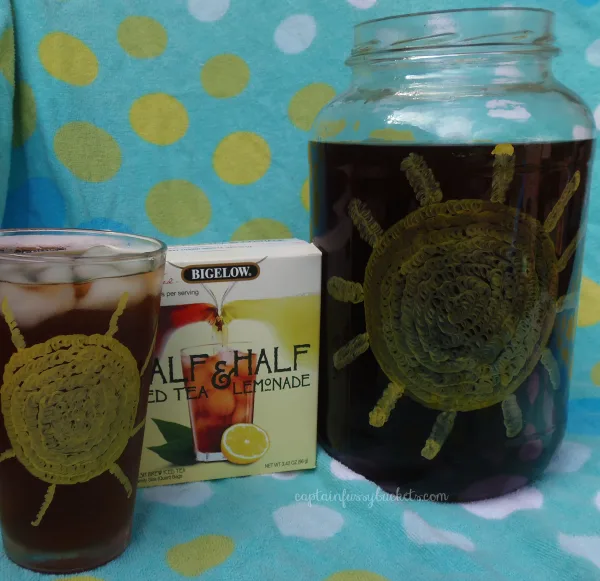 The boys were impressed with Mommy's super crafting powers, but they were much more impressed with the delicious Bigelow Half Iced Tea & Half Lemonade. They are all tea lovers like their mommy, and lemonade lovers like their daddy, so this was such a special treat for them. And that's the great thing about Bigelow tea is that I feel good about serving it to my little ones because it's healthy and 100% American made by an American family. They have so many different flavors, too!
Are you an iced tea drinker? I'd love to hear about your favorite way to drink iced tea in the comments below!