Easy Dot Art Shamrock Craft for Kids
Crafts are something that we all can agree on in this house. The boys are excellent about coming up with their own crafts, but sometimes they need a little guidance to get started. They love these Do A Dot Art! markers that Grammy gave to them and so I drew a shamrock (doesn't have to be perfect!) and let them dot around it. The box says to only dot the markers, not drag them, so that adds another level of patience and skill to their crafting. They seriously use these for everything. We have made letters, their names, different drawings, and now these shamrock craft paintings. They turned out really cute!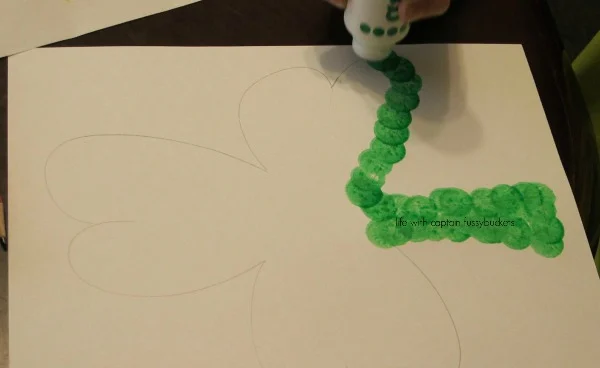 Help kids realize that it does NOT have to be "perfect" and they can do whatever they like because it's THEIR PICTURE! This is important to help them love art! These do a dot markers help with the mess, but they are not mess free, so make sure to remind kids "we only draw on paper" and to wear old clothes if you are concerned with staining. I have never had a problem with these, but that does not mean that they are stain proof! I know it takes a few washings to get it off of your skin!
Don't miss these St. Patrick's Day crafts for kids!
What fun craft do you like to make for St. Patrick's Day?