If there are two things that my family loves, it's Disney and sandwiches. We all have our favorites, but sandwiches have gotten us through many days and lunches at school, too. Recently, we received a big box of goodies for our Disney and sandwich lovers, including a loaf of Oroweat Organic White made with Whole Wheat Bread, some fun kids' plates, reusable sandwich bags, and Disney's Mickey Mouse sandwich cutters. That inspired me to make a new recipe – Disney's Mickey Mouse Egg White Omelette Toast!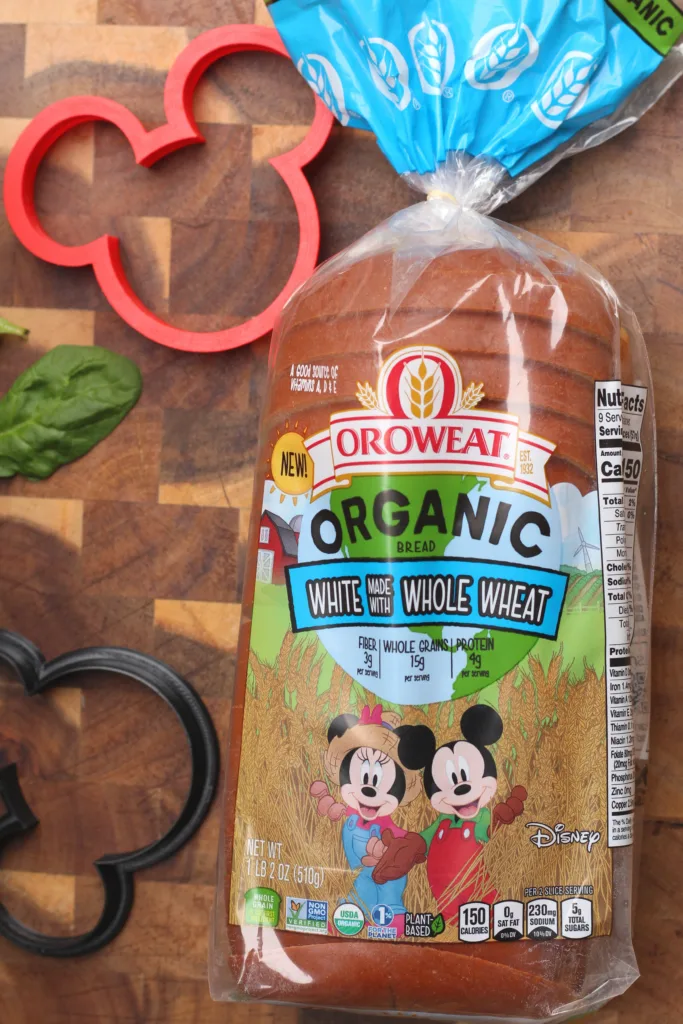 Oroweat Organic White made with Whole Wheat Bread features Disney's Mickey Mouse and Minnie Mouse and a great taste that is sustainably baked. This bread is SO soft and great for even the pickiest eaters. This bread is plant-based and provides a good source of Vitamins A, D, & E. It is USDA Organic bread and Non-GMO Project Verified. And going above and beyond, it's also freshly baked using renewable wind energy. My kids LOVE science-y facts like that, so that alone just made this delicious bread "cool." Oroweat Organic even donates 1% of this bread's revenue to support environmental causes!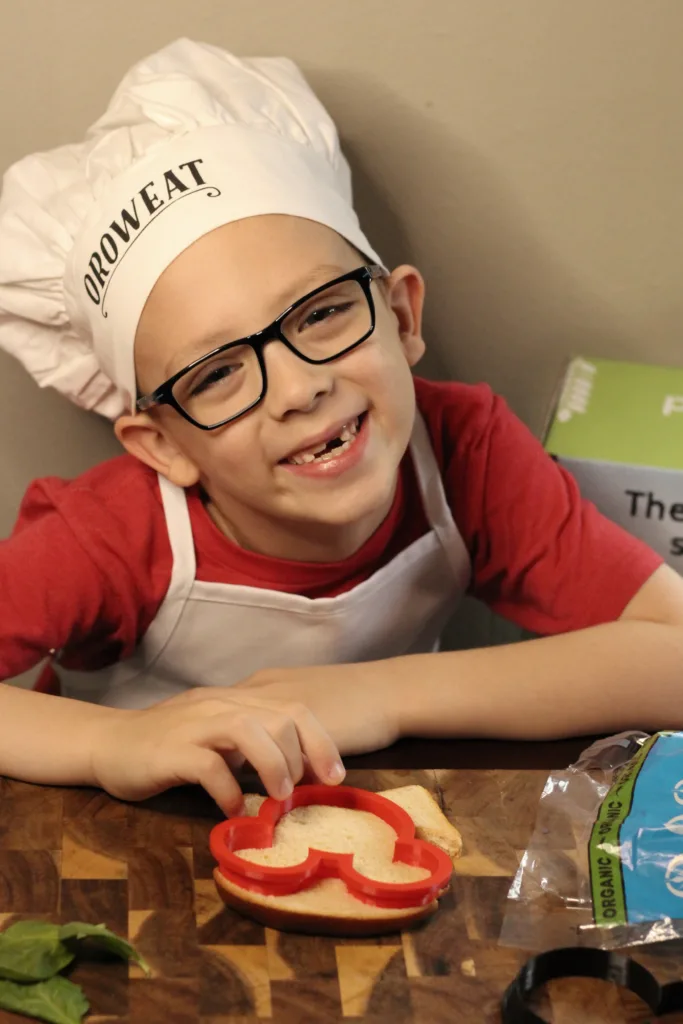 Oh! I failed to mention that in our Oroweat box, there was a fun chef's hat and apron. You KNOW the 7 year old was super excited to dress up like a chef! He loves to help me in the kitchen, so he was all about using the Disney's Mickey Mouse sandwich cutters to cut the bread for my recipe!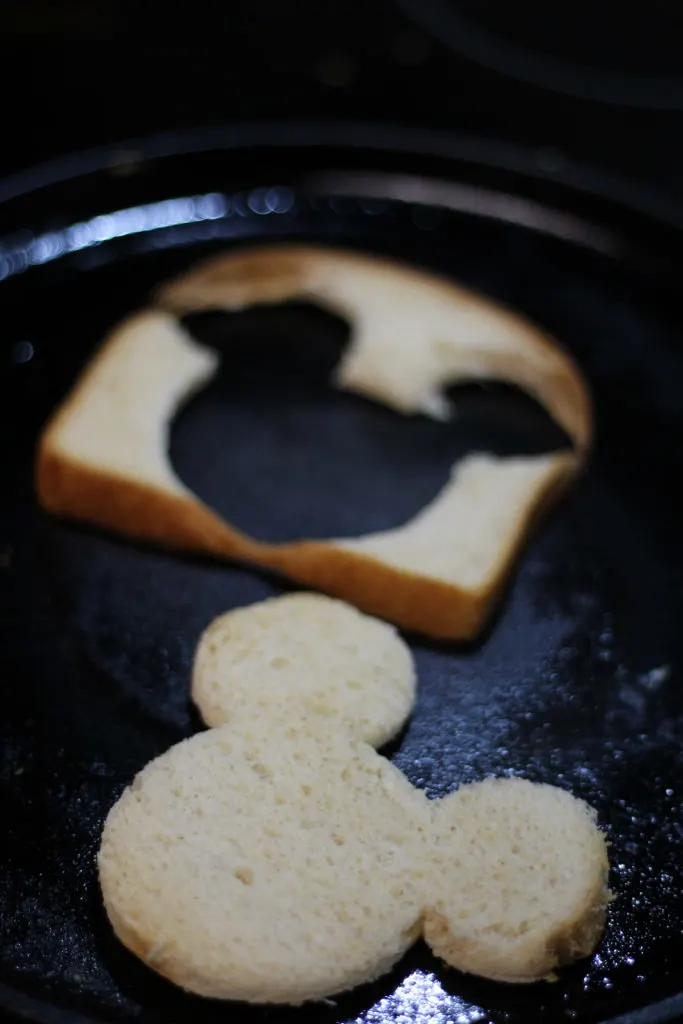 I used a flat cast iron skillet to cook my recipe and decided it should be a delicious egg white omelette toast. The boys love omelettes, so I knew they would love this! It was really simple to make and would make a great breakfast OR breakfast for dinner idea.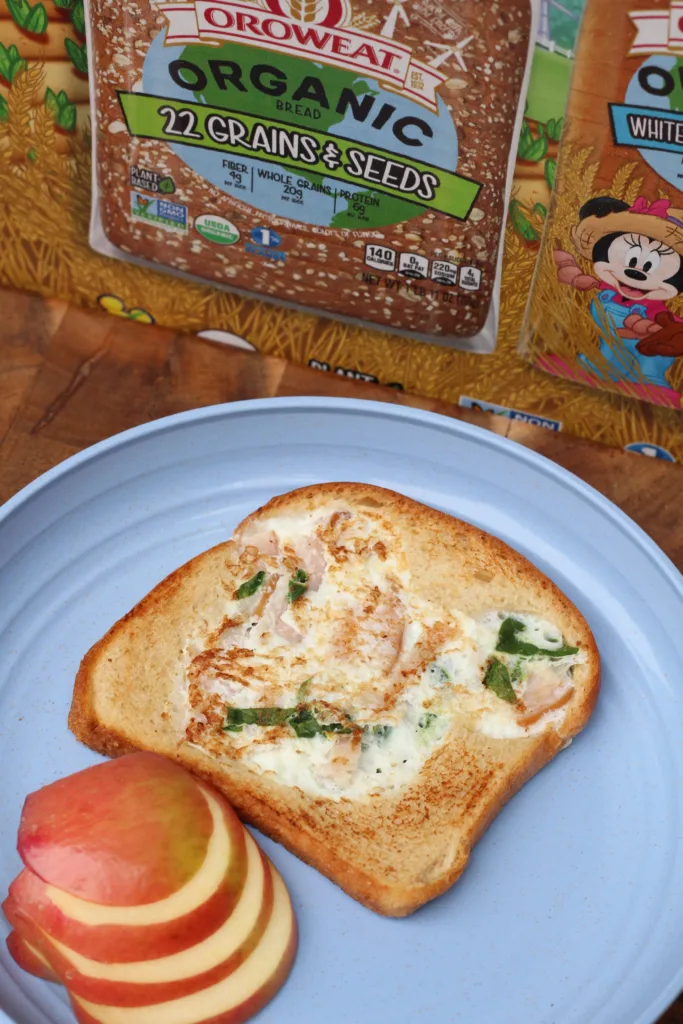 Omelettes are a great way to sneak in extra veggies, too. I opted to use spinach only, but you could use whatever your child liked, including onions, bell peppers, kale, etc! (Check out this post for how to grow broccoli sprouts, that would also be good in omelettes!) Oroweat Organic for Kids White Bread made with Whole Wheat tasted great in this recipe, but it is also great for sandwiches, avocado toast, just about anything that you would make with bread.
I served it with a side of sliced apples and for the Disney's Mickey Mouse cutout, I used about 1 tsp of low-fat vanilla yogurt mixed with one frozen strawberry, thawed in the microwave. It's a delicious way to customize toppings, depending on preference. I love to keep fruits and veggies in the fridge for this very reason! One child can have blackberry yogurt toast, another strawberry yogurt toast, and then another could have just thawed sliced peaches on his! It is a winning, delicious mom hack!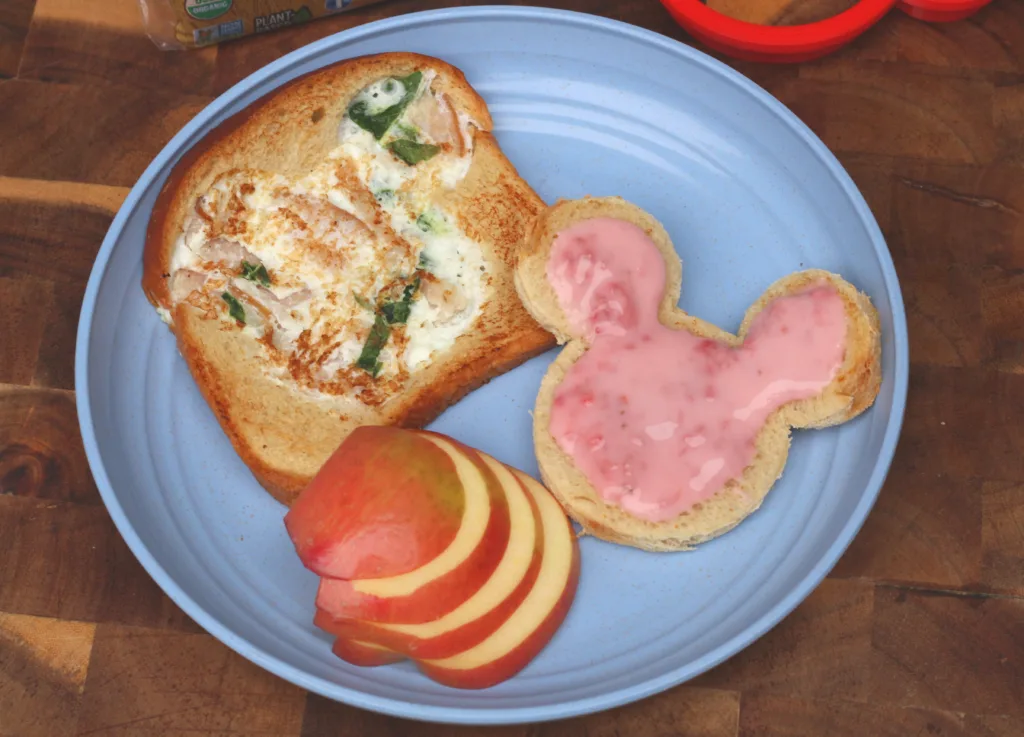 What will you include in your Disney's Mickey Mouse Egg White Omelette Toast?