Encourage Confidence and Fun While Learning with Osmo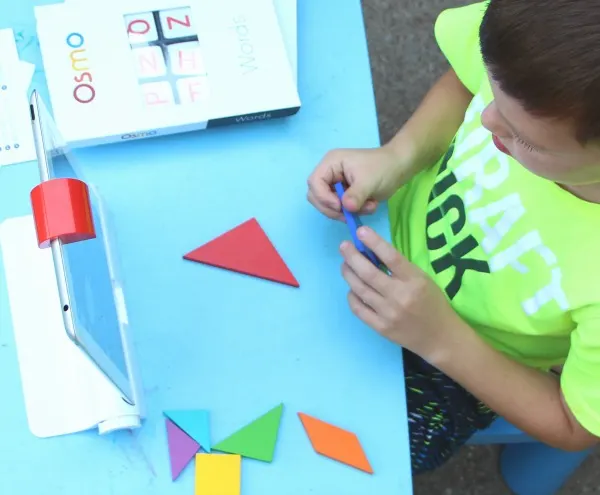 This summer has been speeding by! It is so crazy how our days just slip by, whether they are filled with lots of activity or just relaxing all day. We have had many busy days and a few lazy days. I am thankful that they enjoy drawing, writing, and usually reading, but I also appreciate the help of educational toys and games.
I believe that using technology in education is a terrific idea. It is meeting kids where they are at and encourages them to use their brains through a different mode of learning. Osmo game system is changing the way children interact with the iPad.
How Does Osmo Work?
Osmo uses Reflective Artificial Intelligence to make a truly fun and interactive game. Using a mirrored piece placed on top of the iPad's camera, Osmo can "see" what you're doing on the table in front of you!
Osmo games included in the Genius Kit:
Tangram

Newton

Words

Masterpiece

Numbers
(Coding is also sold separately to teach basic skills to young learners.)
Osmo Tangram
Kids are able to arrange different colored shapes to make pictures of objects. Tangram helps with spatial relational skills. This is the Captain's favorite game!

Osmo Newton
Use a marker board or any household items to guide falling on-screen balls into targeted zones. This is great for problem solving skills!
Osmo Words
Use on-screen clues to guess words and learn spelling and critical thinking skills. Kids can play alone or in a competition with their friend!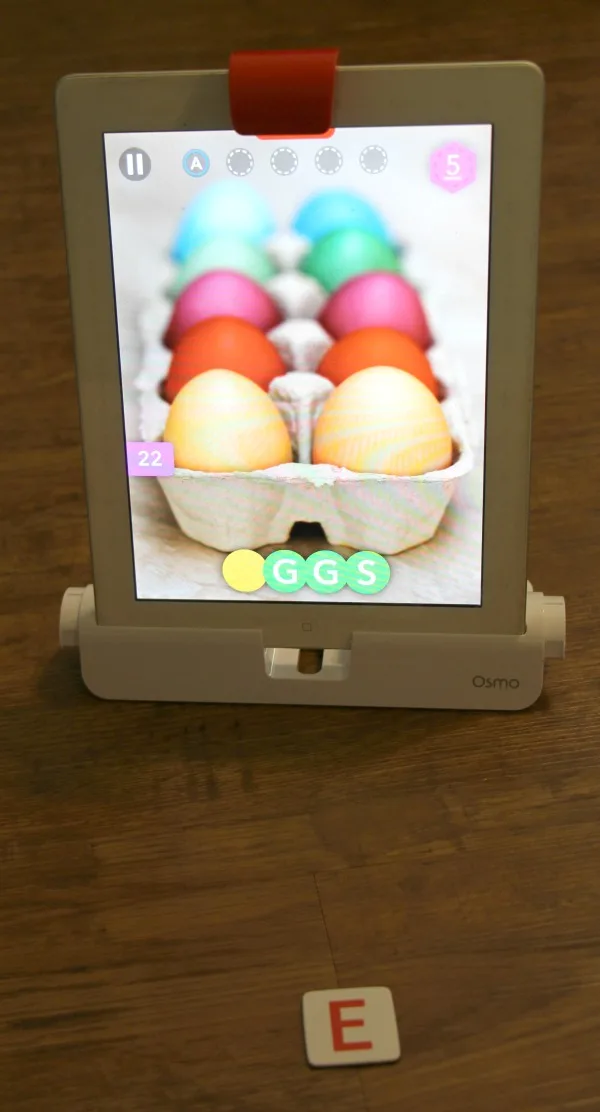 Osmo Masterpiece
Learn to draw any image from the camera or gallery. Masterpiece transforms pictures into lines that are easy to follow and copy. You can even share a time lapse video with friends! Here is a simple video of the Captain drawing a plum!
Osmo Numbers
This is D's favorite game. He loves playing with numbers and this game is absolute perfection for him! There is a mode for kids at any level – counting, addition, and multiplication. Kids can learn at their own pace. Just watch as their confidence in math grows!
Osmo is currently compatible with Apple iPad 2, 3, 4, all versions of iPad Mini and iPad Air, iPad Pro(9.7). The Genius Set includes mirror, sturdy base, game pieces , and ​5 game apps in the Apple App Store (free downloads).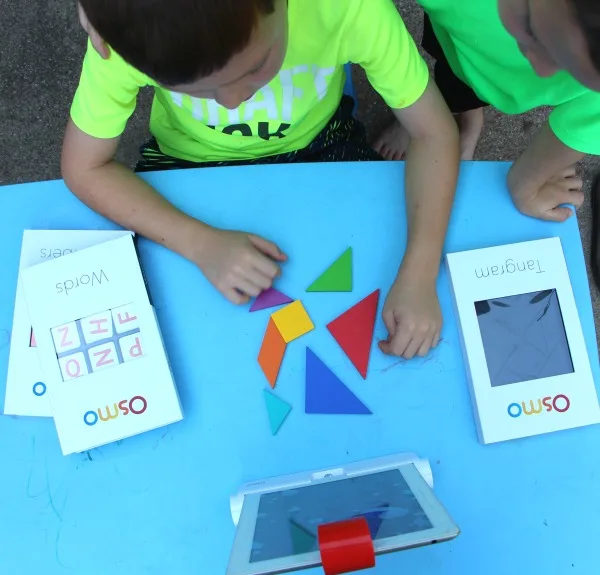 We will be spending many hours with Osmo this summer….and that is just fine with me! Sit back and watch those lightbulbs turn on all summer long!
March 2019 UPDATE – Osmo Pizza Co.
I had to update this post with something awesome. Our kids received Osmo Pizza Co. a year or two ago (it isn't part of the Genius Kit,) and this has quickly become their favorite Osmo game. There are varying levels of difficulty, but tonight, my 8 year old asked to put it on the hardest and he NAILED IT! Look at how quickly he is making change!