This post was brought to you by the Waxahachie CVB and Scarborough Renaissance Festival in Waxahachie, Texas. We were provided with free tickets to faciliate this post, but all opinions are mine.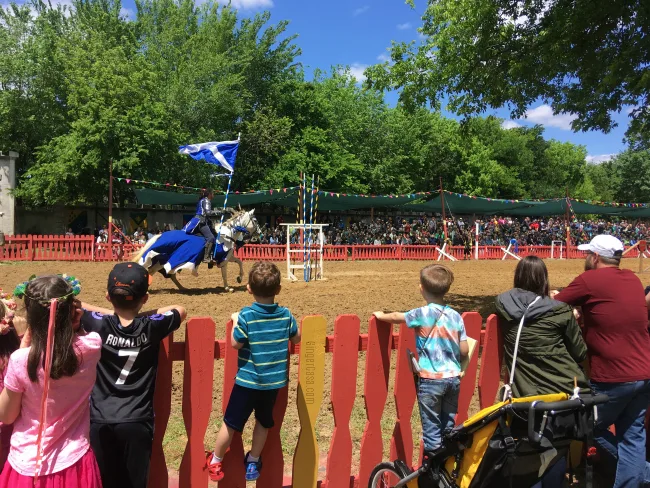 We moved to this area of Texas (south of Dallas) almost eight years ago. When we first moved here, we noticed castle like structures and wondered what it was. Then, in April and May, we noticed lots and lots of traffic on Saturday mornings, especially. The Scarborough Renaissance Festival, or "Scarborough Faire," as most people around here call it, comes to Waxahachie, Texas for only two months out of the year, and only on Saturdays, Sundays, and Memorial Day. It honestly does not look like much from the road, just the "castle" entry way and a field of parking. After hopping online and when we finally visited a few years ago, we now know that there is so much beyond that desolate field! There is a world of enchantment, fun, excitement, and folly!
The opening ceremony begins at 9:45 AM and the closing ceremony is at 6:45 PM. There are plays, shows, music, stores, food, drinks, rides, a petting zoo, along with security personnel, first aid, restrooms, water fountains, ATMs, and everything is handicapped accessible. The actors that portray the Royal Court, villagers, and peasants are trained by the Scarborough Academy of the Performing Arts and can be recognized with a special medallion. (There will be times you will have trouble distinguishing between a performer and a dressed up guest, trust me!)
There are people selling maps for $3 in the parking lot, but I just took a picture of the map when we got in and referenced that. Here it is for you!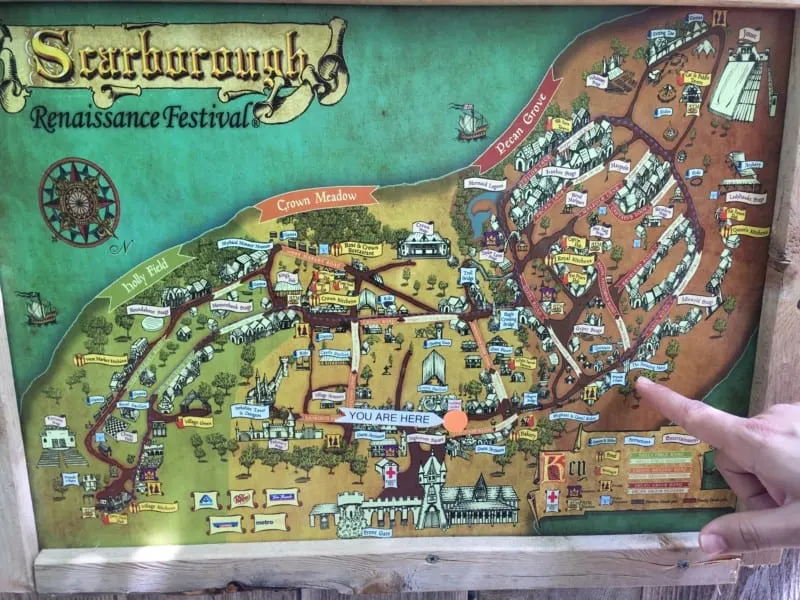 My kids really liked the Juggling Toys shop, because someone was there offering free lessons!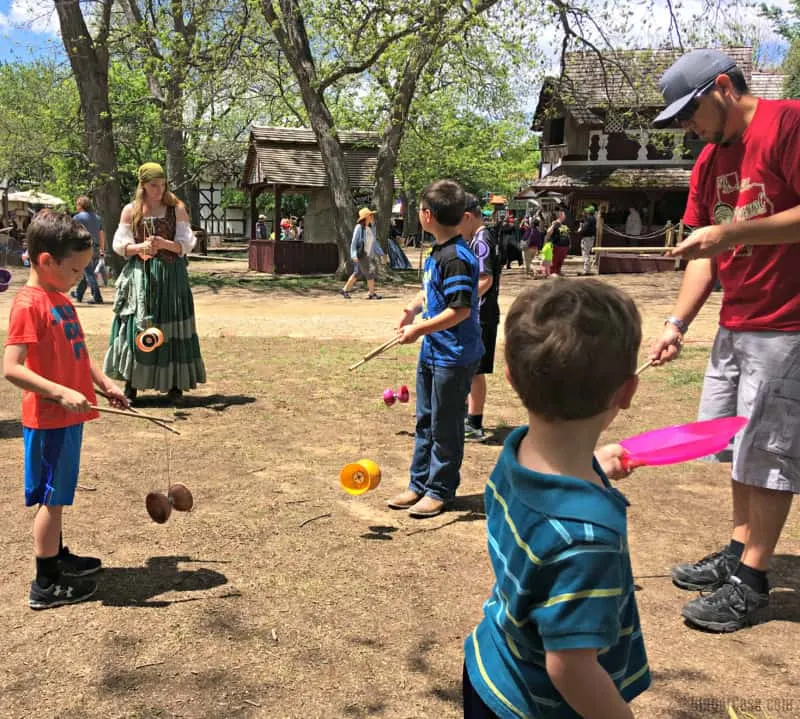 The camel and elephant rides were a hit, too. The elephant line was super long, so we were thankful they chose the camel: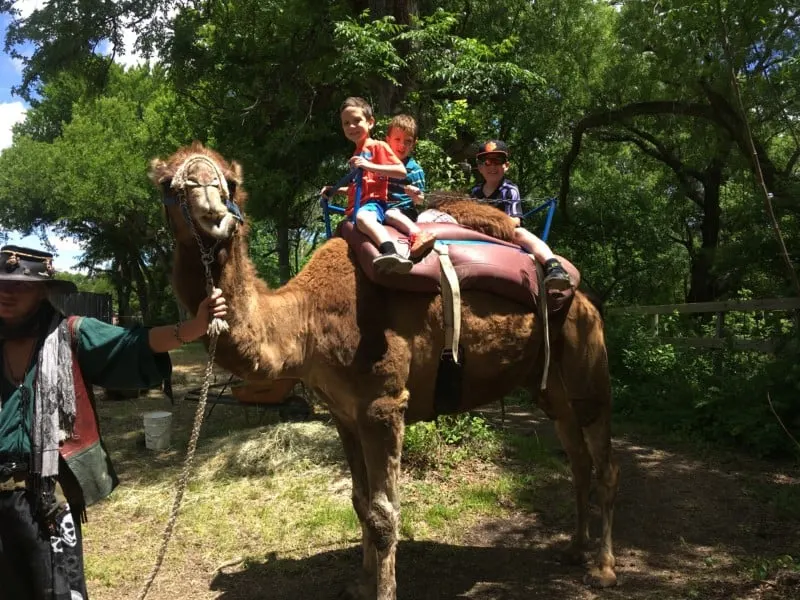 Archery was a hit, too! The oldest was able to help the other ones because he has been practicing at home.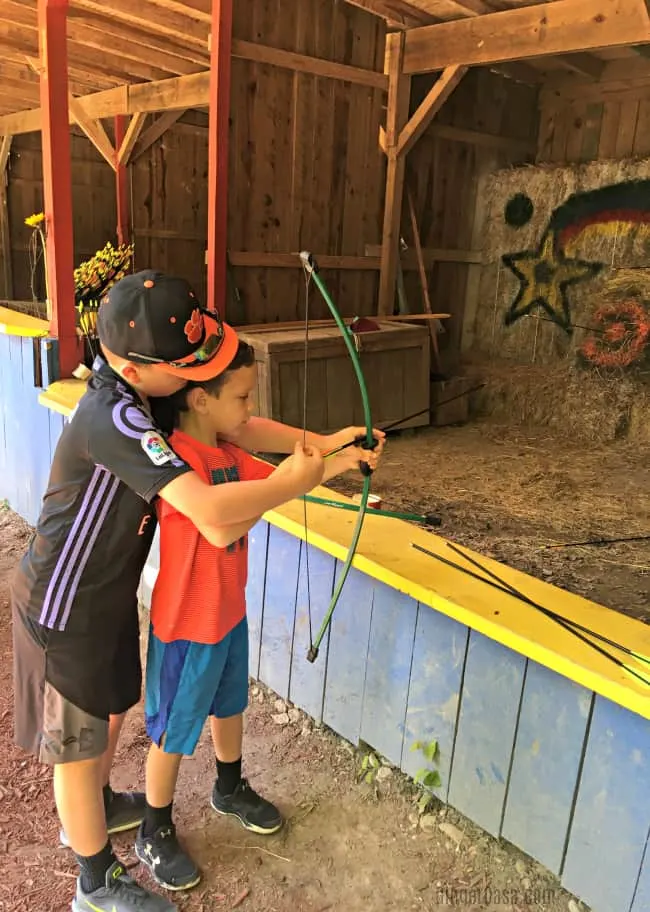 Through the festival are many places to eat and drink (regular bottled tea, sodas, and water, as well as alcohol.)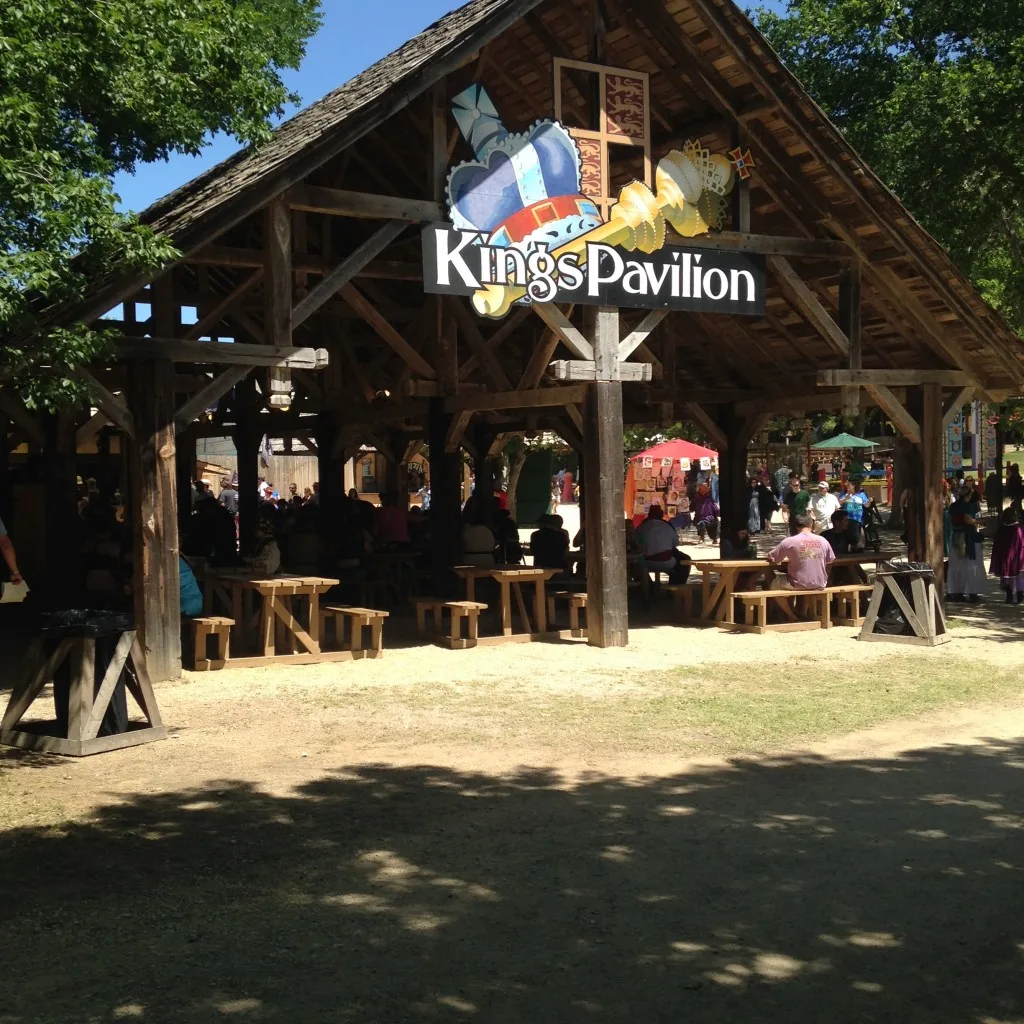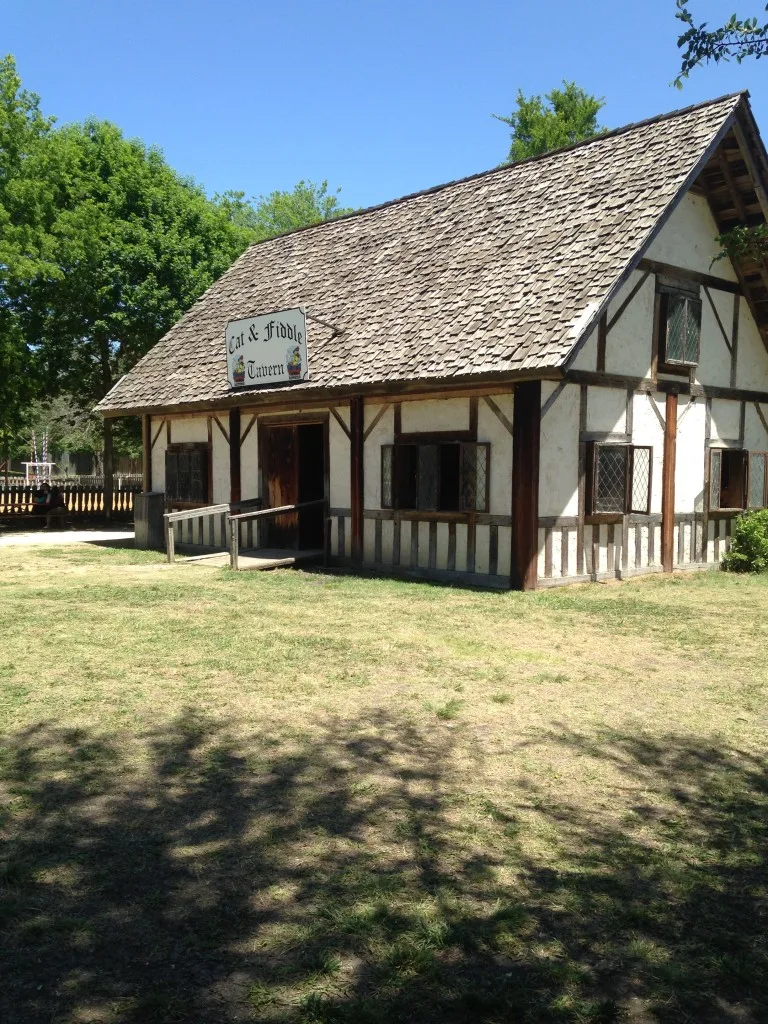 When we went a few years ago, hubby had a turkey leg and the boys and I enjoyed Chicken on a Stick. It was really good, too! The boys ate theirs and it was flavored well…definitely way better than I had expected! There are MANY more food options, not just what you see here!
Our oldest eating a turkey leg back in 2014: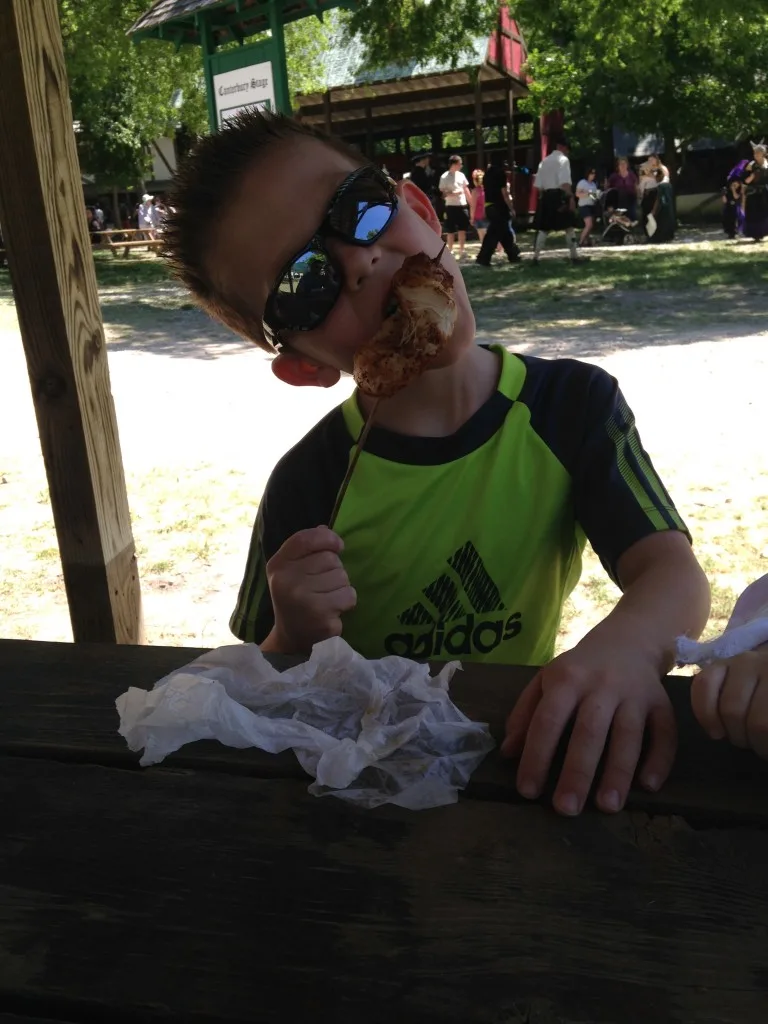 This year, we had just eaten lunch, so we just had root beer floats, cappuccinos, and funnel cakes.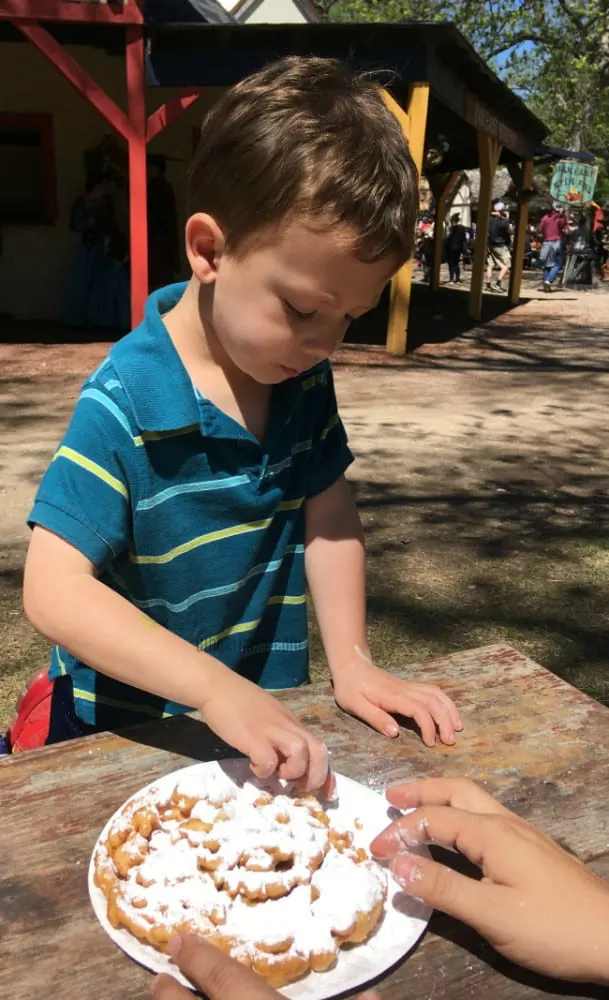 The shows are really awesome and have trained performers acting and doing tricks. Some of our favorites were Cale the Juggler and magician. Some shows are not for kids, though, so make sure to check out the signs and your program to make sure you don't wander into an inappropriate for kids show. Other popular shows include the Fire Whip Show, Kamikaze Fireflies, and Arsene The Magikhana Show. There are countless choices including dancing and music, as well, so make sure to scout out your favorites and plan your day accordingly!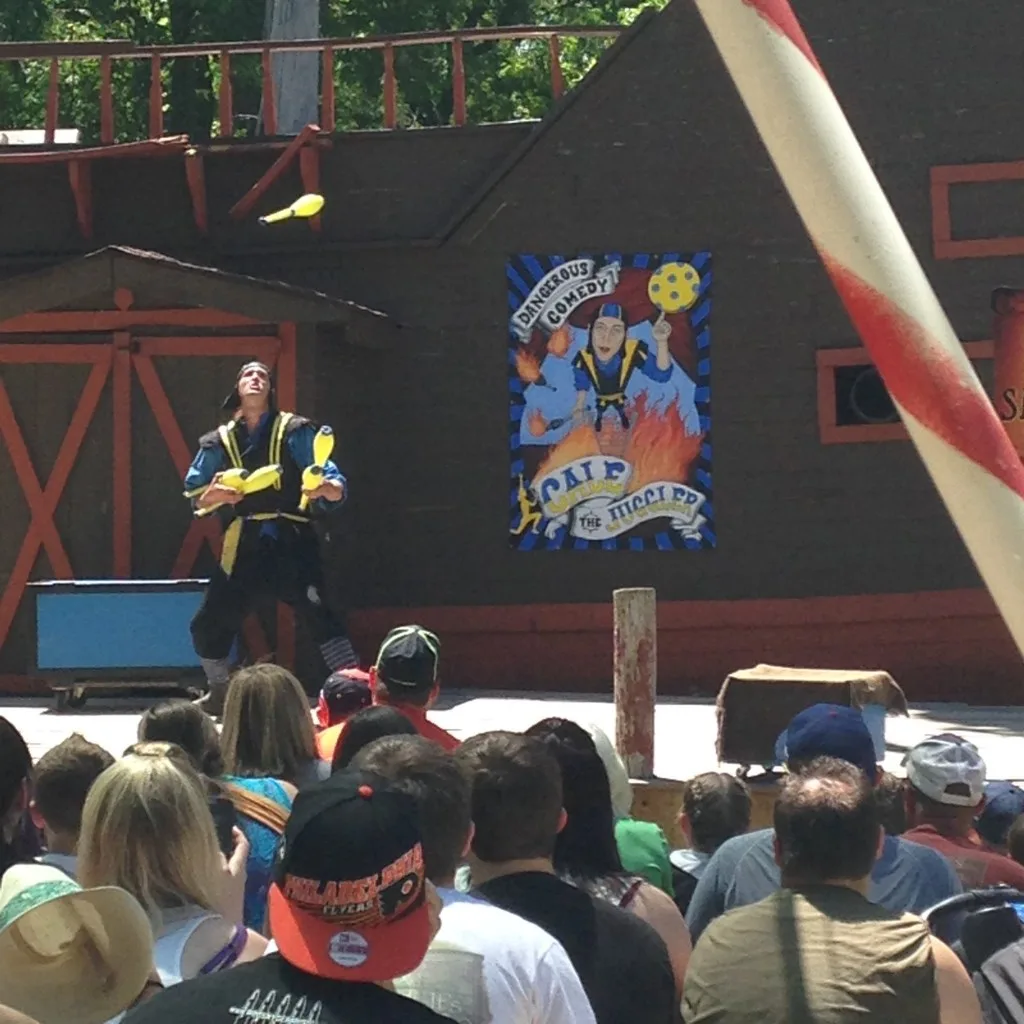 Some of the boys' favorite parts of the day included the rides, that are all man powered. This was The Crow's Nest: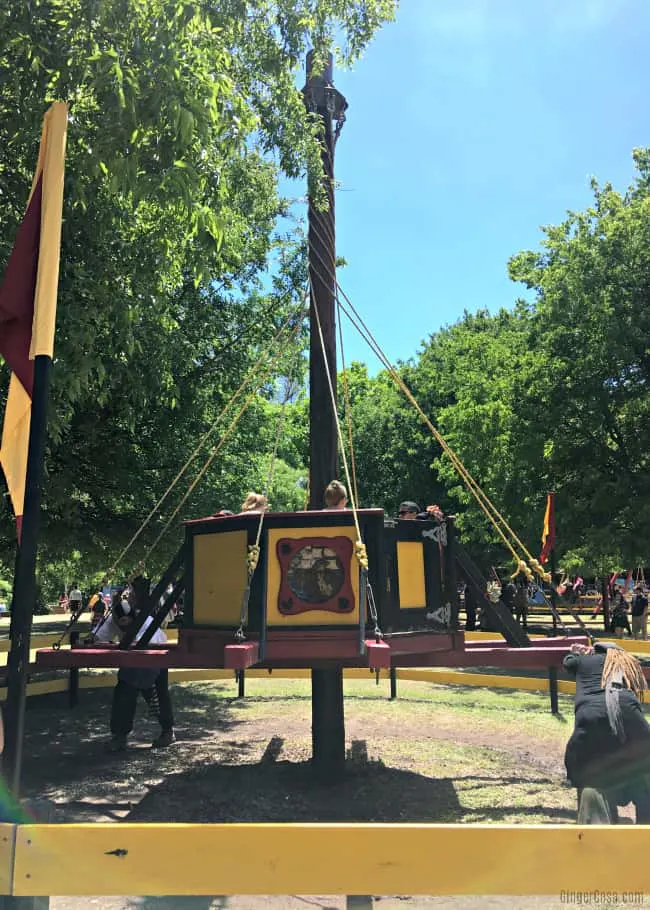 The men spun them up and down about three times, so they were all pretty queasy after the ride! It was fun, though, they said!
The rides are all about $3 per person.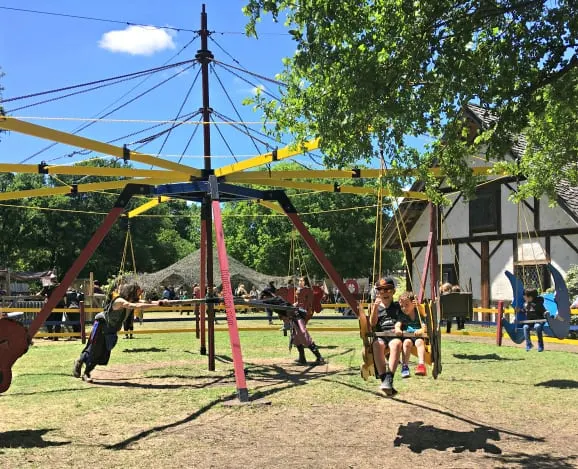 I think the 9 year old had enough at this point…ha!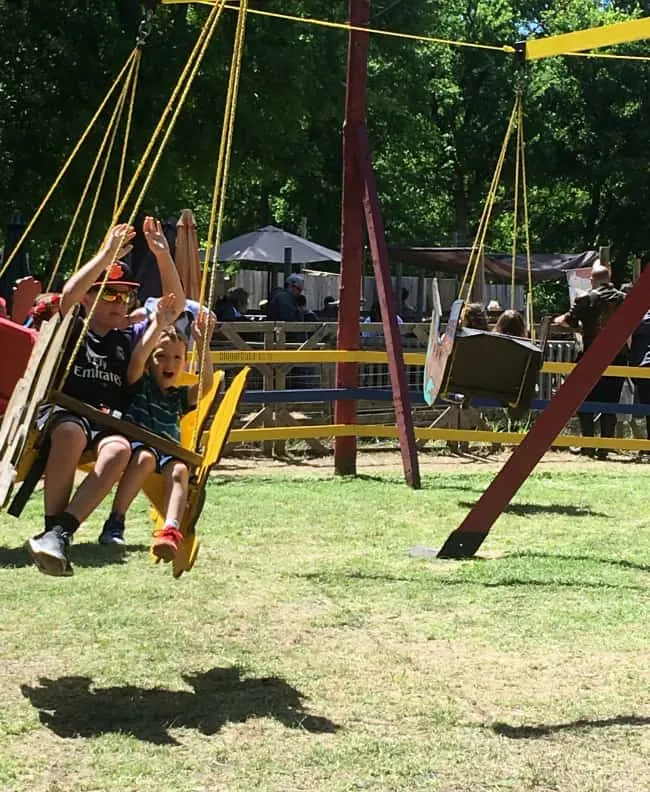 Their favorite ride was the jousting ride:

The boys also really enjoyed the Petting Zoo the last time we went. For $3 a person, you get a wristband that is good for all day entrance at two different parts of the petting zoo. Food for the animals can also be purchased.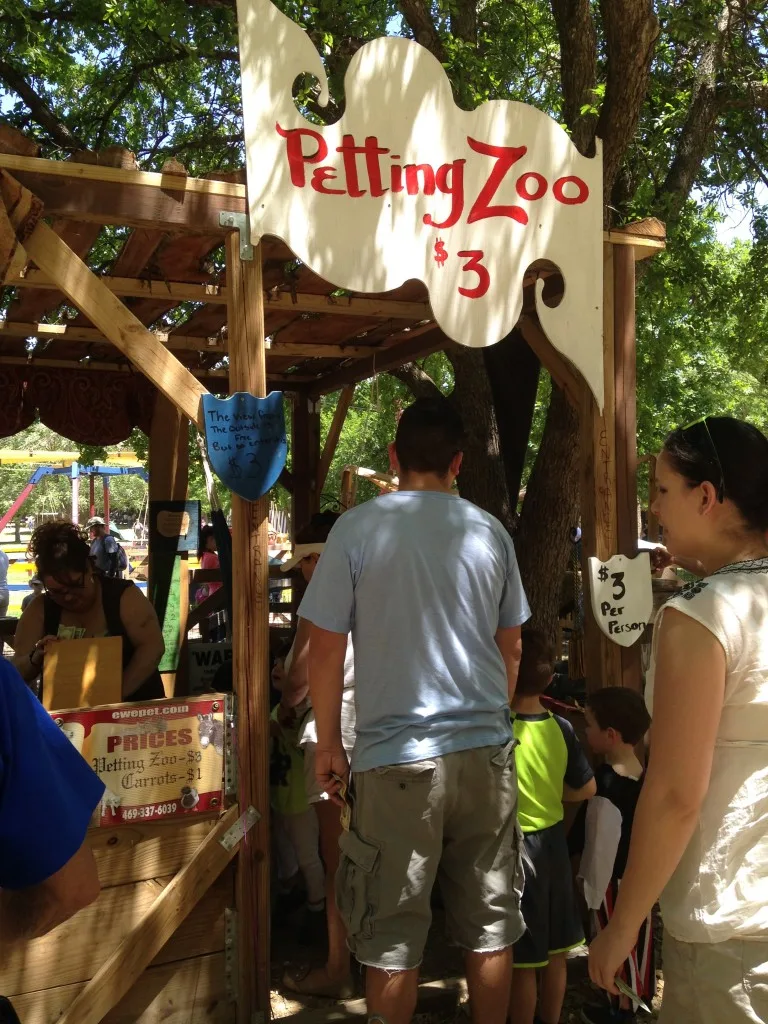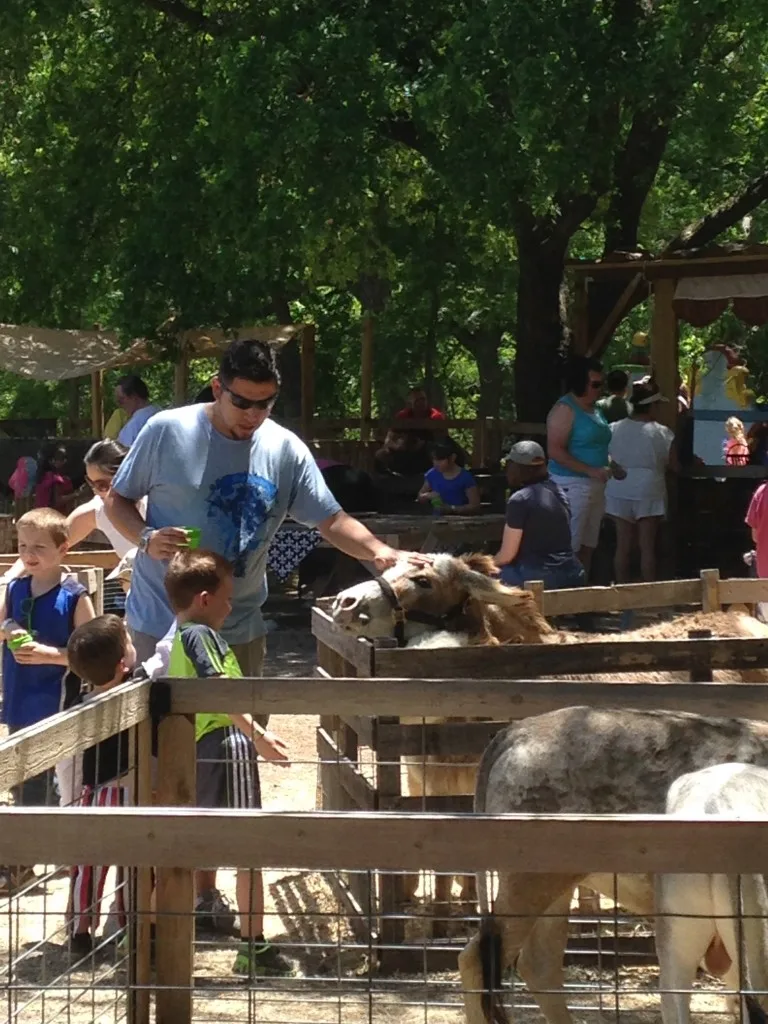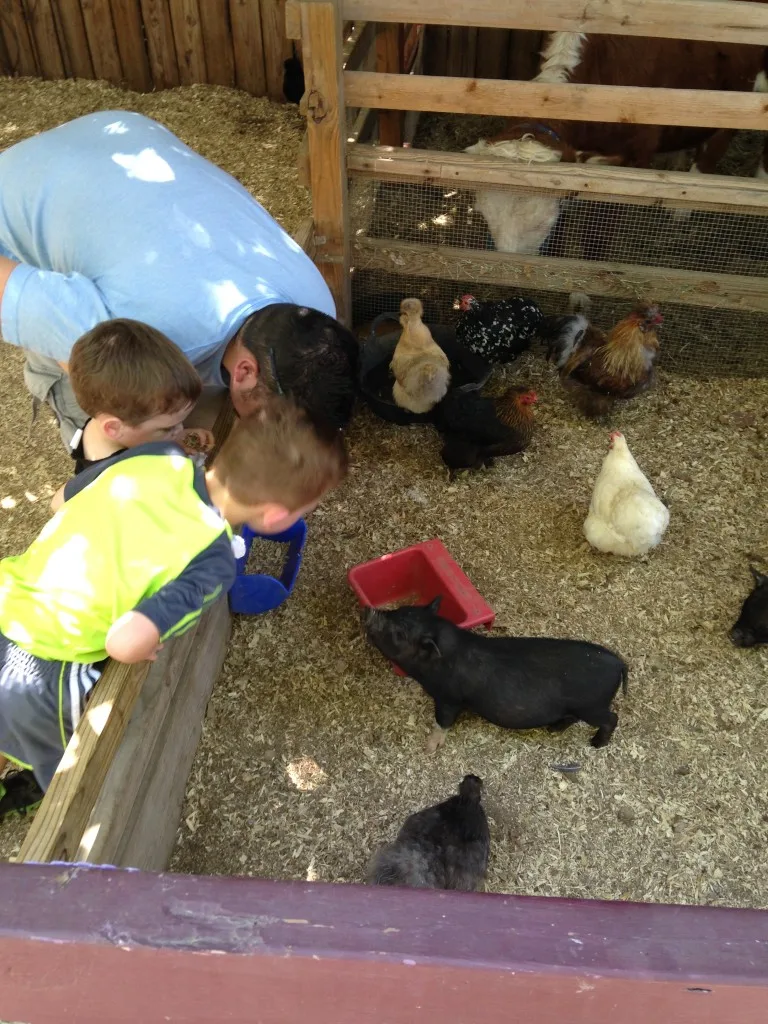 There are little games around the Faire to play, too: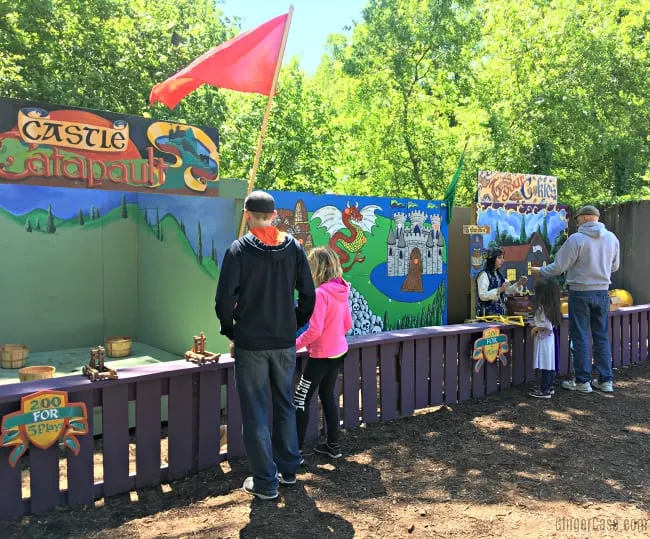 Don't miss the hundreds of shops, either!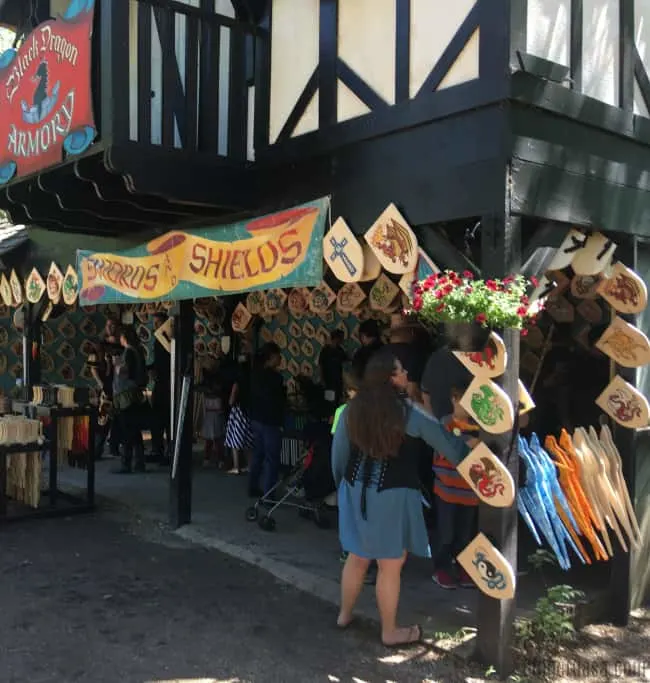 Other fun things that we will have to see on our next visit:
glassblowing

armor making

face painting

massage

portraits

the Mermaid Lagoon

turtle races

birds of prey

knighting ceremony

much, much more!
We went on a day that was perfect. I wore a light jacket and sunscreen and the boys didn't and were just fine. As summer approaches, it does get much more hot, so plan accordingly.
The parking goes on forever and ever, so we were glad to get a relatively close parking spot when our day was over!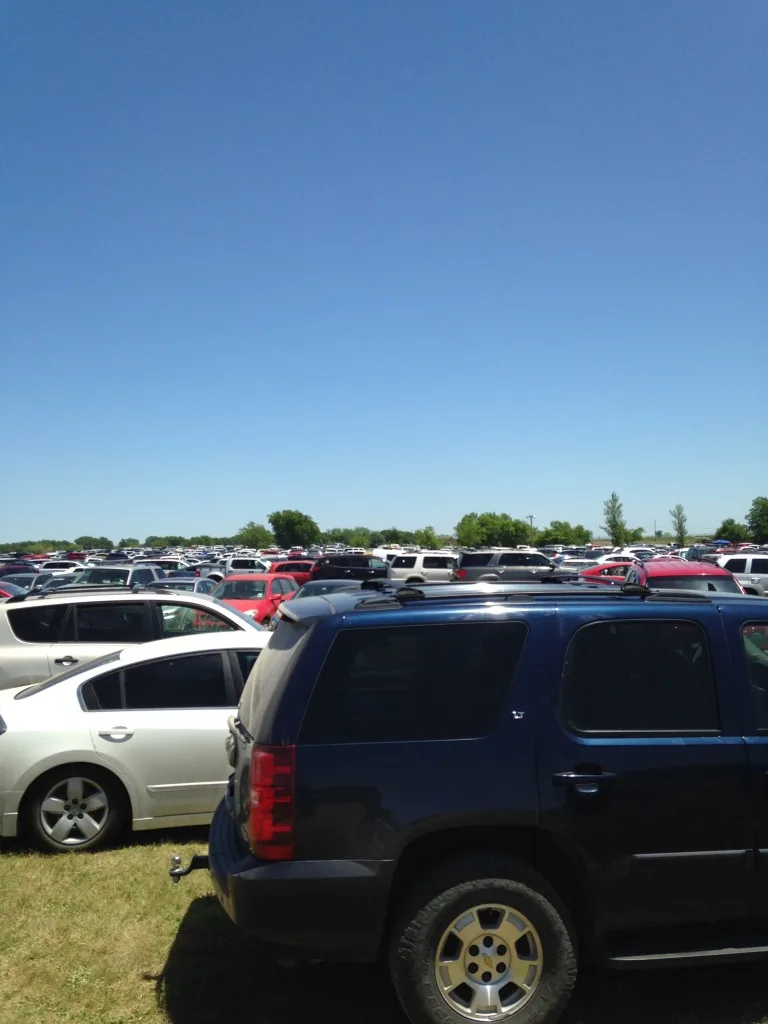 Tips for traveling to Scarborough Renaissance Festival with your family:
Leave early, or come from the other direction. The traffic is insane, lined up for miles on I-35.

Wear your walking shoes.

If you are bringing kids under 5, definitely bring a good stroller, baby carrier, and/or a wagon.

Pack a small cooler of water to keep under the stroller. While they have water and beverages there, it will never be enough to keep hydrated in the heat.

Pack a lunch and snacks if you don't want to purchase the food there. The food is really good, but can get expensive.

Bring money, and lots of it. Even if you bring your own drinks and food, there are still lots of rides, activities, and shops to spend your money on. Find out what you really want to do before spending money or it will be gone quickly. (There are ATMs available, but who wants to pay the $3.50 fee?)

Wear sunscreen, sunglasses, hats, and pack an umbrella, too.

Prepare your little ones for what they might see. There are a lot of people dressed in traditional renaissance costumes, but also some shirtless guys in kilts, pirates, people wearing face and body paint, and others in random costumes, some that leave you scratching your head. We saw a ninja and quite a few people who were wearing very little clothing. Everyone was very nice, but some were in full character and so we just told the boys that it was like a play and some people might talk to them or even try to scare them, but it was all in fun.

Pack your costumes! Many people change their clothes in the parking lot, but lots of people are in regular clothes. It doesn't matter what you choose, but I think D had more fun after he changed to his pirate costume when we went before.

Check the schedule online at the Scarborough Renaissance Festival website to help plan your day.

Prepare to stay all day, or as long as you can, because there is no way you will see everything, even if you do stay all day!
Have you been to Scarborough Renaissance Festival? What was your favorite part? If you haven't been, plan a visit soon!
Check out some other kid friendly things to do in DFW!