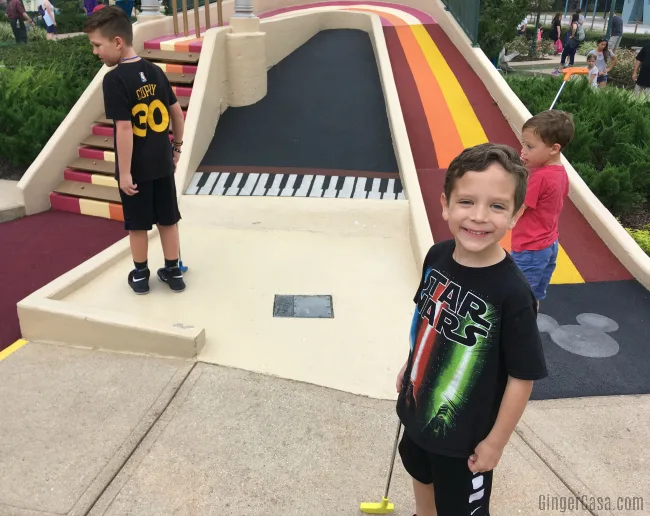 We just spent a magical week at Walt Disney World to celebrate the boys' birthdays. (It's sometimes a blessing when all three of your boys have birthdays within 46 days of each other.) I had originally made plans to go the day they got out of school, which was exactly a week before Thanksgiving. Upon examining the crowd predictions and history of holidays at the parks, I bumped the trip up a few days and sadly, the boys had to miss a few days of school. But now, I am SO glad I decided to do that because last night, the last night at Disney World, the Magic Kingdom was jam packed with people! The wait times for rides were all 30 minutes or longer and we had been at the park all day long. Did I mention we had been to the parks 5 days in a row? We were exhausted. I know you know how I feel if you have been to Disney World!
When we bought our vacation package, we were given four free tickets to Fantasia Gardens as part of our package. I did not anticipate using them because, in my mind, who wants to play mini golf when you are on a Disney vacation? Well, there is a reason that Disney World has two mini golf courses (Winter Summerland is also there!) There are so many hidden gems, playground, activities, and things to do all across Walt Disney World because people like us need things to kill time on off days, days when there is not enough time to go to the parks, and just for a little change of scenery.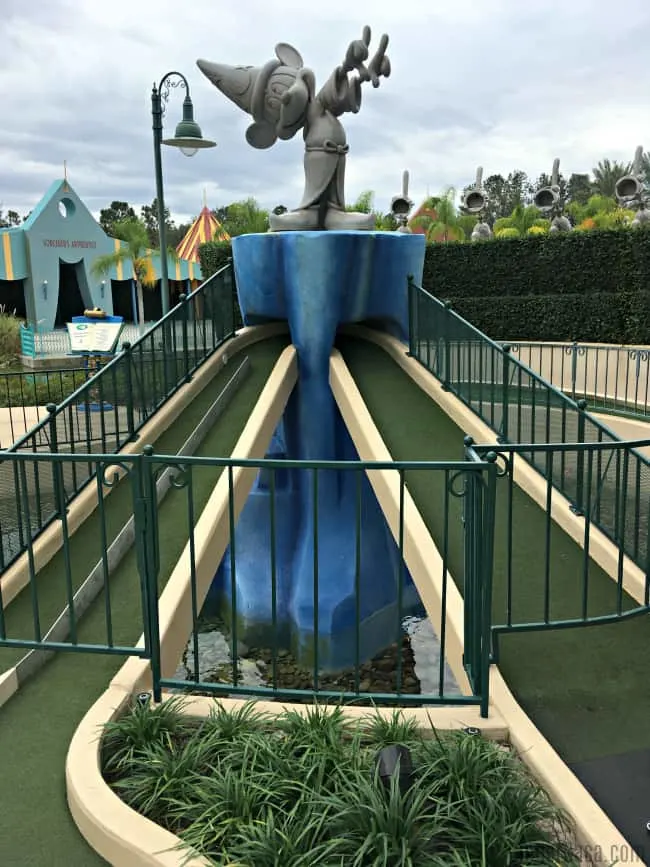 Things to do at Disney Outside of the Parks!
People don't often realize that there is a WORLD of things to do at Disney World, outside of the parks!
We checked out of our resort by 11 am, checked our bags with the Magical Express, and set off to find Fantasia Gardens! We were told that we needed to hop on a bus to Epcot from our resort, the All Star Music Resort, and we would then be able to catch a water taxi to the Swan and Dolphin Resort, cross the street, and there we would find Fantasia Gardens. What we were not told was that we had to get INTO Epcot to catch this ride. So, we were stuck at Epcot with no place to go. After talking to a friendly Disney bus driver, we were told to catch a bus to Hollywood Studios, and they had a straight shot water taxi to Swan and Dolphin. Got it. So we set off again, and were there in a short amount of time. Well, as short as any ride in the Disney World area via bus and water taxi.
Once we finally arrived, we walked on the pathway to the street, and crossed it to Fantasia Gardens. (Did I mention that the Swan and Dolphin resort is just stunning?)
The staff at Fantasia Gardens were wonderful, as were all of the cast members at Disney World. They helped us get set up and we had a 25 minute wait time to get started. I believe they space groups out so we will not be bunched up and waiting on the actual course the whole time, which is helpful.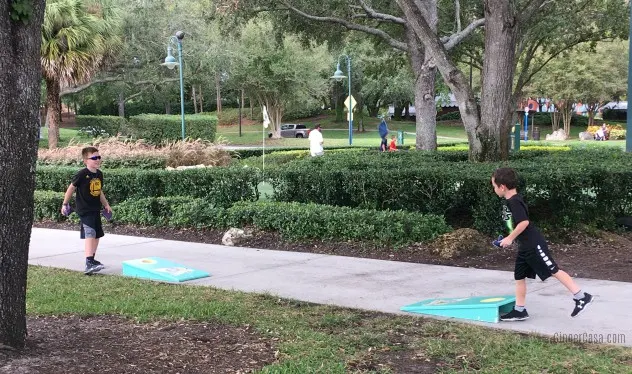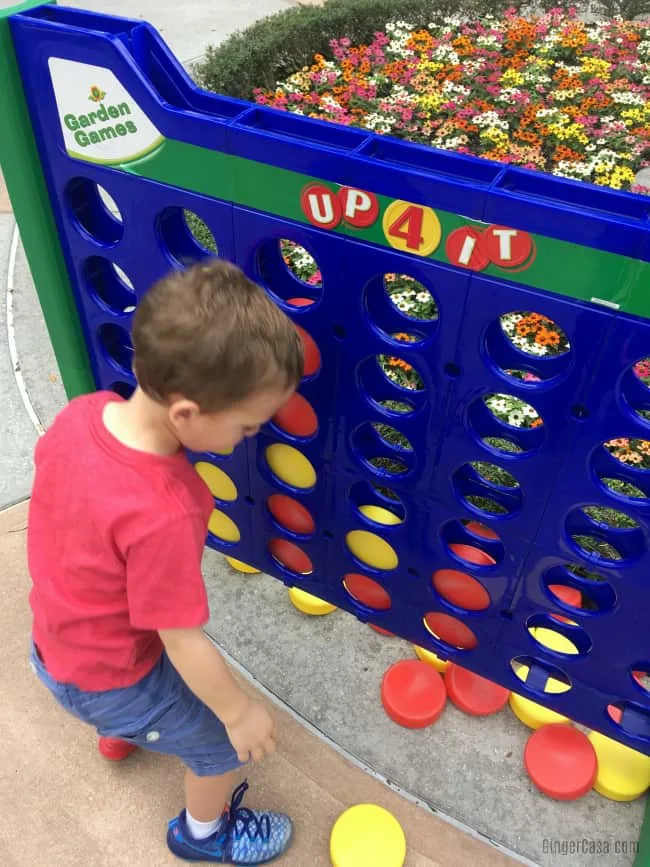 While we waited, the boys played lawn games and I was able to rest under an umbrella while my sweet husband went back to the Swan and Dolphin to pick up some lunch for us. He came back with a pizza, steak rice bowl, and an Italian sandwich and we ate lunch before playing mini golf.
When they called our name, we got four clubs and four balls, which is how it works at every mini golf course, but we soon found out that Fantasia Gardens were so much more magical than the ordinary mini golf course.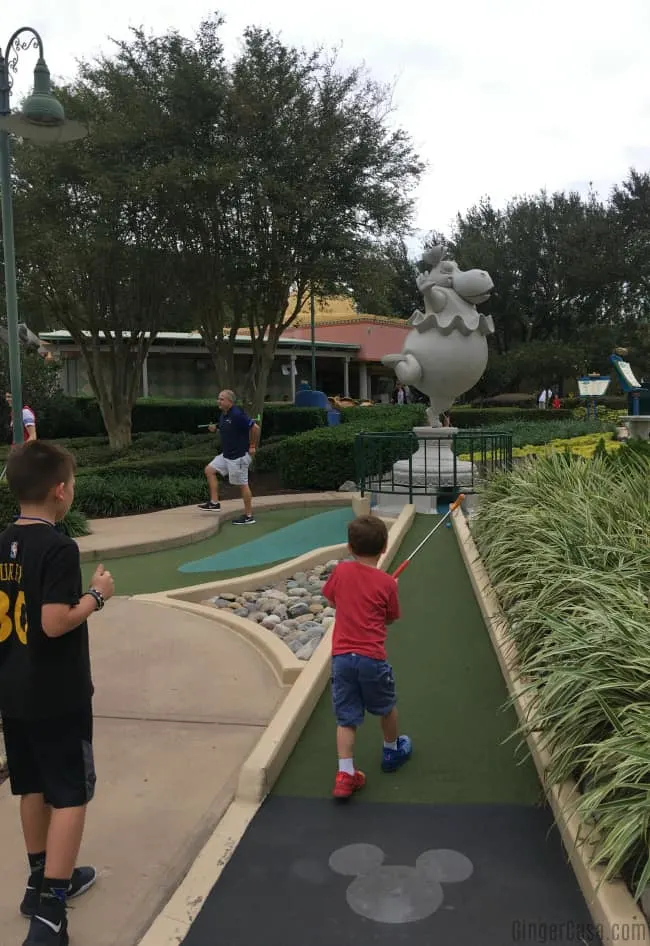 You can choose between Gardens or Fairways, based on skill level. The fairways resemble a traditional golf course, but much smaller. There you will find sand traps, bunkers, water hazards, and sloping greens. It's for the skilled teenager or adult for sure, and provides a challenge with par-3 and par-5 holes range from 63-109 feet long.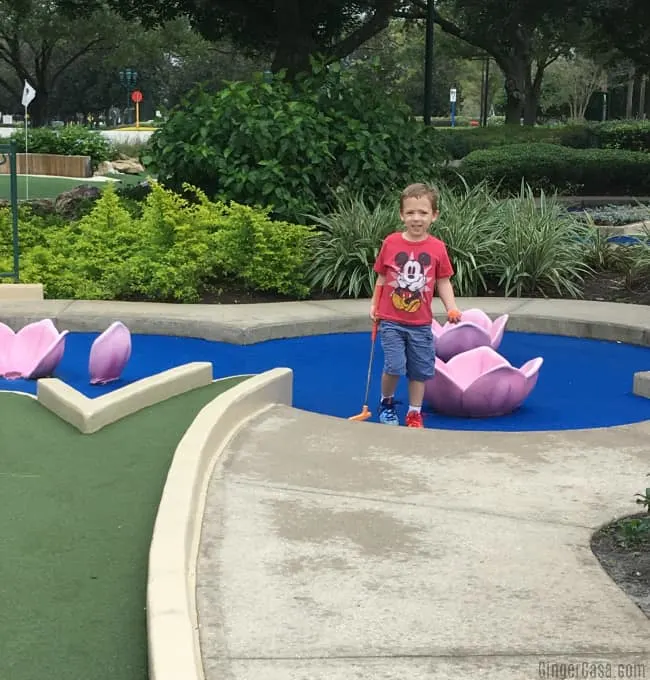 Fantasia Gardens was a delight to my music loving kids. Each hole has a theme straight out of Fantasia. Hippos wearing tutus, dancing ostriches, and marching broomsticks abound. There are different scenes from the movie and 18 holes that are both challenging and fun for families.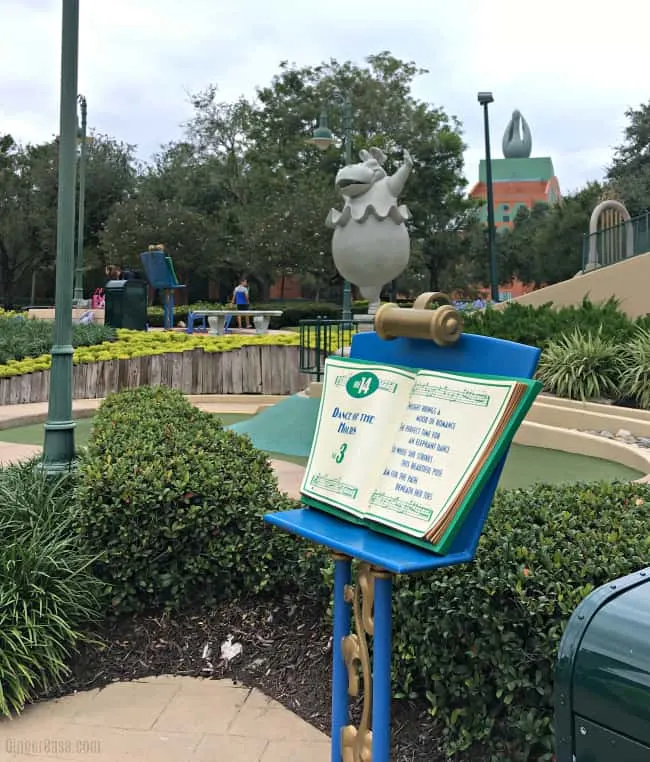 There are fountains, statues that sing when the ball in sunk into the hole, and other surprises throughout the course. It is definitely a mini golf course that lives up to the Disney name!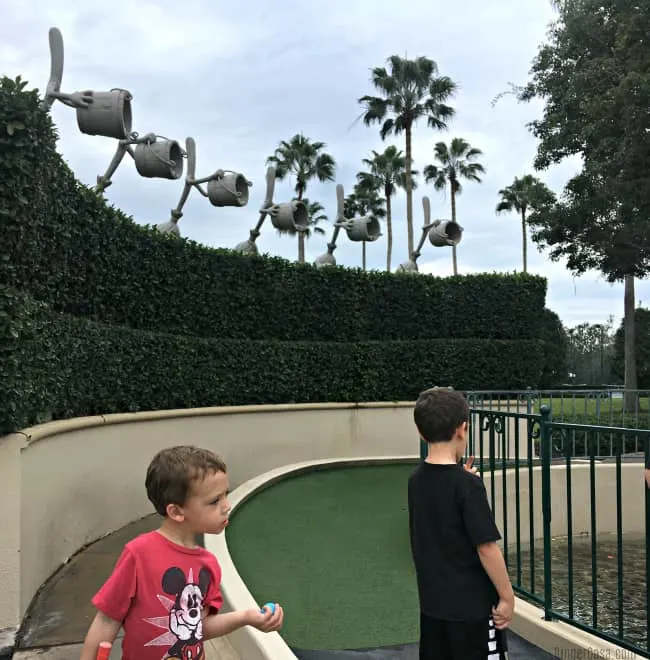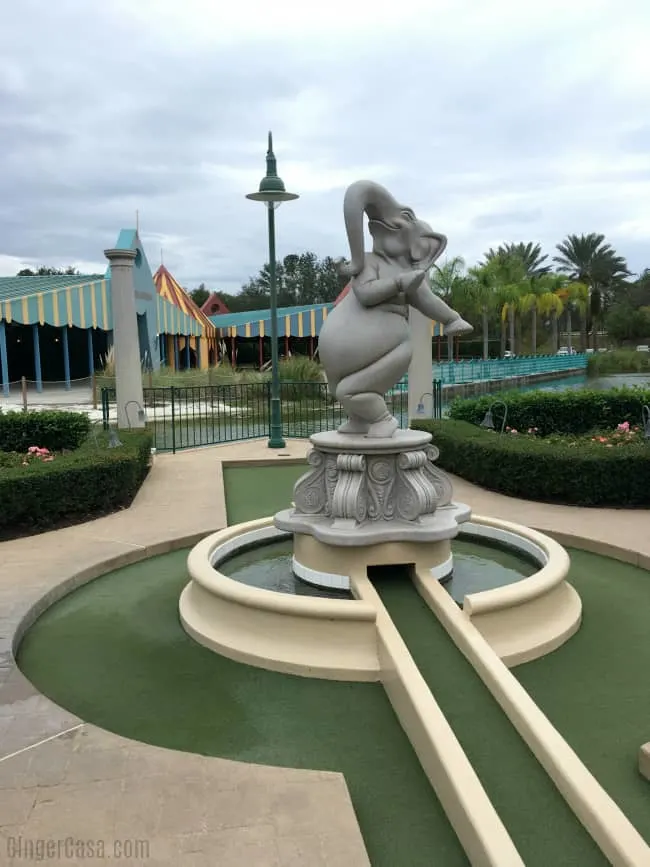 We all enjoyed Fantasia Gardens and we were thrilled that something like this exists in Disney for our little travelers. It was the perfect length of time for our afternoon before departing on our journey home. Do note that you should plan for an hour to an hour and a half one way, depending on traffic and wait time.
Don't forget about Fantasia Gardens and and Fairways miniature golf the next time you visit Walt Disney World and need to do something outside of the parks!