Happy Valentine's Day, Curious George! Banana Valentine Craft for Kids
One of the boys' favorite book characters is Curious George. How can you resist this lovable, mischievous little monkey? One book we like to read this time of year is Happy Valentine's Day, Curious George!
I love crafts that the boys can create on their own, and this is definitely one of them! Enjoy making this valentine craft for kids as you prepare for the fun day!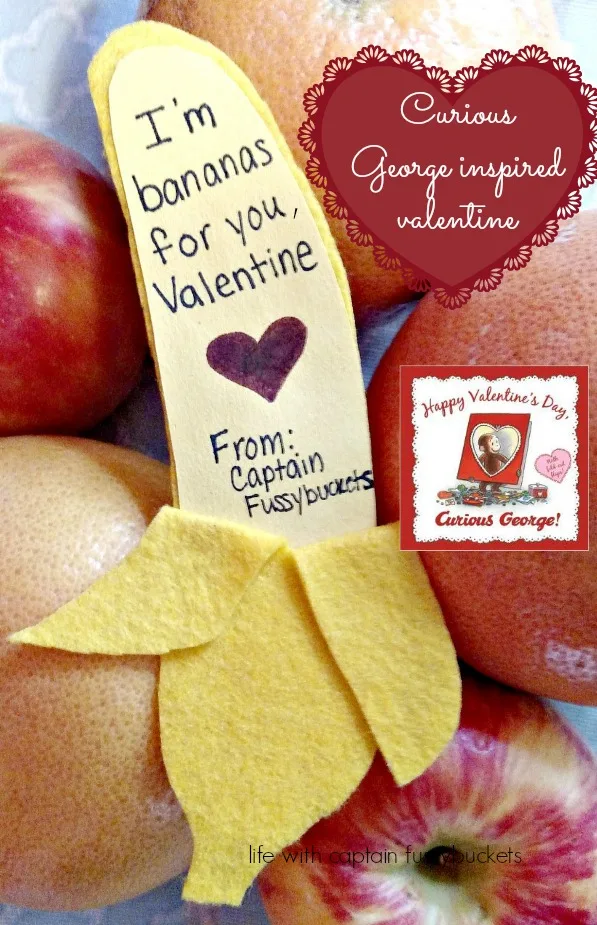 Supplies:
Yellow construction paper

Scissors

Glue

Pen

Markers

Directions:
Print out or freehand a banana and peel on yellow construction paper.

You or your child cut out the banana and peel.

You will then want to help your child carefully trace the shapes on to the yellow felt. The yellow felt will serve as a backing to the banana and will make the valentine more durable. The yellow felt will also work as the

banana's peel as you continue to assemble your valentine.

Cut out the shapes on the yellow felt. For this job, you may want to take the reigns since

felt can be a little tricky to cut.

Once you have everything cut, it is time to start the fun part – putting it all together!

On a flat surface, glue the construction paper banana shape onto the felt version. Then, on

top of the construction paper banana, glue the felt banana peel.

Use glue to tack down the

edges of the peel so it looks as if the banana has been peeled down.

Once everything is glued down, take either a thin tip marker or pen and write your chosen

valentine's day message.

Finally, use a brown marker to draw a heart, or even a monkey if you're feeling

ambitious, in the space between your valentines message and your child's name.

For an extra special valentine, attach the handmade banana to a copy of Happy Valentine's Day, Curious George! or any other Curious George favorites!
Valentine's Day is such a fun holiday. There's candy, candy, oh and more candy, but a homemade valentine craft makes it all so much more special for you and your little one!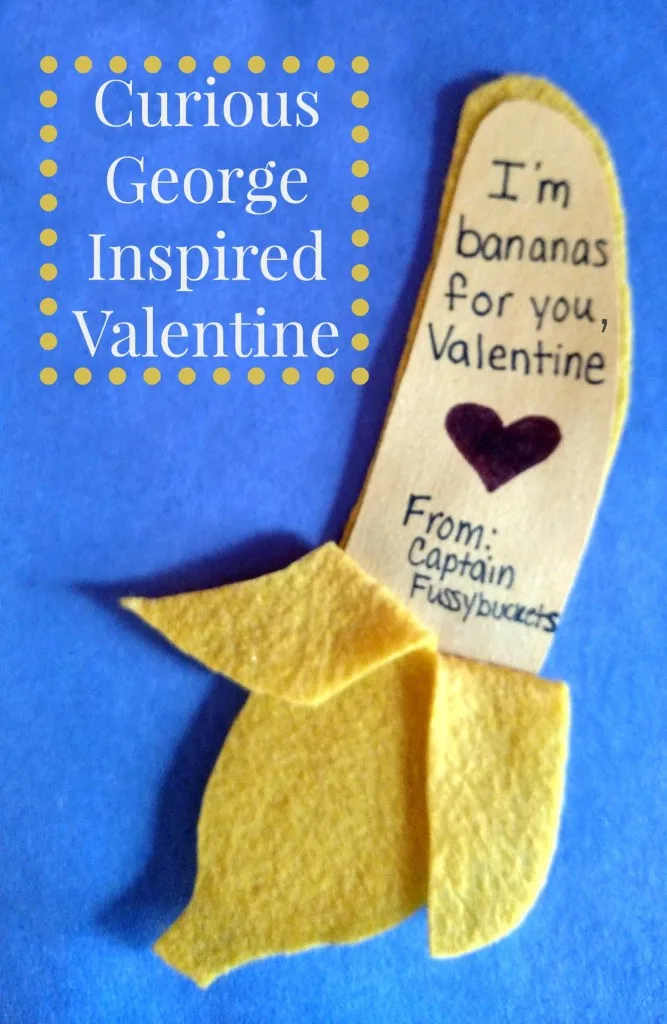 Happy Valentine's Day, Curious George
Gund Curious George Holding Heart Stuffed Animal
Curious George Pal Size Puzzle 48 Piece Jigsaw Puzzle Almost 3 ft Talll
VP2 – Curious George Valentine Fun Pack