After working with kids for 20 years of my life, and then having my own, I have discovered something. Sometimes, kids are born with a natural gift of kindness and for others, they need to be taught, but every child could use a lesson in how to be kind to others, both online and offline. I have known quite a few kind souls who, even despite all odds, are kind to everyone. Let me tell you a story of when our middle child went to pre-k.
D has always been our quiet, pensive, content to stay at home child, even since birth. He was a laid back baby (which was nice after our first was a bit high maintenance.) As long as D was with us or someone he knew and loved, he was good. But when it was time for him to start pre-k, after the third day, he was ready to be done. He had a big case of school anxiety and cried every single morning. He would come home and report that his least favorite part about school was recess! Recess!!! I could not believe it. After talking to his teacher, I found out that he would sit or walk around by himself. When we asked him why he did not play with anyone, he said he did not have any friends. That was so heartbreaking for him to say that.
I am not sure what day it was, but during the first week of school, a sweet little girl changed his world. She asked him to play on the playground. I do not know the story, all I know is that when he came home that day he said "I played on the playground! Bel asked me to play with her and I did!" She was so sweet and while school was still hard for him, he was so happy to finally have a friend.
After that, making friends came a little easier and he made it through the school year. When he started kindergarten the next year, the only things that made him even remotely happy about starting school was that he would have the same teacher his older brother had in pre-k, Mrs. Willborn, AND that he would get to sit by his precious friend, Bel. She was not physically there on the first day of school, though, because she was taking chemo for cancer and her immune system was not ready for the kindergarten environment, but she soon joined them at school when she beat cancer!!
However, Bel was in and out of the hospital after that, and in 2017 she had to miss a lot of kindergarten due to being in the hospital. My sweet 6 year old asked if he could go see her in the hospital. I knew he cared about Bel and he wanted to be kind to her because she was always so kind to him. On the day of their kindergarten graduation, she was not able to be there. D and a few friends from their class went to see her and you know what? They acted like nothing was wrong. They were kids, laughing, having fun, and enjoying each other's company. (The only thing that made him slightly uncomfortable was the fact that he was the only boy there, because he is used to having lots of boys around! haha!)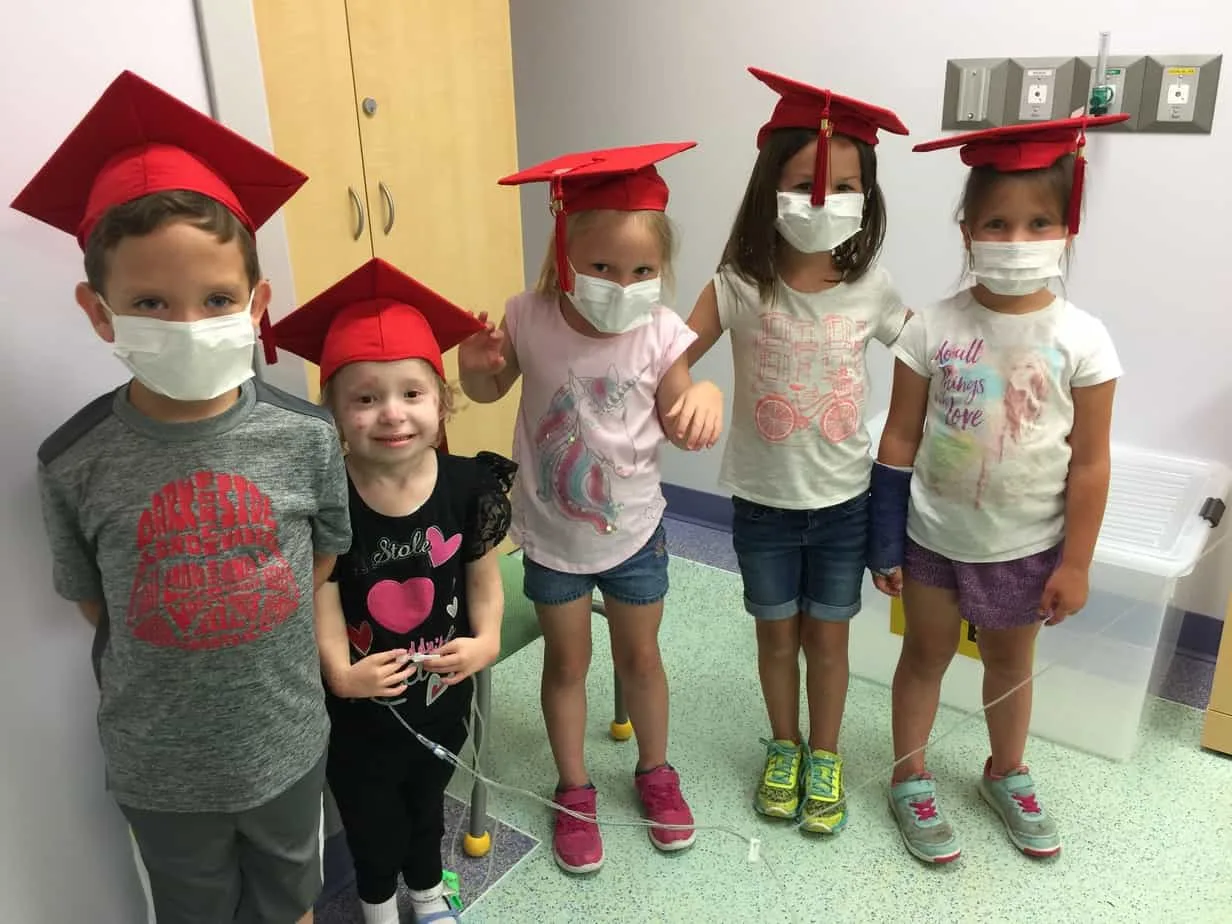 First grade started for these precious kids, however, Bel was not able to get all the way better. Due to the cancer treatments and effects the chemo on her little body, she had developed a blood disorder that she was diagnosed with June of 2017. Her lungs went through a lot, due to pneumonia, croup and stridor, and on February 17, 2018, Bel unexpectedly went to Heaven. That was hard on not only her family, but also the hundreds, if not thousands, of friends she had made as she spread her kindness to everyone she met in her short life, including my sons and especially D.
My sons still talk about sweet Bel, and remember her smile and her kindness. Despite all that she went through in her life, she STILL was kind. I know that is due, in part, to her parents setting a good example, but I also believe she had a natural kindness about her. She was a sweet angel and she inspired so many.
How do you teach kids to be kind?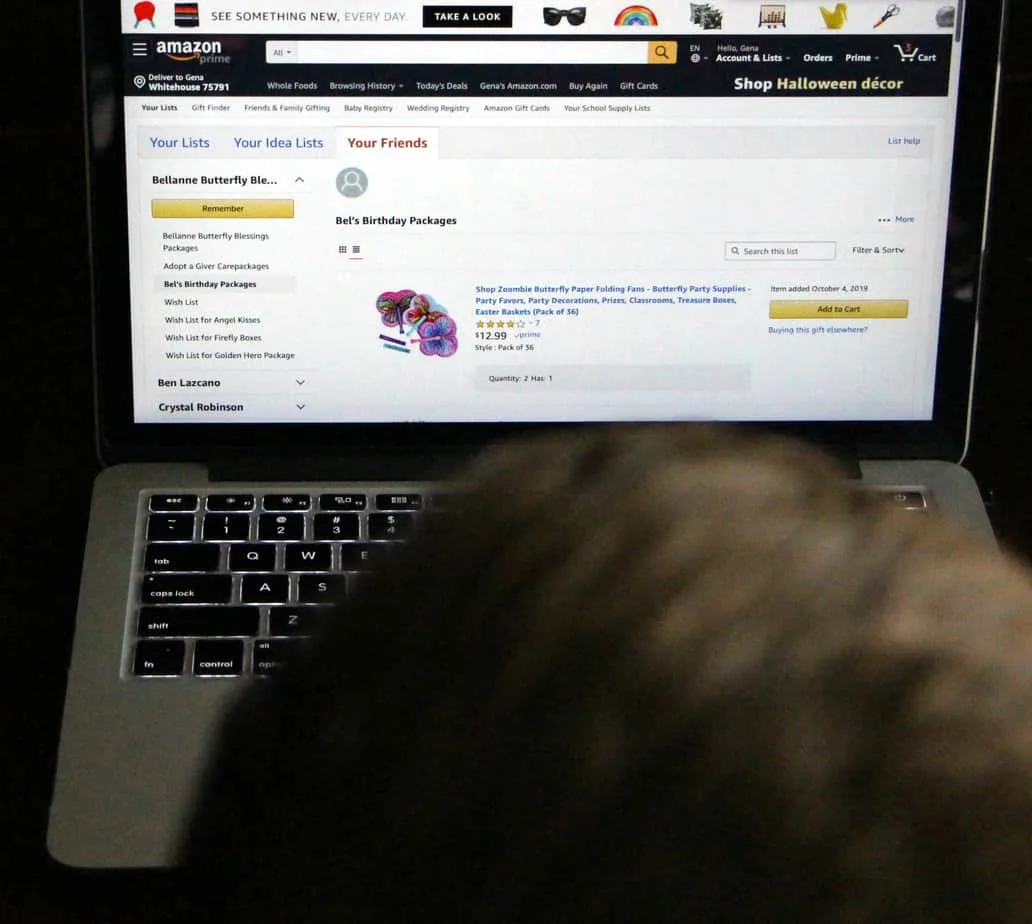 The other day, I was talking to D about Bel's Birthday Packages, which is something that Bel's family does to help spread kindness to kids are at the Texas Scottish Rite Hospital. They have set up an Amazon wish list and anyone is able to order gifts at all prices to help contribute to these packages every year around Bel's birthday. They do all the hard work, but as a random act of kindness, I wanted to involve the boys in selecting items for these packages. I had the boys sit down at the computer and pick out a few things to send to their family to help in making these special, huge acts of kindness. It is a ministry to this family and I loved that the boys could be a small part of it and this is one thing that is helping me teach my kids to be kind.
This experience brought out some tears as we remembered Bel's kindness and friendship, but it was good for us and good for the boys to see how the Coonrod family is still spreading kindness, even though one of their precious daughters is not here to help. Here is Clar, Bel's little sister, carrying on the legacy and spreading kindness to kids at the hospital with Bel's Birthday Packages:
October is National Bullying Prevention Month and cyberbullying is the #1 online safety concern in the classroom. It is IMPERATIVE that we are not just expecting our kids to be kind, but to TEACH them HOW to be kind. Bel's Birthday Packages were the perfect way for me, as a mom, to talk to my kids about kindness, both online and offline. I talked to them about how the internet can be a wonderful thing, full of great information and the ability to help bring smiles to the faces of kids in a hospital, just with a click of a button and the help of Bel's family who are willing to dedicate their lives to spreading kindness.
It is our job, as parent, to also talk about practicing respect, kindness and positivity online. If our kids notice someone being bullied, whether it is online or offline, it helps if we have talked about kindness and bullying before, so the lines of communication are open. I encourage all parents and guardians to talk about bullying and what you can do when you witness it. Some examples of what to do when you are the target of online bullying:

• Not respond and ignore
• Block the person
• Report them – tell someone, whether it be a teacher, sibling, or someone else your child trusts, as well as use the reporting tools in the app or service to report the harassing post, comment, or photo.
It is also important to talk about when you are just a bystander and how you can be an "upstander" by deciding not to support mean behavior and doing something about what you have seen.
It's cool to be kind!
I know that Bel's friends' lives have been forever changed by her kindness, but I also realize that there is not a Bel in every child's life. We must continually point out the kind people, the heroes, and the people who are making a difference. We must encourage our kids to be a positive digital citizen by treating others how you'd like to be treated online, just as in real life. How we and our children treat each other online will have a huge impact on the world around us, both online and offline.
Play Interland – Kind Kingdom with your kids and put your kindness skills to the test!
I challenge you to do a random act of kindness online within 48 hours. It can be anything! Support Bel's Birthday Packages, leave a nice comment on an Instagram picture, be an upstander and report negative behavior, send a positive private message to someone who may be having a hard time, and then talk about it! Post about the act of kindness and encourage your kids and your friends to be kind online and participate in this challenge from Be Internet Awesome. If you do decide to participate, leave me a comment or tag me on social media to let me know! This is something that does not need to be kept to ourselves because being kind is awesome and we need more of it in the world!
Learn more about how to Be Internet Awesome and how to be kind like Bel!