If I can be 100% honest with you guys right now, family mealtime is ROUGH lately. My kids eat a wide variety of things, and for that I am proud, but the chances that everyone is hungry at the same time and then feeling like eating what I serve is pretty rare. There is at least one child every night that picks at his dinner and then is hungry a few hours later. It happens. I cook, we eat, and I move on, but I do try to incorporate meals that I know my kids will love. I always try to serve meat, some sort of carbohydrate, and fruits and/or veggies. Meatballs are always a hit with kids, for some reason. That's why this recipe for Meatballs and Gravy over Rice is a hit with our family.
This recipe is simple and ready in about 30 minutes. Cook your rice, roll out your meatballs and cook them, and make a delicious cream gravy that is fail-proof and delicious with Better Than Bouillon. This recipe could be made in five different flavors with the variety of Better Than Bouillon bases seen below. I used Roasted Beef Base, but it would be equally delicious with Roasted Garlic, Chili, or Seasoned Vegetable Base. You could also use Roasted Chicken Base, which would also work well with ground chicken or turkey meatballs.
Better Than Bouillon is my secret weapon to making dishes taste flavorful and delicious without the extra effort. It's a little shortcut that makes everything taste like they were made completely from scratch.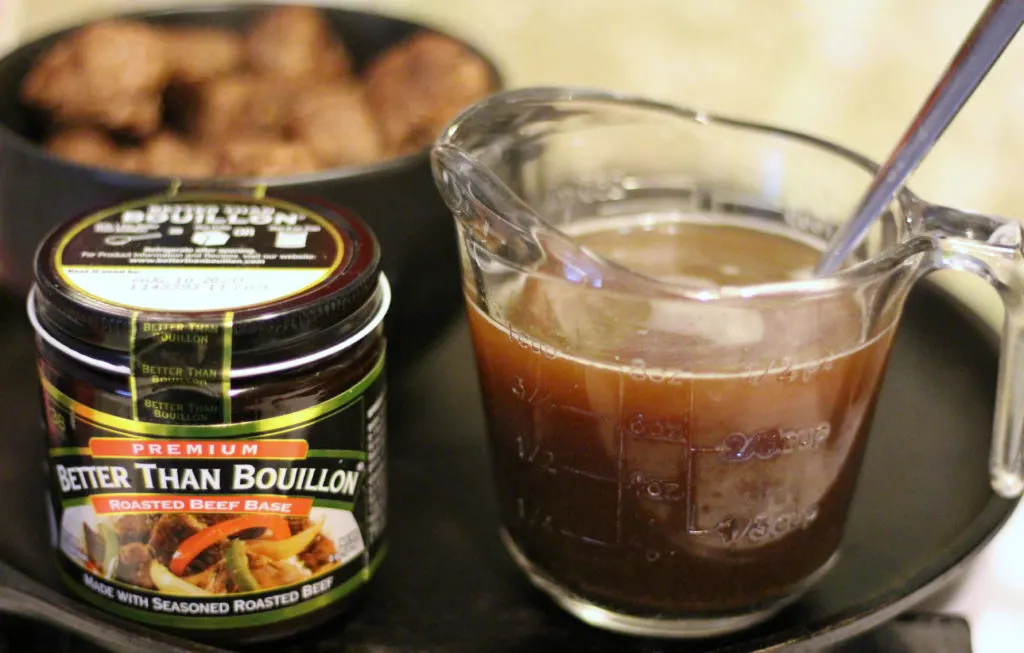 All you need is about a teaspoon of Better Than Bouillon base and 8 oz of water to make your food taste incredible. A little goes a long way and these little jars will last a long time! Better Than Bouillon is a paste concentrate that is equivalent to a bouillon cube or broth. It can be used to make a basic stock, broth or as a marinade to add flavor to recipe. I prefer the base to cubes or broth because the base lasts longer in the fridge than broths and they dissolve well, unlike cubes.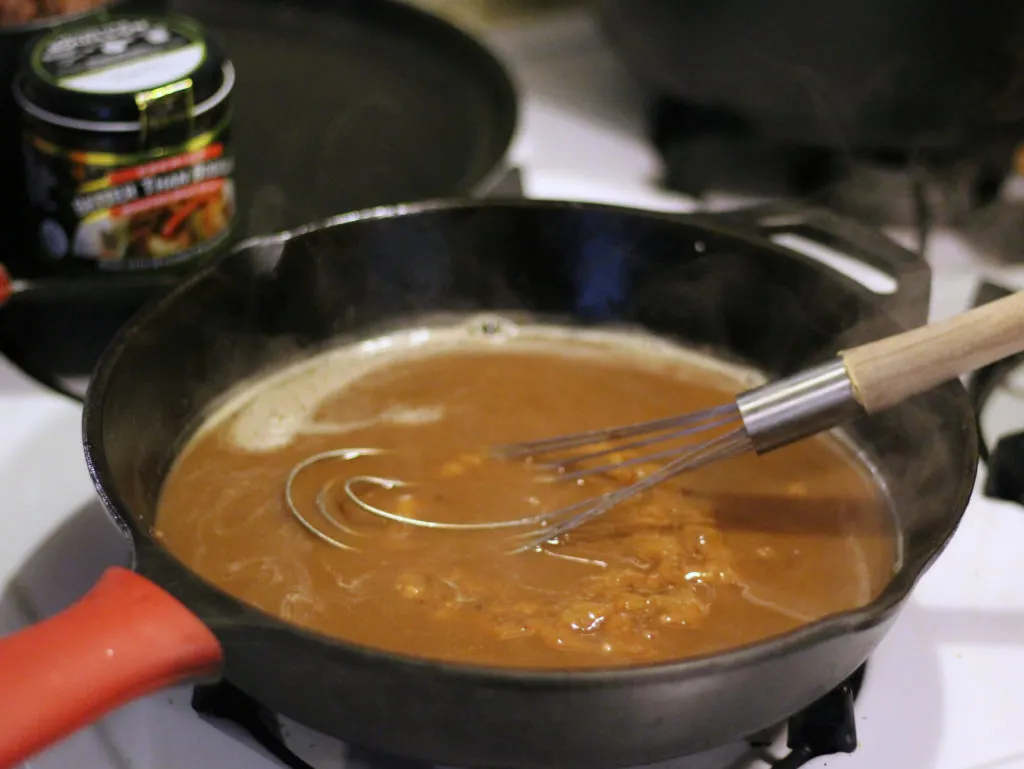 This gravy recipe can be used not only for this meatballs and gravy over rice recipe, but for roast beef with gravy, steak tips and gravy, and more. You can even use frozen meatballs with gravy and it will turn out SO delicious!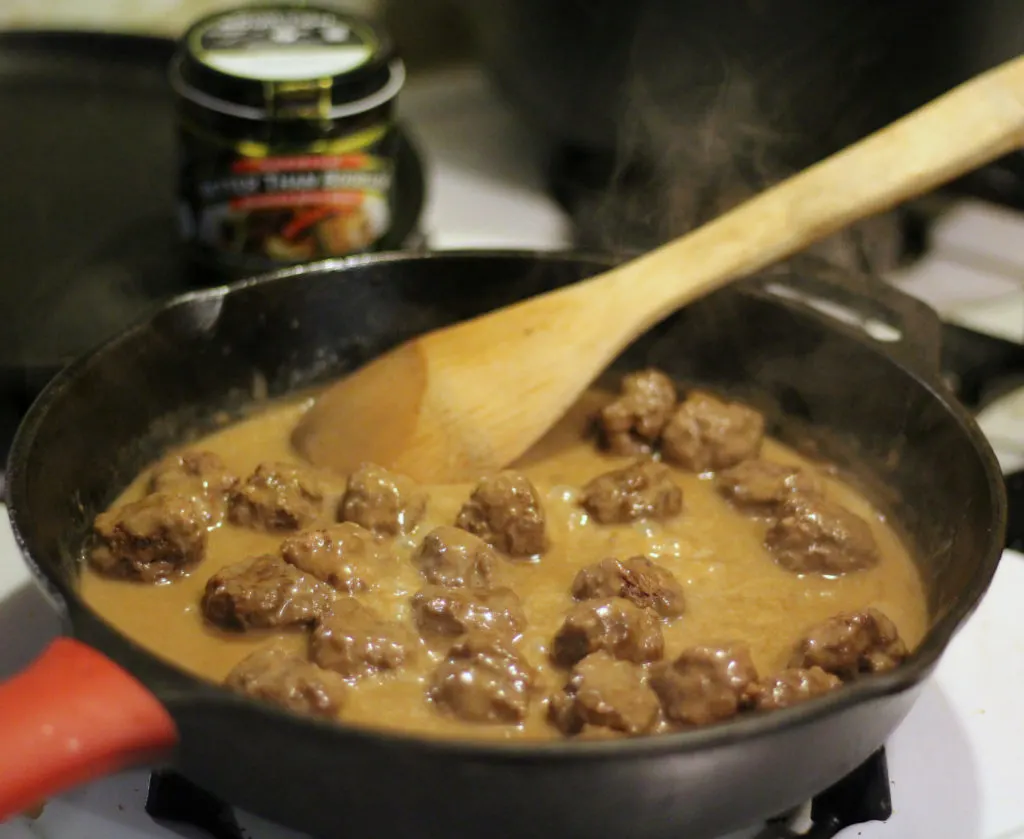 The rice and meatballs with gravy cook well alongside each other and neither need a lot of effort.
What goes with meatballs for dinner?
I paired this meal with a bowl of fresh green grapes and it was a hit! Other side items that we have made with this meal are salad, cucumbers, pickles, toast, sugar snap peas, and more. It's a versatile meal. Serve a delicious dessert afterwards, like these yummy Coconut Brownies, and it's a well rounded meal! And if you are just a lover of rice, check out my 15 Minute Instant Pot Mexican Rice!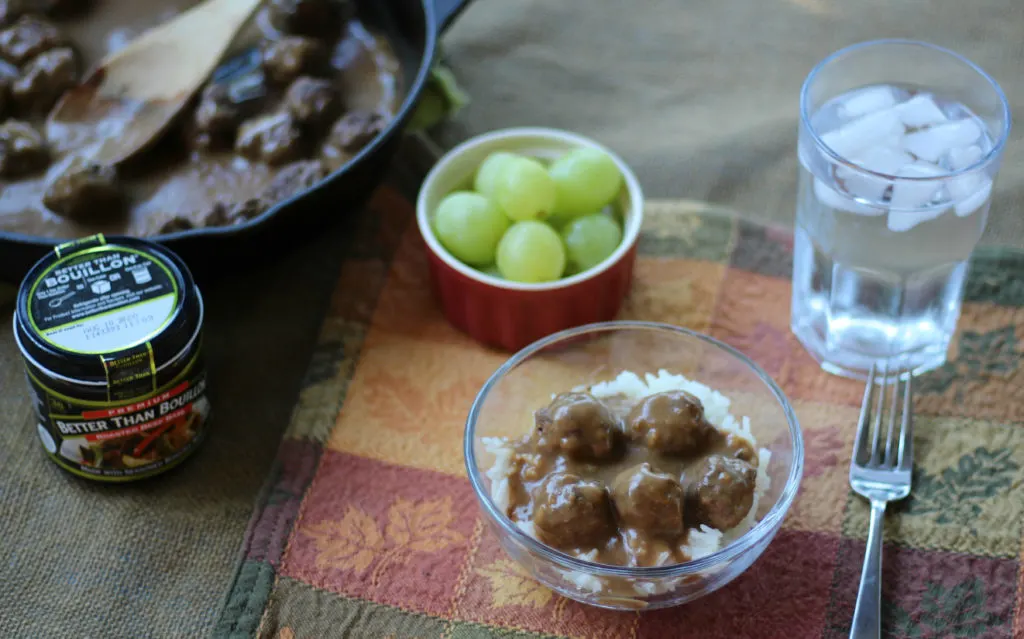 Meatballs and Gravy over Rice