I participated in a campaign on behalf of Mom Central Consulting for Huggies® Brand. I received product samples to facilitate my review and a promotional item to thank me for participating. I am happy to be participating in the Huggies Costco Ambassador program.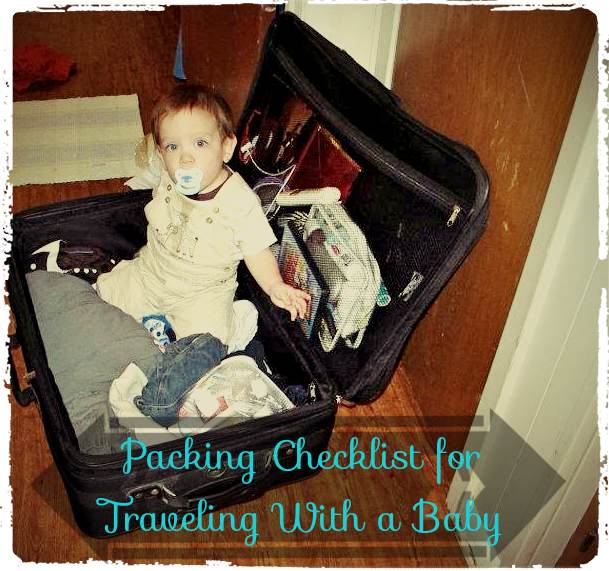 Packing for yourself is hard enough, but add in a baby, and that's when things get tricky. I am always forgetting something when I'm packing for the boys. I forgot my own toothbrush and some things for Baby Brother a few weeks ago when I went on a trip. I have compiled a helpful packing checklist for the next time you travel with a baby so you will not forget the important things that will make your trip easier and help everyone to sleep better!
Lotion

Baby soap

Clothes – at least two outfits per day

Pajamas

Socks and shoes

Bibs

Sound machine to help baby (and you!) sleep well in the hotel room

Blankets

Crib sheets for the hotel crib

Pack n Play

Toys

Diaper changing pad

Foam bumpers for co-sleeping

– (always be prepared or Baby to not like his new surroundings. I suggest having a plan B (and C!) for sleeping arrangements.)

Comfort items like loveys, dolls, or stuffed animals

Food, formula, bottles, breast pump, spoons, bowls, etc

Pacifiers

Travel baby seat for feeding or just sitting in the room

Two diaper bags

Nighlight

Stroller

Medicines, diaper rash cream, thermometer, etc – just in case

Hat and sunglasses (and a natural sunscreen if baby is over 6 months old)

Tissues, plastic bags, and disinfectant wipes

Huggies Diapers

Huggies Natural Care Wipes
If you are planning one last hurrah this summer, remember to stock up for your trip at Costco. Pick up Huggies Plus diapers and Natural Care plus wipes exclusively at Costco. Then, you will have all the diapers and wipes that you need and you know you can trust them not to leak, day or night.
Costco's exclusive Huggies® Snug & Dry Plus diapers are extra absorbent for day or night, have the Leak Lock® guaranteed protection, Snug Fit waistband, and Grip Tabs for a secure fit. We love them for Baby Brother, who is on the go – crawling, cruising, and never still . Huggies are very dependable for naps and travel. Leaky diapers can ruin a night or an outfit, so we definitely rely on Huggies for no leaks.
At Costco, you'll also find Huggies Natural Care® Plus Wipes. These wipes are thick and durable and are the simplest wipes formula Huggies has to offer, which is nice for Baby Brother's delicate skin. The special pack at Costco comes with two kinds of refillable dispensers plus 1160 refill wipes to keep Baby clean at home or when you're out and about. One of the dispensers is the NEW Huggies® Clutch 'n' Clean pouch, which comes in every pack of Huggies Natural Care® Plus Wipes. You will find the perfect dispenser for your needs at Costco in these handy, time saving, money saving big packs.
Do you have anything to add to this checklist that is essential for traveling with a baby?