If you are looking for a simple and flavorful addition to your fridge, look no further than quick and easy pickled banana peppers. These zesty, tangy peppers are not only a breeze to make but also a versatile condiment that can elevate a wide range of dishes. In this post, I will explore why pickled banana peppers are a fantastic addition to your kitchen!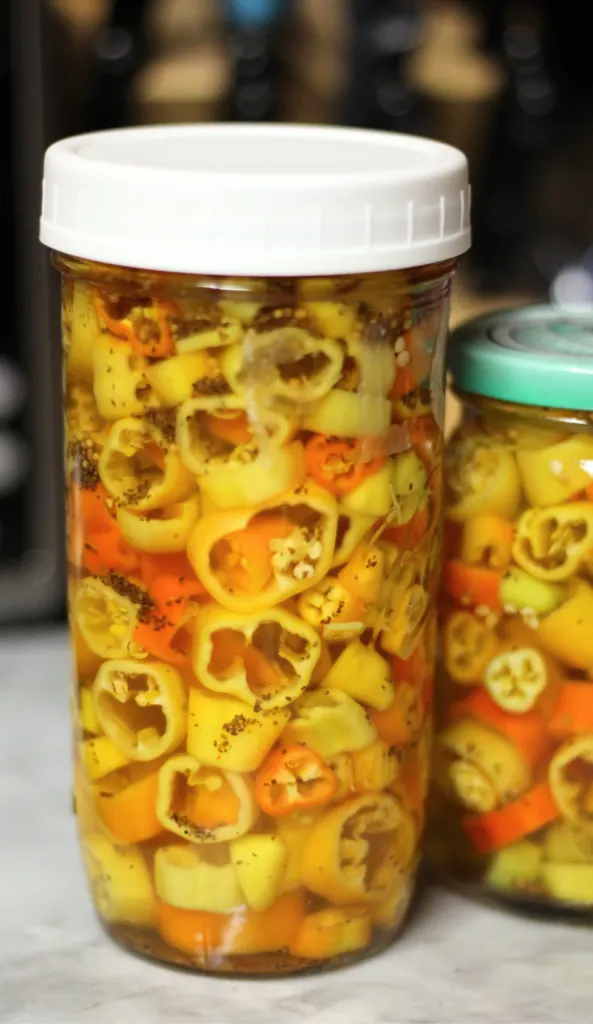 Why Pickled Banana Peppers?
Bursting with Flavor!
Mild banana peppers have slightly sweet flavor and are an excellent choice for pickling. When combined with two kinds of vinegar and other spices, they transform into a burst of complex flavors that can brighten up any meal. The pickling process infuses them with a tangy zing, making them a delightful condiment to have on hand.
Quick and Easy Preparation
One of the most significant advantages of making pickled banana peppers is the simplicity of the process. You don't need to be a seasoned chef to whip up a batch. With just a few ingredients and minimal prep time, you can have a jar of these delectable peppers ready to go in no time.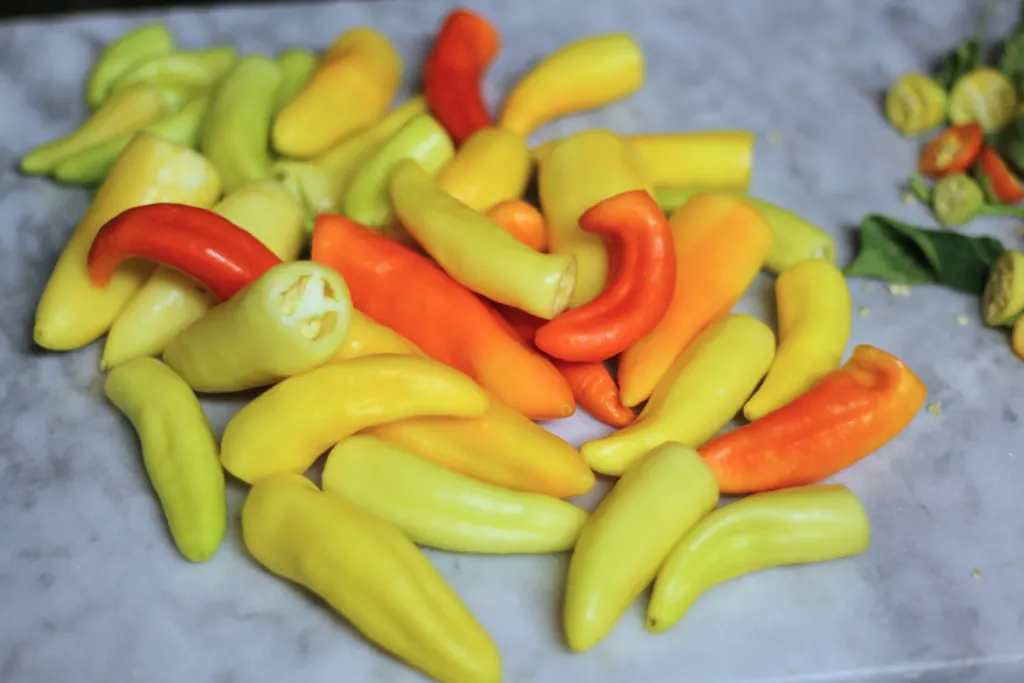 Versatility in the Kitchen
Pickled banana peppers are incredibly versatile. They can be used in various ways, from garnishing salads and sandwiches to adding a kick to your favorite pasta dish. They pair wonderfully with grilled meats, burgers, and tacos, making them a must-have for barbecue season. Their versatility allows you to experiment and get creative in the kitchen.
Use up Garden Bounty
The only reason I started making this recipe is because out of all of the plants I grew, banana peppers is what we had the most of. We would eat them raw, but pickled is something extraordinary and now we cannot grow enough!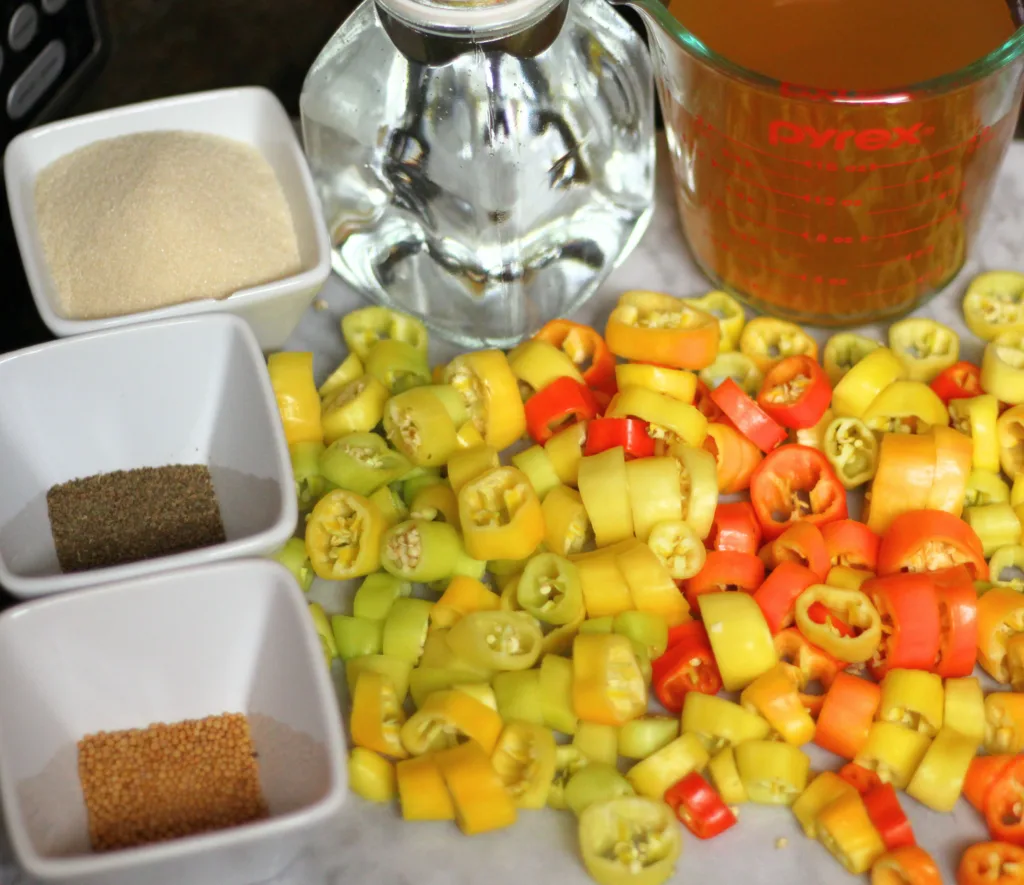 My husband has always had a fondness for tangy flavors. He enjoys experimenting with different condiments and sauces to enhance the taste of his meals. Couple that with our overabundance of banana peppers from the garden, and this became something that totally makes sense..and a slight addiction!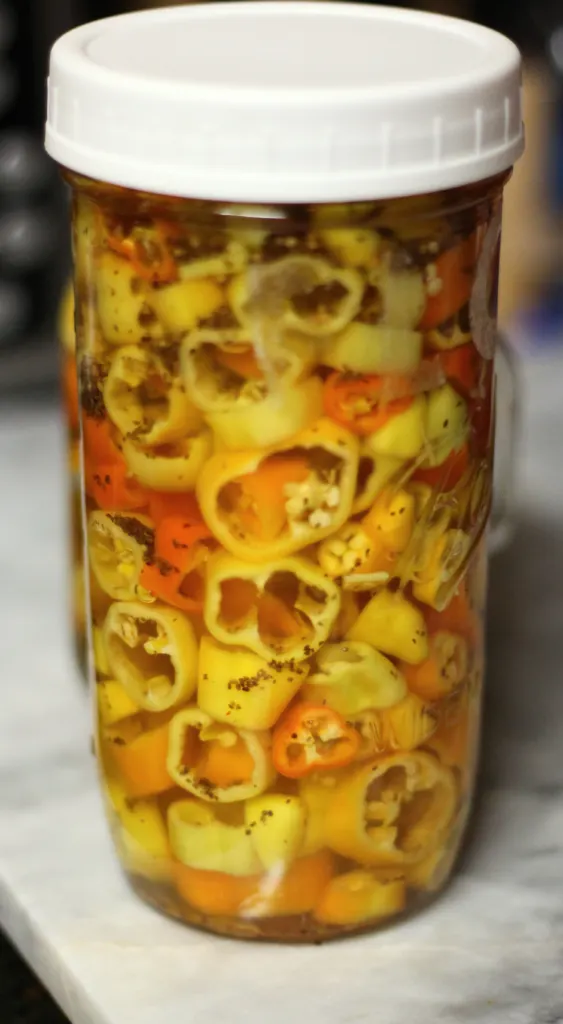 His favorite way to enjoy these pickled banana peppers is by adding them to his salads, pastas, and casseroles. But, truth be told, he's put them on just about everything! He loves the zesty kick they provide, which perfectly complements the richness of the meats and the freshness of the vegetables. He also adds them to his pizza, where they contribute a tangy contrast to the cheesy goodness.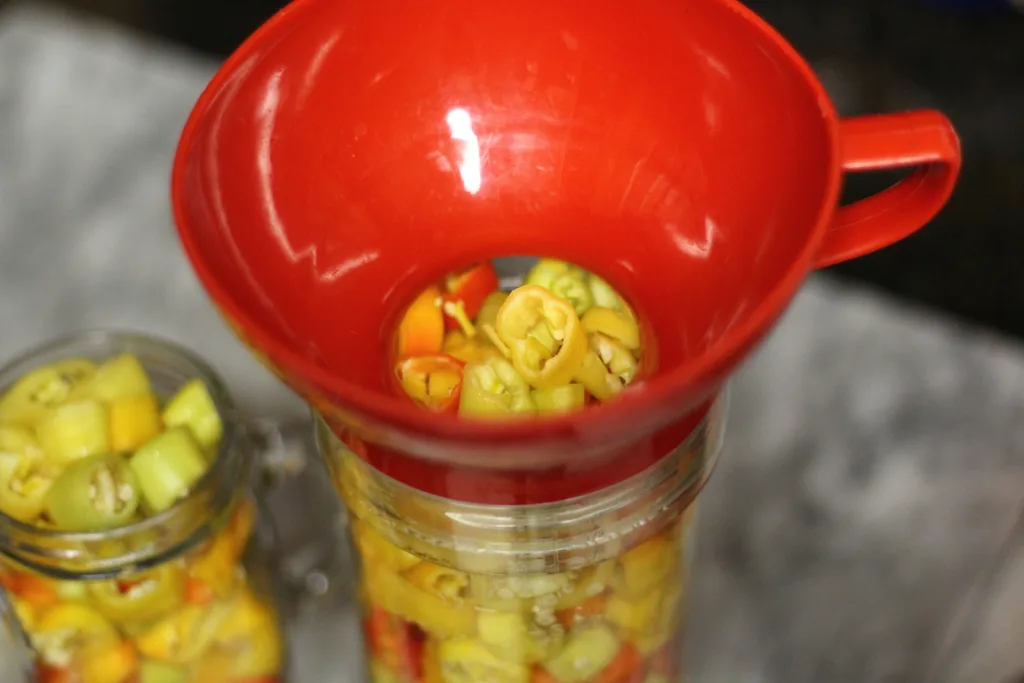 I love this little funnel that my mom gave me years ago! I couldn't find the exact one, but here's another good option. It really reduces frustration!
Quick and easy pickled banana peppers are a fantastic addition to your culinary arsenal. They are bursting with flavor, simple to make, and incredibly versatile in the kitchen. As demonstrated by my husband's love for them, these tangy peppers can take your meals to a whole new level. So, if you're looking to add a delightful and zesty touch to your dishes, give pickled banana peppers a try. Your taste buds—and your fridge—will thank you!