I participated in a campaign on behalf of Mom Central Consulting for Heinz Apple Cider Vinegar. I received a product sample to facilitate my review and as a thank you for participating.
I had never really heard of anyone using apple cider vinegar until recently. Well, I take that back. My dad drizzles it on his beans and always has, but I wondered how such a product could remain being sold for just that! HA! Then I started reading about how a rinse of apple cider vinegar could be substituted for hair conditioner. I tried it, and it worked! And then, I read that it could be substituted for chemical laden fabric softener….and guess what, that worked, too! I was definitely becoming a fan of this little miracle liquid that smells loads better than regular white vinegar! Apple cider vinegar is also amazing to clean the kitchen with. Just pair it with some baking soda and you're cleaning naturally! It also makes a great weed killer. Just make sure you avoid any vegetation that you want to survive.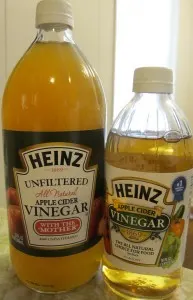 I began taking noticed of recipes that used white vinegar, and tried substituting it with apple cider vinegar and I have been very impressed with the results! Recently I made oven baked pork ribs with a delicious bbq sauce, made with, you guessed it, apple cider vinegar! Props go to my brother who gave me his tweaked recipe for the sauce, which I further tweaked to turn into what I call perfection!
I love it because it's the perfect blend of spicy and sweet, and it doesn't contain any high fructose corn syrup, like so many bbq sauces on the market. And to make this meal complete, I made a mayo free potato salad that is just amazing. Even the hubby agrees!
Heinz makes two versions of apple cider vinegar, filtered and unfiltered. The unfiltered version is the "mother" of the vinegar that is created naturally during the fermentation process. The filtered version is clear and has a clean and mellow flavor. It is 5% acidity, which is perfect for canning or pickling.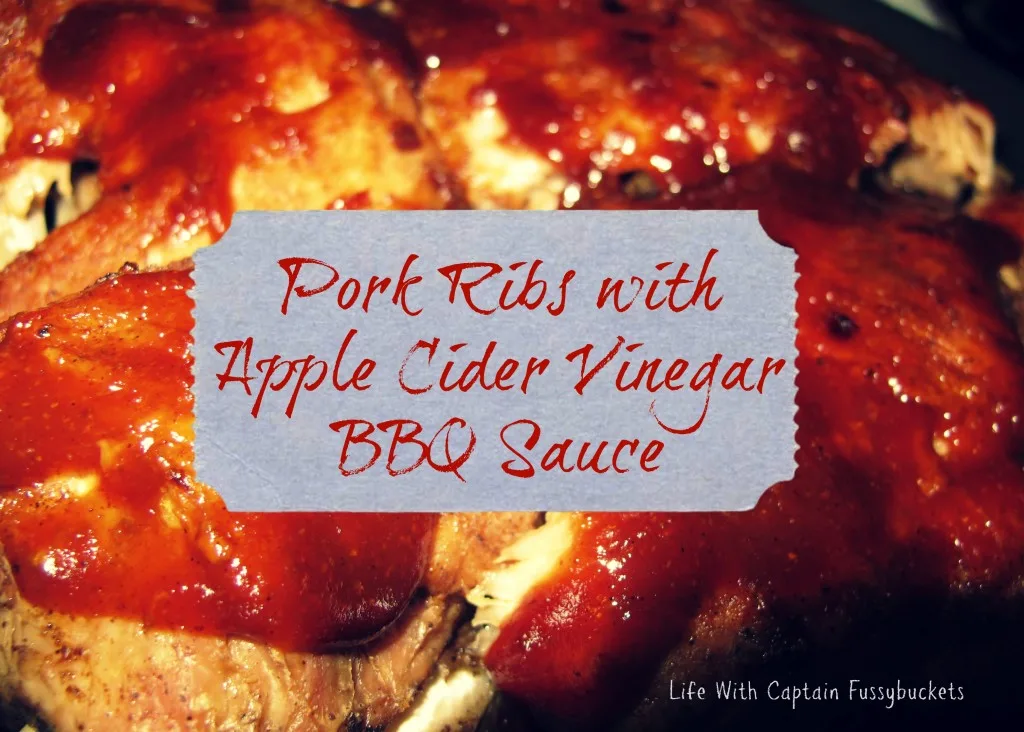 Ingredients for oven baked pork ribs. (Alternately, you can grill them, I just don't have a fail proof recipe for you!)
3-4 lbs of pork ribs

1/4 cup salt

1 TBSP black pepper

1/4 cup sugar

1/8 cup brown sugar

1/2 TBSP granulated garlic

1/2 TBSP onion powder

1 TBSP paprika

1 TBSP chili powder

1/2 TBSP Thyme

1/2 TBSP ground Cumin

1/2 tsp ground nutmeg
Directions:
Mix together dry ingredients for your rub.

Peel off membrane on the underside of pork ribs. This can be done easily by sliding your knife under and getting it started..then just peel it off.

Preheat oven to 300º F.

Lay ribs on a large piece of foil, meat side down.

Apply rub to ribs on all both sides.

Lay another piece of foil on top of ribs. Fold up bottom part like a "bowl" and crimp edges together to contain leaks.

Place ribs in foil on a baking sheet with sides or dish.

Bake for 2 1/2 hours.

Take out of oven and let cool.

Brush on Apple Cider Vinegar BBQ sauce (below).

Broil ribs for about 2-3 minutes, turn ribs over, sauce them, and broil them again. You want to watch them so they don't burn.
Ingredients for Apple Cider Vinegar BBQ Sauce:
(makes about 2 1/4 cups)
1 cup ketchup (we prefer high fructose corn syrup free)

1/2 cup molasses

1/4 cup unfiltered Heinz Apple Cider Vinegar

1/2 tsp chili powder

1/2 tsp paprika

1/2 tsp dried minced onions

1/2 tsp granulated garlic

1/4 tsp black pepper

1/4 tsp cinnamon

1/4 tsp cayenne pepper (optional)
Directions:
Mix all ingredients together in a sauce pan.

Cook over medium heat, stirring continually until all ingredients mix well together and it is smooth.

Use on ribs and save the rest in the fridge because it's good for a month or longer!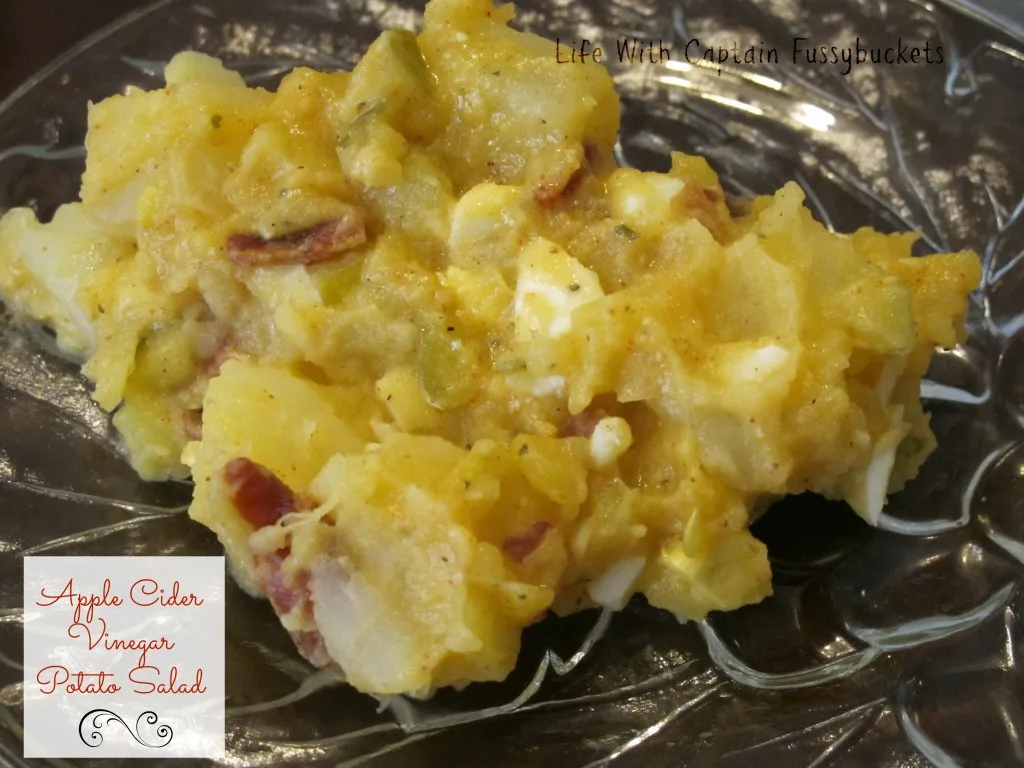 Ingredients:
4-5 medium potatoes, peeled and cut into 1/2" cubes

3-4 dill pickle spears, chopped

1/4 cup Heinz Apple Cider Vinegar

1/8 tsp black pepper

1/8 tsp salt

1 tsp dried minced onions

1/4 tsp paprika

1/4 cup grapeseed or olive oil

2 tsp pickle juice

1 TBSP prepared mustard

2 boiled eggs, chopped

6 sliced of cooked bacon, crumbled

1/4 tsp dried cilantro or dill (optional)
Directions:
Boil cubed potatoes in water until cooked. You don't want to overcook them, and some people prefer them to be al dente', so just keep checking them.

While your potatoes are cooking, mix all of the other ingredients together in a large bowl.

Drain potatoes and mix them in carefully and enjoy!
​Do you cook with apple cider vinegar or do you have any other great uses for this amazing stuff? Check out the Heinz Vinegar Pinterest page for more inspiration!