This microwave chocolate candy post contains affiliate links.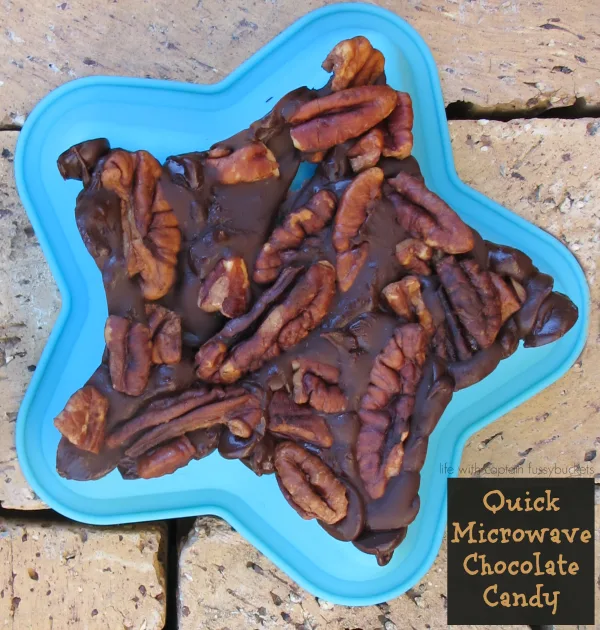 Chocolate and pecans seem to have such a lucious combination of textures and flavors. To me, there is no better pair than those two! Peanuts are an okay substitute, but being from Texas, pecans are my "nut of choice," especially when paired with chocolate! Chocolate sheet cake with pecans, chocolate pecan pie, chocolate chip cookies with pecans, and Turtles candy, to name a few!
Somehow, my oldest has a pecan allergy. Sigh. He's pretty good about it, as long as he has a dessert alternative if a pecan pie is placed in front of him, for instance. He's learned to check the regular suspects – fudge and brownies, to see if they have pecans (or walnuts, which he is also allergic to.) It's SUCH a downer when we are at potluck at church and the only chocolate dessert has tree nuts in them. He definitely has his mommy's love of chocolate and sweets!
The challenge for me is satisfying my craving for pecans and chocolate in a quick and easy way, and preferably in a way that can be catered to his allergies, in case he wants a bite. I created this easy recipe a few months ago and it is so easily adapted. Just think of whatever you want to see in a candy bar and it's done. If the Captain wants some chocolate candy, he can add fruit or peanuts. If Daddy wants candy, he can add his favorite – cashews.
So here's what you need and how to make this deliciously easy snack!
Materials needed:
silicon molds
microwave
fork