Ahhh summer! My kids are all about playing in the water, soaking up the sunshine, and enjoying cold sweet treats like ice cream and sorbet. For some reason, I was buying store-bought sorbet for the kids, when I did not realize just how easy it was to make it myself. I made this delicious Raspberry Lemonade Sorbet in minutes with the Vitamix E310 Explorian Series Blender.
Raspberry Lemonade Sorbet
My boys LOVE raspberries. They love all kinds of fruit, but berries are a must to keep on hand for summertime snacking. The other day, I had just bought a lot of raspberries on sale and I noticed that a few of them were going bad. Now, my boys can wipe out a container of raspberries pretty quickly, but I had bought so many that I just stuck them in the freezer.
I pulled them out to make this recipe and was curious as to if the Vitamix could take care of them, and of course, it did! The sorbet turned out so smooth and the end result was just delicious.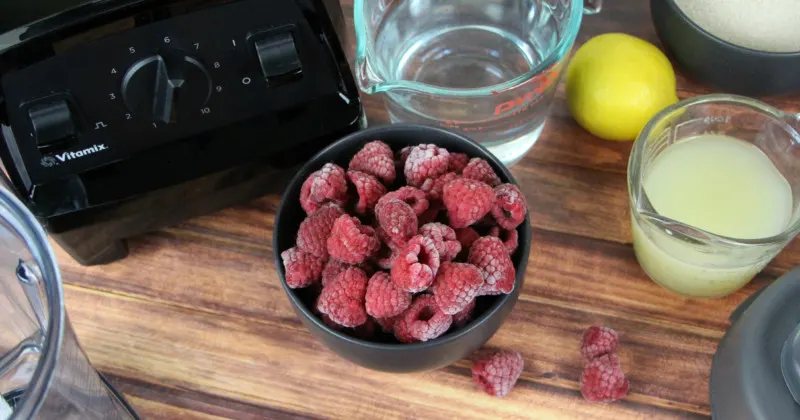 For more lemony goodness, try this recipe for Easy Lemon Oreo Bars!
This recipe could NOT be easier. Just combine everything in the Vitamix and go. The only semi difficult part was the raspberry seeds. If you don't mind having seeds in your sorbet, then by all means, skip this step. Seeds are good for you, right? Sometimes I can't convince my kids of that, and I did want them to eat all of this sorbet, so I removed the seeds.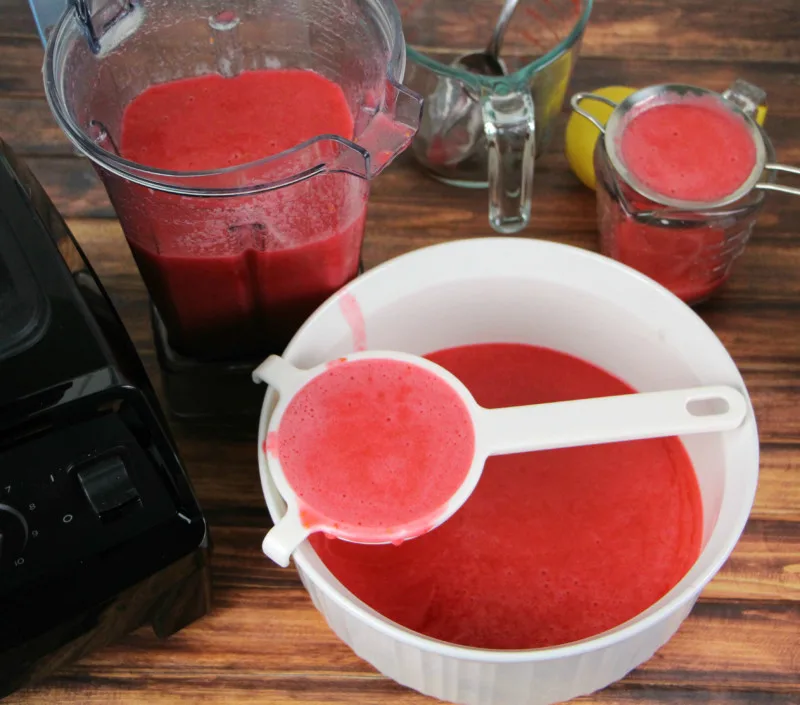 I poured the sorbet mixture into a bowl through a strainer, but that did take a little time. Eventually I landed on covering the bowl with a piece of cheesecloth, securing the sides, and pouring the mixture through it to strain out the seeds. With a little help, this part was done in no time and I made the backyard chickens happy with the seeds!
The boys LOVED this raspberry lemonade sorbet! It was just the perfect combination of sour and sweet. You can adjust the sugar content, or try using honey or coconut sugar, but organic cane sugar is what I used.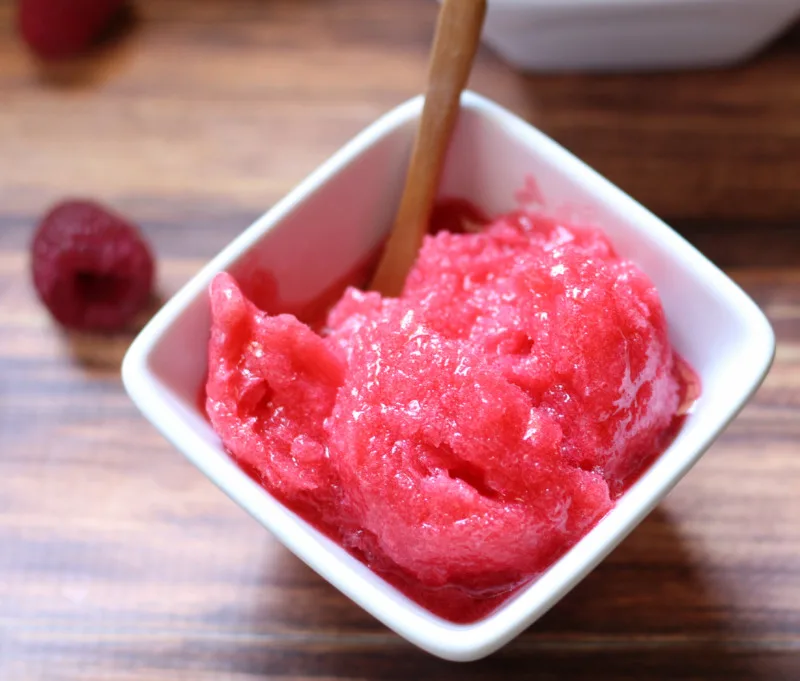 About the Vitamix E310 Explorian Series Blender:
The Vitamix is so multipurpose! The 48 oz container is ideal for making appetizers, soups, desserts, smoothies, and more. There are 10 variable speeds that creates the perfect texture of whatever it is that you are making. I love using it to make homemade peanut butter.
The Vitamix E310 Explorian Series Blender comes with a pulse feature so you don't destroy things like your favorite salsa or chunky vegetable soup. Trust me, this Vitamix can handle even the toughest ingredients!
I appreciate the fact that the Vitamix is self cleaning….just 30 seconds, warm water, and a drop of dish soap is all you need to clean! There is a full five-year warranty covering all parts, performance, labor, and two-way shipping at no cost to you.
What would you make with a Vitamix?