Throwing a Photo Party for Teens
Hubby is a youth minister and has events for the youth group often. Yesterday, he threw a big area wide event for our youth group and five other churches. Over 80 teens and pre-teens joined together to eat, worship, and have fun together! Events like this are always a huge undertaking, but so much fun and well worth it. I received a great StickAPic party supply box around the time he was planning the event, so we planned a fun photo party for the teens! In the party box was HP ink, HP social media snapshots sticky photo paper, glue, decorations, plates, napkins, snacks, craft supplies and embellishments, and a Michael's gift card for purchasing extra craft supplies.
At first, I was not sure that the teens would be up for this idea, but it turned out great and they LOVED it! I mean really, what teen doesn't love taking pictures? The theme of the night was "Not Alone," about how even when we aren't with anyone, God is with us. So the instructions were simple…find a friend or more and I'll take your picture for you. (No selfies!) We got a few props, which some used and some didn't: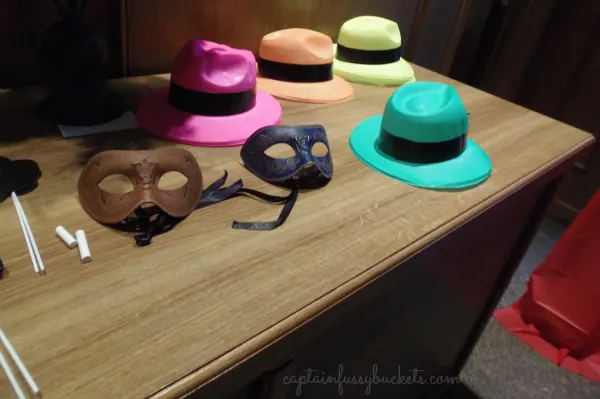 A friend made a vibrant backdrop out of PVC pipe, colored tablecloths, and decorations: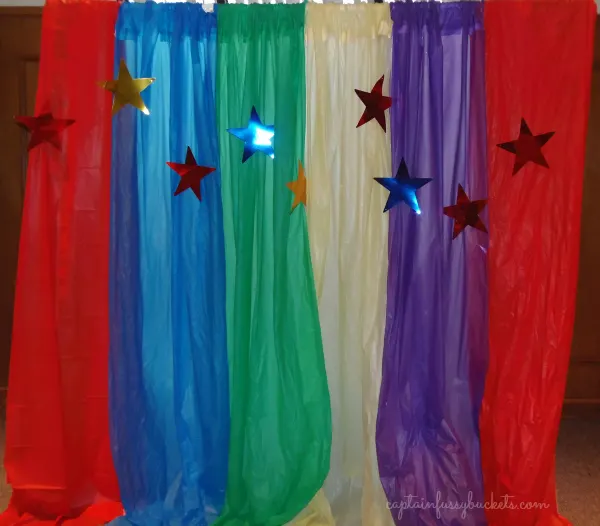 We set out cardstock, sticky rhinestones, markers, foam stickers, and other decorations to make their picture frames:

Our photo printing station, with the HP Envy printer, HP social media snapshots (available at Staples,) and extra ink: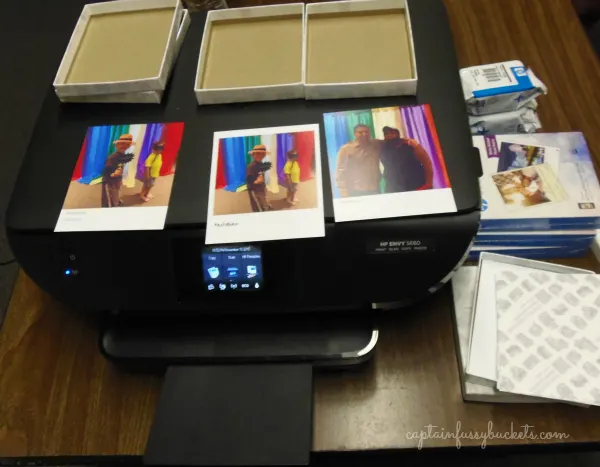 We took one picture of every group and opened them in the HP Social Media Snapshots app. From there, you can add text and create different layouts. We chose using the #notalone hashtag and date, to keep it simple, because they would be creating picture frames to put their snapshots on!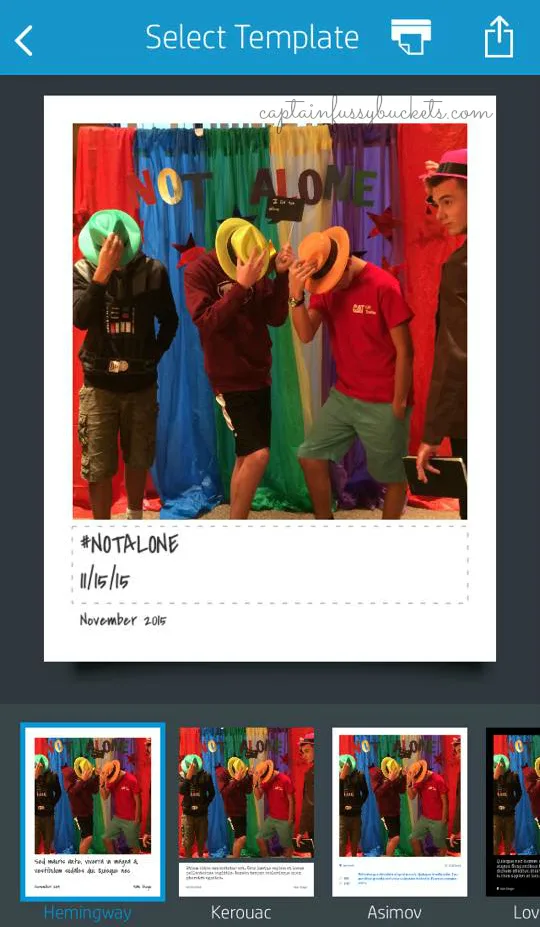 After the pictures had been printed, the teens got to work on their frames. They loved this idea! They were very creative making their frames. It was SO easy to just peel the back off of their HP snapshots and apply it to the paper. The 4×5 inch, sticky-backed photo paper was the perfect touch to this special party!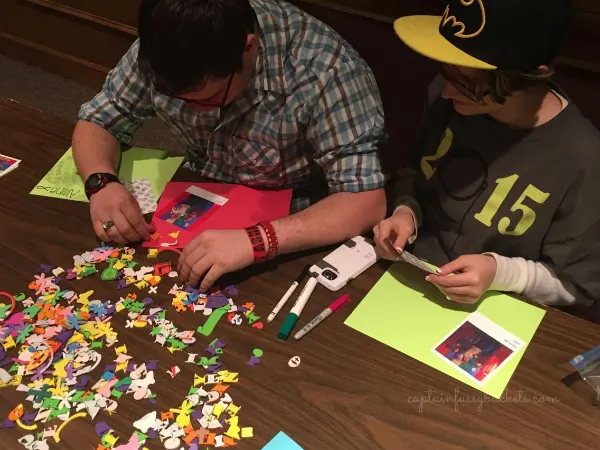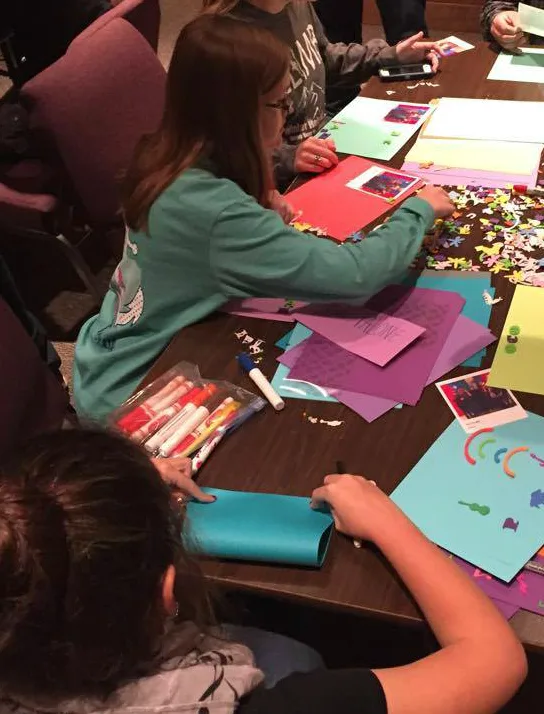 After the crafts, of course there was food! We had homemade chili, cornbread, lemonade, and….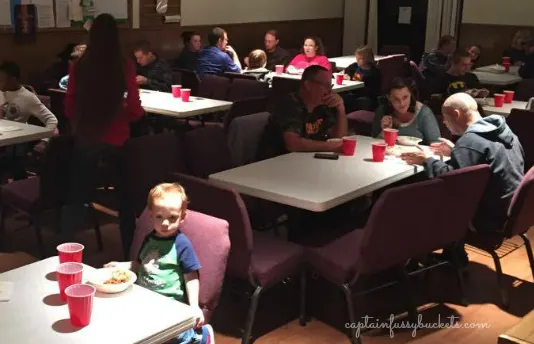 Blue Bell ice cream!!!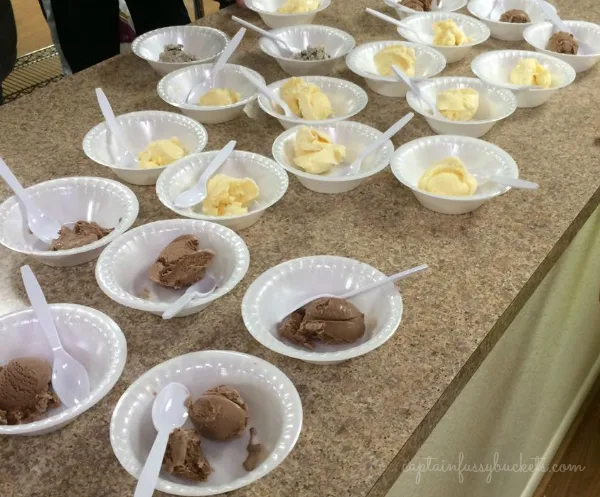 The HP Envy, HP social media snapshots, and app all made it SO easy. Take the picture, upload it to the app, print it, and create! You can also use pictures from social media…of course! The app makes it super easy!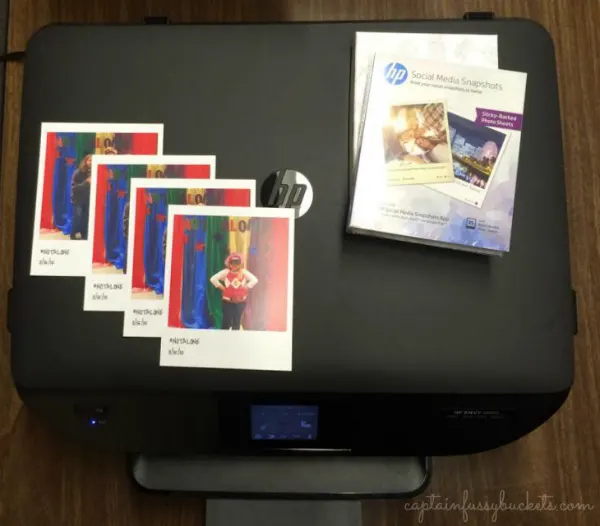 Having a daddy that's a youth minister is great because then you sometimes get to do what the "big kids" are doing! The boys adored this craft, too, which gives me great ideas to use these snapshots in other ways with them!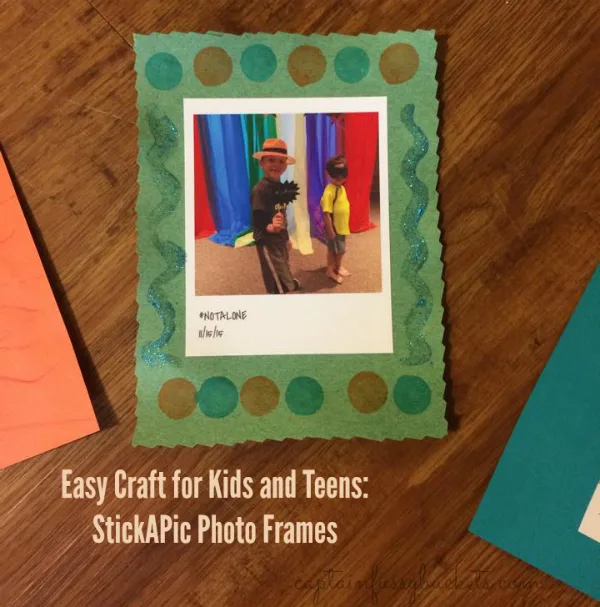 Supplies Needed:
Directions:
Find a sunny or well lit spot and a nice background (or create your own backdrop!) and snap a few pictures with some fun props.

Upload picture to the HP Social Media Snapshots app.

Add text and make your creation.

Print!

Design your picture frame on colored card stock using your choice of craft supplies and embellishments.

Peel the backing off of your social media snapshot, press to stick, and enjoy your creation!
What would you create with the HP social media snapshots?