Who can resist the tempting combination of creamy cheesecake and sweet, tangy strawberries? This recipe for Strawberry Cheesecake Cookies will be a hit in your house! These soft, chewy cookies are a delightful treat that brings together the best of two worlds – the sweet flavors of cheesecake and the fruity goodness of fresh strawberries. Get ready to embark on a culinary adventure to learn how to make these mouthwatering cookies!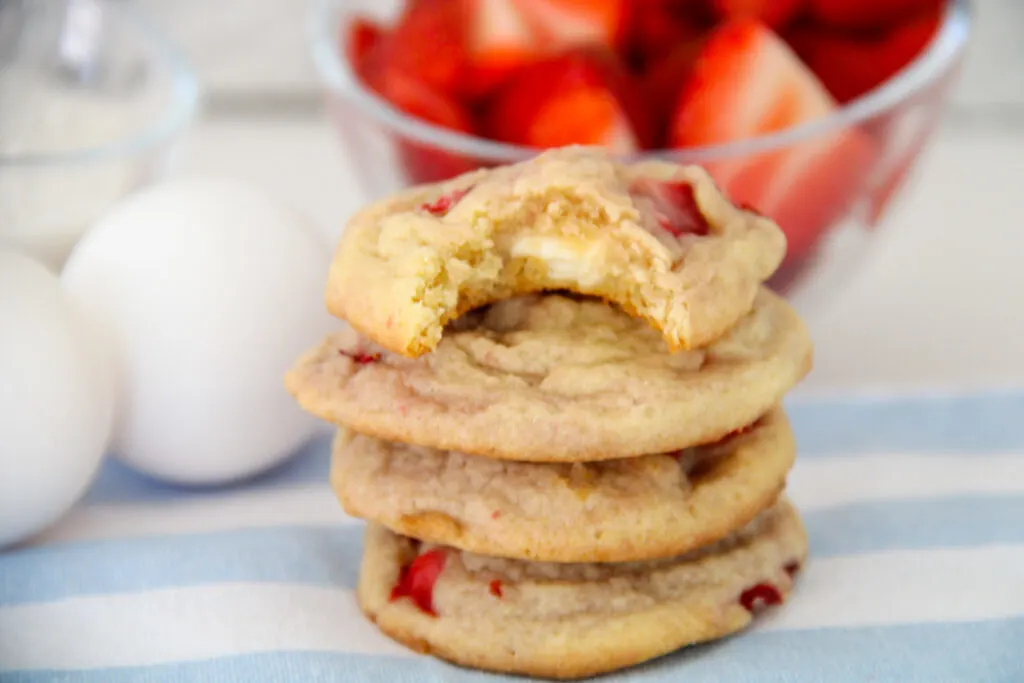 My family LOVES cheesecake. My husband is one to put strawberries on top of his cheesecake. There is just something awesome about the strawberry and cheesecake merging into one bite! This combination is a classic! The creamy, tangy cheesecake flavor perfectly complements the sweet and slightly tart flavor of fresh strawberries.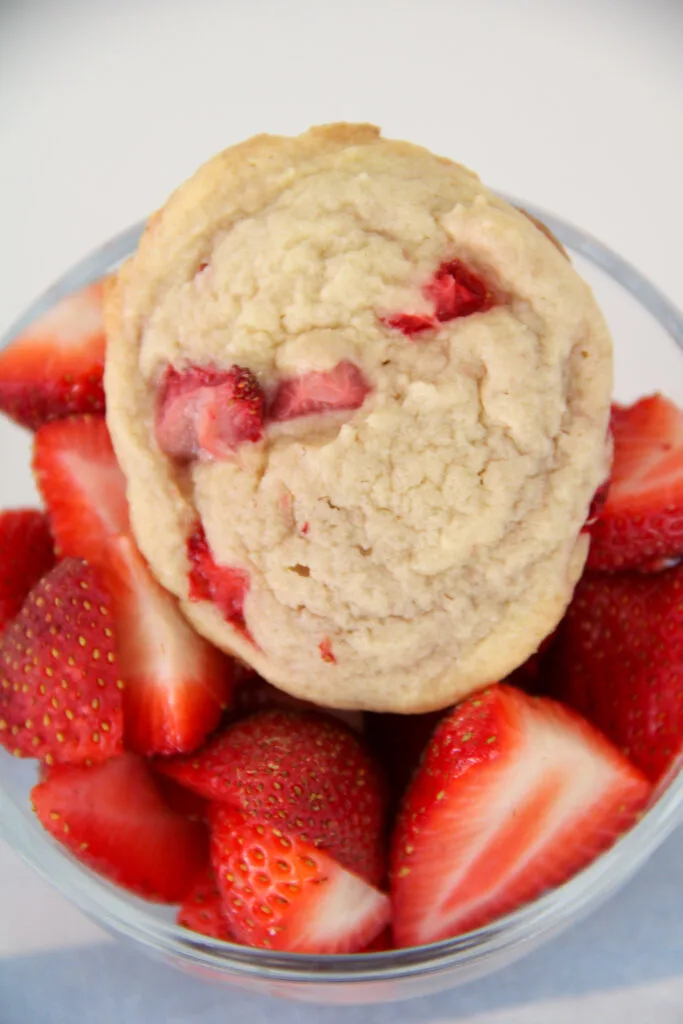 By incorporating these flavors into a cookie, you create a portable and bite-sized version of the beloved dessert! These cookies are great for anything!
Making strawberry cheesecake cookies is surprisingly easy. A basic cookie dough recipe, cream cheese, and fresh chopped strawberries are the perfect combo!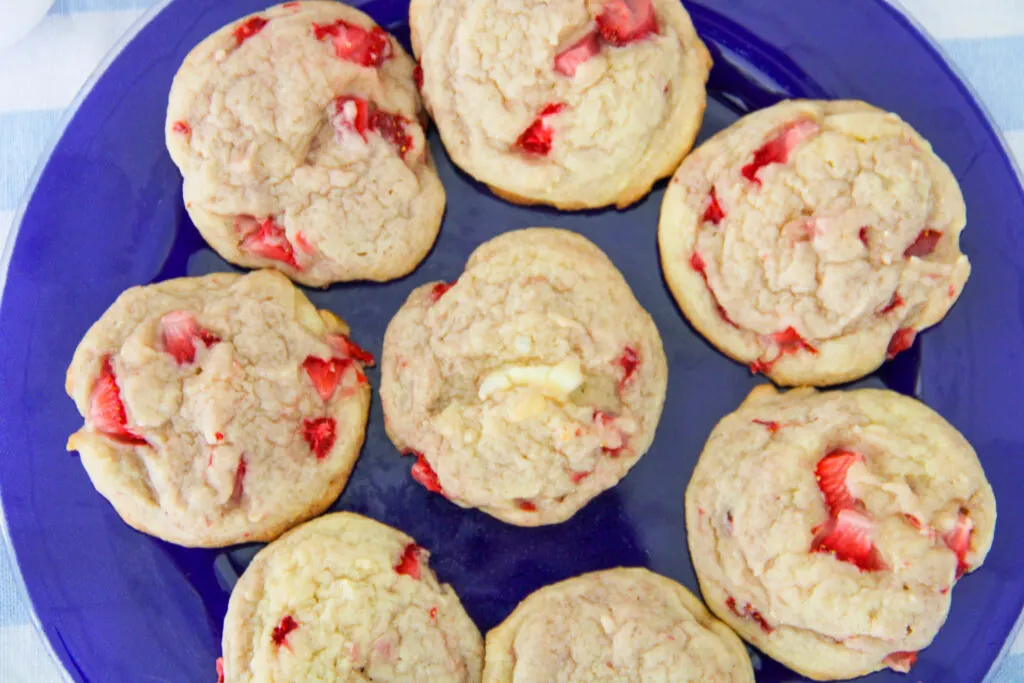 To make these cookies as good as humanly possible, use fresh, ripe strawberries for the best flavor. Avoid using frozen strawberries, as they may release excess moisture and affect the texture of the cookies.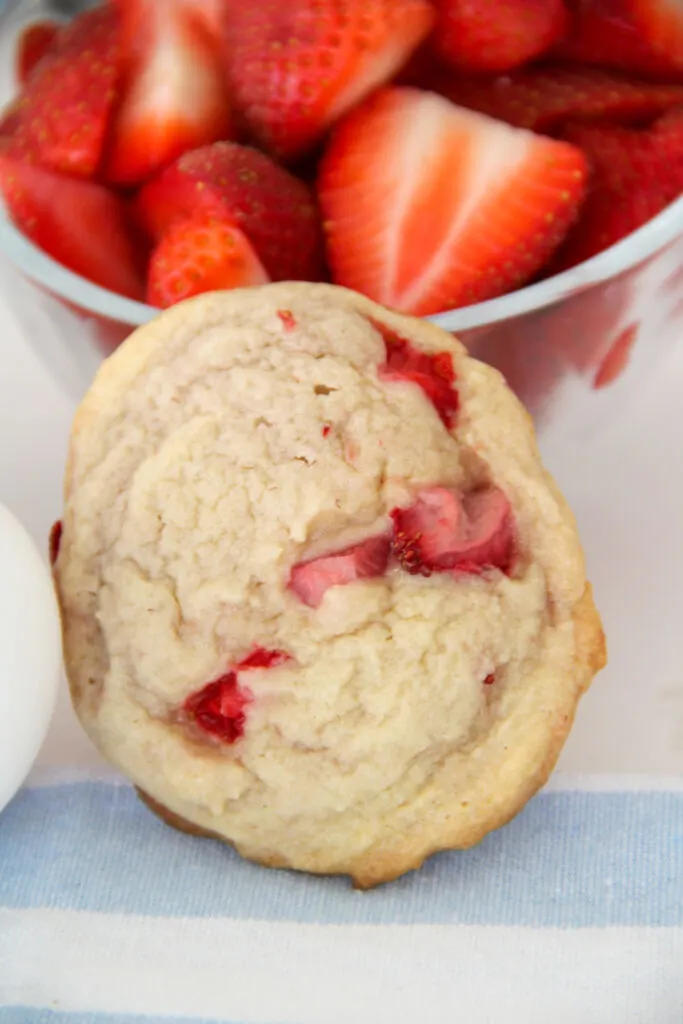 Strawberry cheesecake cookies are incredibly versatile and can be customized to suit your preferences. Here are a few ideas to get you started: add a drizzle of white chocolate or cream cheese glaze for an extra touch of sweetness. Sprinkle crushed graham crackers or cookie crumbs on top for added crunch. Experiment with different fruit combinations, such as strawberry-blueberry or strawberry-raspberry, to create unique flavors. For a touch of elegance, shape the cookie dough into thumbprint cookies and fill the indentation with strawberry am or a dollop of cream cheese that has been mixed with vanilla and sugar.
How will you enjoy these strawberry cheesecake cookies?
Want more? Try this
Strawberry Lemonade Bundt Cake
or No Bake Mini Strawberry Lemonade Cheesecakes!