This post was brought to you by the State Fair of Texas. All opinions are mine.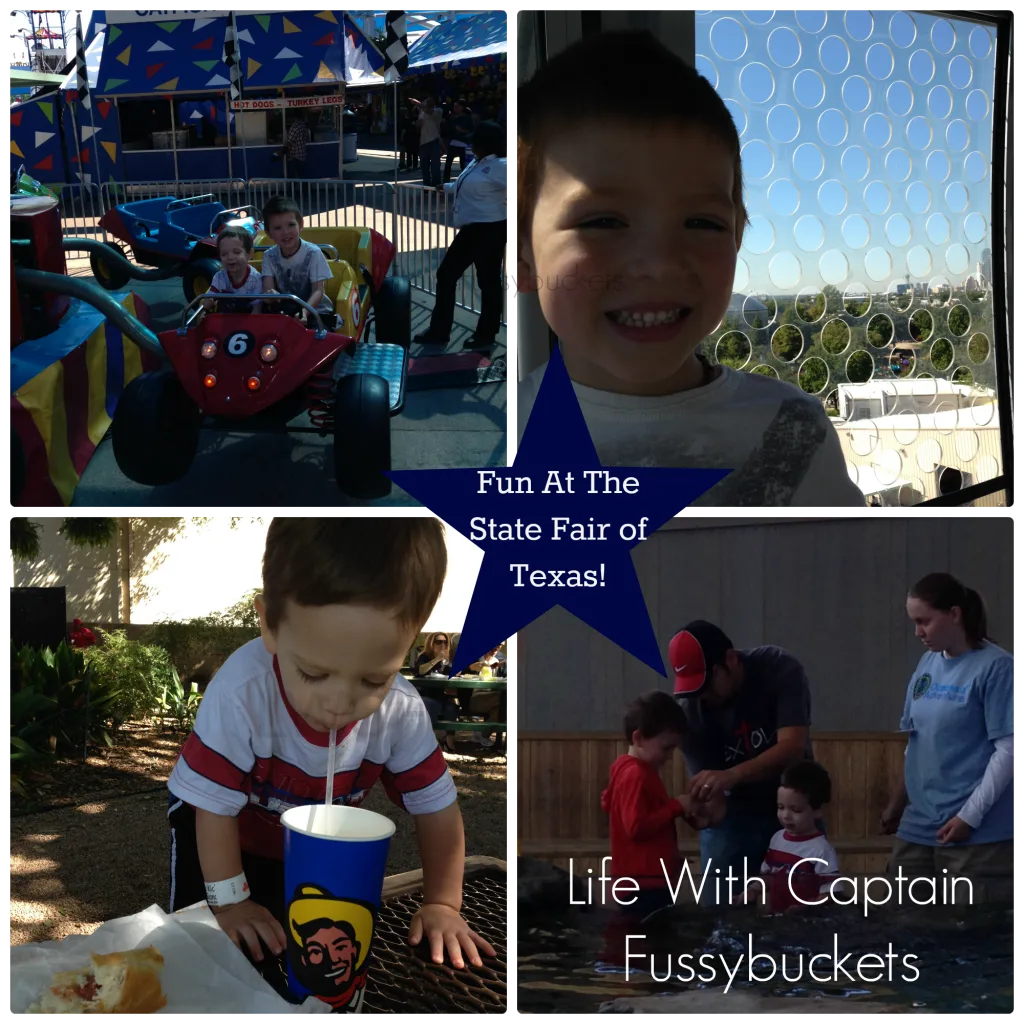 I had never been to the great State Fair of Texas, but being in the Dallas area the past few years, I knew it was a BIG deal! We were given tickets to experience it for ourselves, and I think we chose the best day to go. It was Thursday and the weather was absolutely perfect. It wasn't too busy, but there were definitely lots of people there, enjoying the fair on such a beautiful day.
We spent about four hours there, and that definitely wasn't long enough to do everything! There is just so much to do! We planned out our day with the free fair guide found at the entrance. We also got the boys Safe Kids bracelets to write our names and cell phone numbers on in case they happened to get lost, which was so helpful and reassuring! I suggest every parent stop by the Safe Kids table upon entering the fairgrounds.
So what did we fit into four hours at the State Fair of Texas? Well, we went to the children's aquarium, which is offereing a special state fair price of $5 per person, and children under three are free, which meant we all got to experience the awesome museum for $15. There were fish, sharks, turtles, sting rays, and more! The boys even were able to feed and "pet" the sting rays!
I knew the State Fair of Texas is known for it's delicious food, so we scouted out all of the vendors to see what we wanted. Sadly, I just wasn't hungry, so the boys split a hot dog and fries and I helped them with the fries. Hubby got some fried avocado bites, which were spicy guacamole/cheese filled fried goodness, and I had a few bites of those, too. Everything was really good! Later, we took a once in a lifetime chance and shared a fried Snickers bar. It was interesting…but delicious! We all had about three bites, which made it the perfect dessert without much guilt.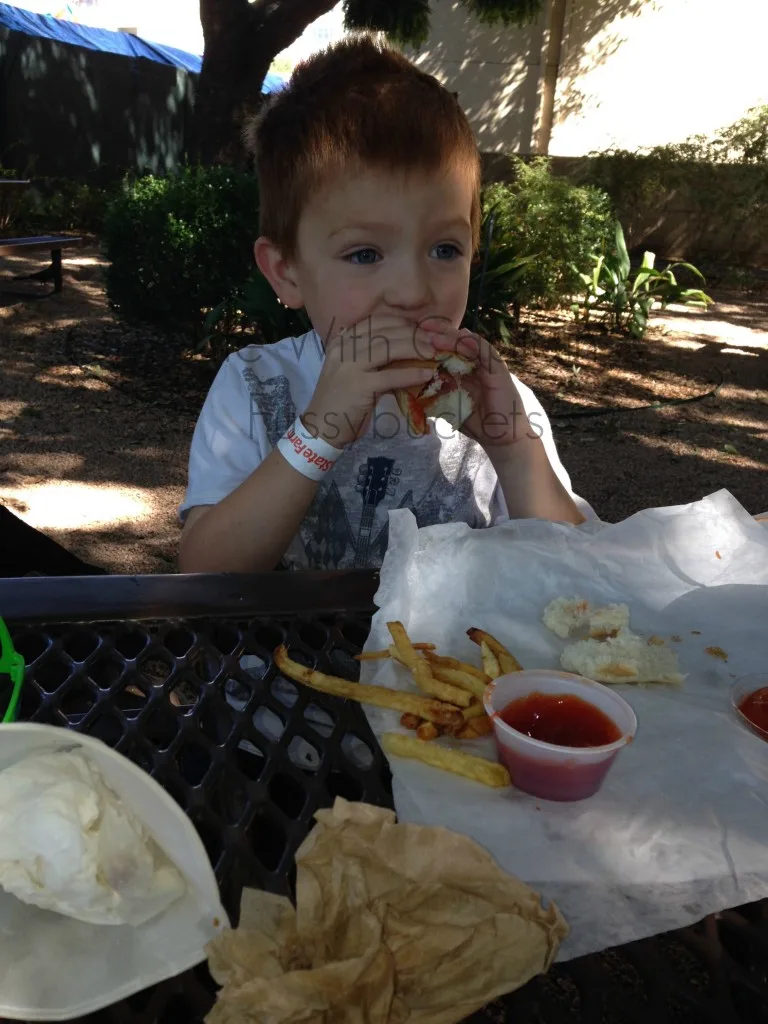 Daddy and the Captain also rode a few rides that the Captain was tall enough for, but D was not. There are some rides that D was old enough for, and he and the Captain rode them together, and had a blast!
All of the rides cost money, but there are a lot of free options, too. The boys were able to color mini pumpkins for free and we also saw the Birds of the World show in it's last year! It was pretty cool to see such awesome, trained, large birds!
There are TWO more days of the State Fair of Texas in Dallas! Plan to go early and stay late for lots of fun!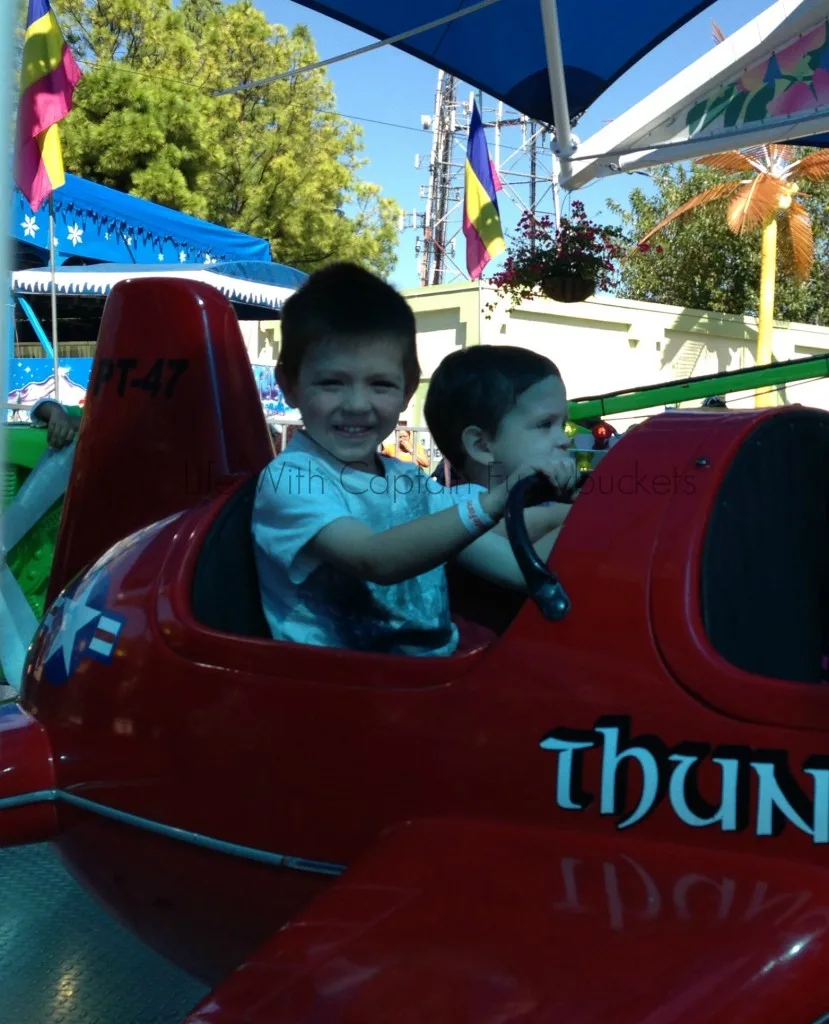 Have you ever been to the State Fair of Texas?
If so, what was your favorite part?