We have been so blessed to be able to take our kids to various shows like The Wiggles, Yo Gabba Gabba, and The Fresh Beat Band. The boys love dancing and singing and we have a lot of fun, too! When I first attended a kids' show, I think it was Yo Gabba Gabba in 2011, I had no idea what to expect. I had been to a lot of concerts for grown-ups, but kids' shows are a whole different thing! I, along with some fellow parents, have come up with some handy tips (and etiquette!) for attending kids' shows to make them pleasant for everyone.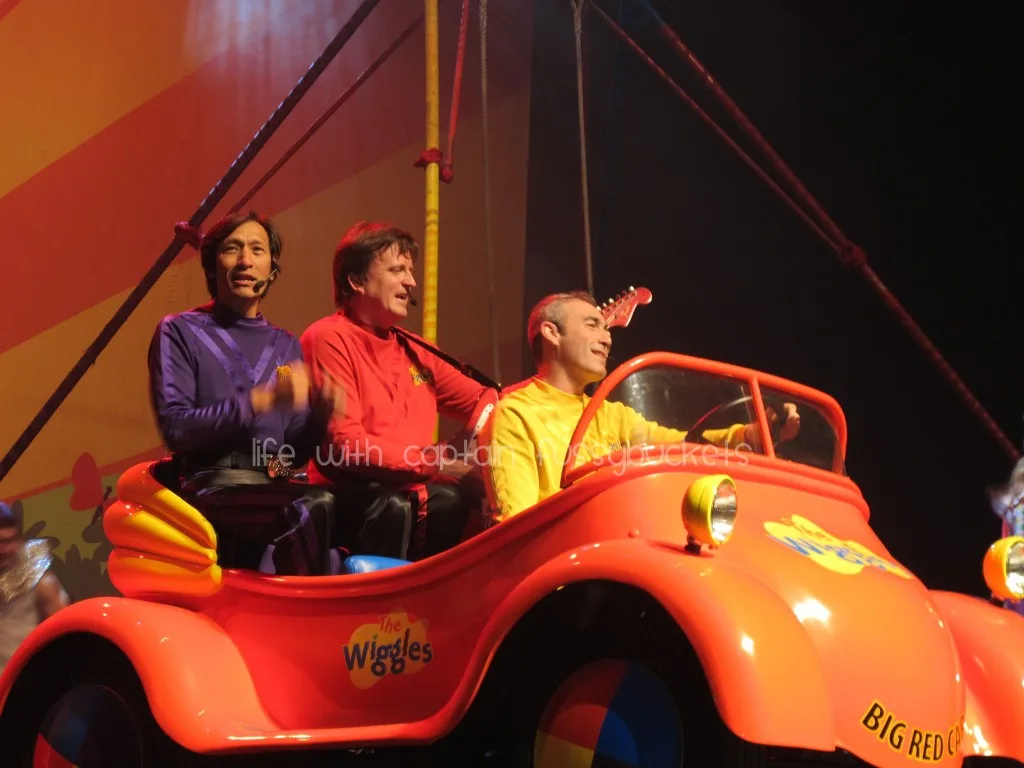 1. It's annoying when adults sit in front of little kids. It's hard enough seeing! I also advise not to let your kids play with the souvenirs during the show as it's quite distracting when they light up." Laurel from Let's Go On A Picnic.
2. Keeping #1 in mind, I have to add that if you're an adult, please think twice before letting your child sit on your shoulders. It's one thing if you're at the very back and they can't see, but when we went to the Yo Gabba Gabba show a few weeks ago, there was a man on the FRONT ROW who let his daughter, who was quite tall, sit on his shoulders through most of the show. That was very rude to everyone sitting behind them.
3. We went to YGG recently too. With three kids, the snacks were slightly over-priced. Pack some snacks & a drink. Also, the souvenirs were pricey. The beanie babies were $15 each. I came home & got my son all 5 for $30 on Amazon." Rita from Mom With A Dot Com
4. My personal advice would be to avoid the souvenir table all together. My sons are both so caught up with the excitement, they barely notice. Well, until they see kids with toys and such and complain about not getting one. Money is, in my opinion, better spent on good seats rather than souvenirs.
5. Some venues won't let you take snacks/drinks inside, they actually check your bags first. We always make sure to eat right before the event so no one's hungry during it. Pack an activity or two in case one child is bored during the show – this will keep them from ruining it for your other children as well as other attendees around you. Also, please don't allow your children to stand in their seat during the show. It's unsafe and it blocks the view of children behind yours!" – Kecia from Southern Girl Ramblings
6. My biggest pet peeve is screaming kids. I don't mean those that are singing along, etc., but a kid that is really poorly behaved. I know you paid for the seat, but take your child out if they are disturbing others. I wrote a post about Broadway show etiquette, because we had a terrible experience lately." Cecile from The Shopping Duck
7. Oftentimes, they hold "Meet & Greets" right in the venue, but usually it's a paid VIP experience. It's hard on kids to tell them they can't go meet their favorite characters and other kids can, so hurry out after the show and try to distract them! 🙂
8. Captain Fussybuckets had the awesome opportunity to go on stage at the last Yo Gabba Gabba concert. It wasn't anything that you had to pay for, it was all random. Of course, the Yo Gabba Gabba friends picked kids close to the stage, but it was all in one concentrated area. If you want a shot at getting your child on stage, you have to buy tickets close to the stage. But, Baby D and lots of other kids started wailing during this part of the show because it really is unfair. Most every child there wants to go on stage. It might help to talk to your child prior to the show about how some kids will get to go on stage and that's okay. Maybe tell your child how excited they should be for those children? I don't know, that's a really hard one.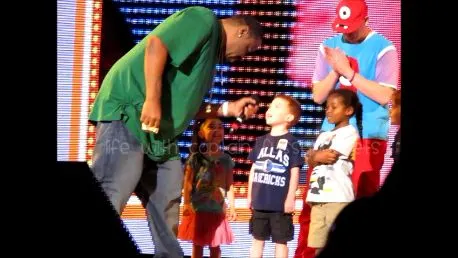 9. Here's an etiquette tip for parents: Don't be lame and sneak up to empty seats mid show. Just don't do it. Beside the risk of security checking your ticket and sending you back to your seats, you are being dishonest and your child will see that. That's not a lesson I want my child to learn from me, even if they do get closer to the stage.
10. Have fun! It really seems that kids' shows can be very chaotic, even moreso than grown-up concerts sometimes. Parents are trying to please their children and some parents spend tons of money to try to make it the best experience possible. Just sit back, enjoy the time with your kids, and keep in mind that they probably won't be into these characters in a few years, anyway. ha!
Do you have any tips or pet peeves to add? What was the best kids' show you have been to?