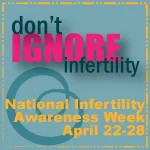 I hope that this has been an educational week, raising awareness for infertility through the guest posts and stories about infertility. I am so honored to have one more fellow blogger's story. After you read her story, check out her blog at East 9th Street.
"My Uterus Needs A Welcome Mat"
Maybe my uterus isn't inviting enough. You know how it is when you're looking for a new house and you drive by one that sounded great on paper but looks less than desirable? I'm starting to wonder if that's what going on each month during ovulation. My eggs have an ad posted but my husband's sperm are swimming by thinking, "we'd love to stop but that place is so old. Let's find something newer." They say curb appeal is everything so maybe my uterus does need a welcome mat.
My husband and I have been trying for over an 18 months to get pregnant. The first six months we understood – it takes time. The six months after that, we started to get worried and now over eighteen months from the time we started, we're discouraged. The biggest thing we have against us is our ages. I'm 37 and he's 49. Not old by any means in terms of how we approach life but when it comes to our fertility, let's just say we should be getting our AARP cards sometime soon.
We had our daughter when I was 35. I never thought I wanted children but after an oops and a miscarriage, I realized that I wanted a baby more than anything. We did everything my OB/GYN told me to do and within 3 months of trying, we were pregnant. An easy conception, an easy pregnancy and a really easy birth, what more could I ask for?
Fast-forward almost 3 years later and all we want is another baby. Both of us have a clean bill of health – I ovulate, his boys swim, all of our hormones levels are where they should be. We've only told a handful of people that we're trying so much of our struggles have been in private. It's not that our families and friends wouldn't be supportive, its more because we don't want the added pressure of them knowing what we're going through. We've already put enough pressure on ourselves.
So we've decided that whatever happens, happens. We'll continue to do everything we can control to improve our chances of having another baby. Our insurance doesn't cover infertility treatments and we're not in the position to pay for them out-of-pocket. When people ask me if we're going to have another baby, I just tell them we're not sure. After all, that is an honest answer. Hopefully someday I'll be able to answer that question with an emphatic, "why yes we are" and then you'll know, the welcome mat worked. 🙂