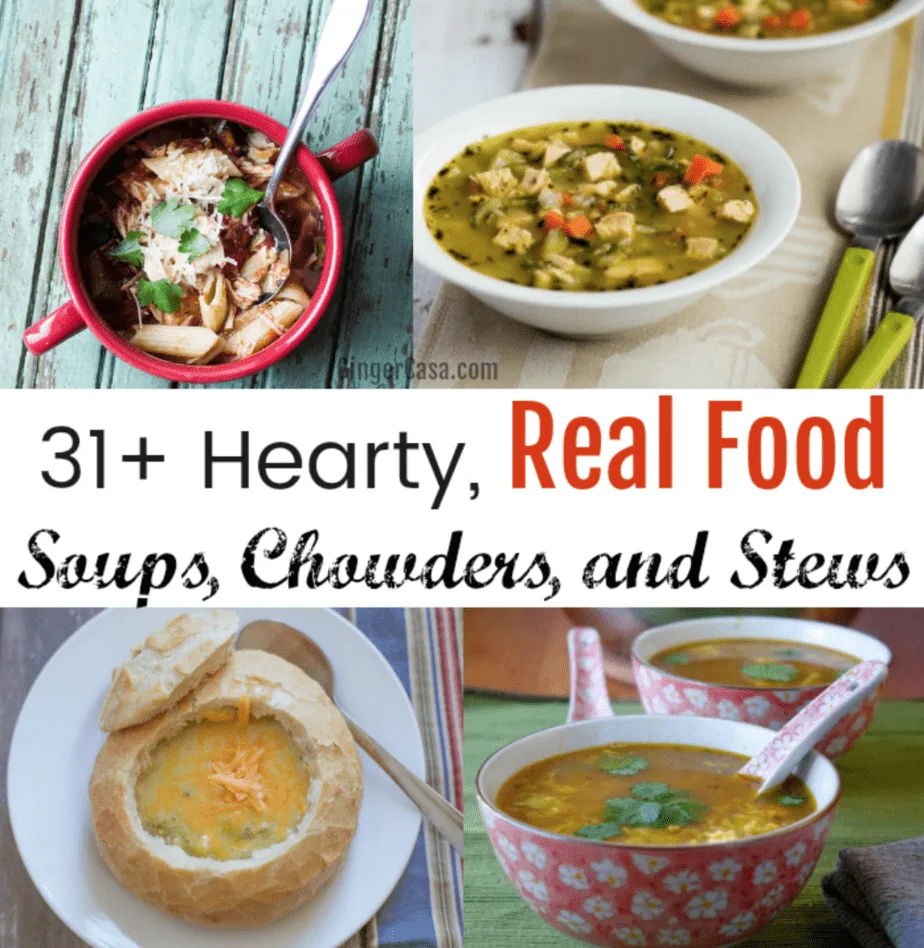 The nights are becoming cooler and that means it's soup season! I have made a collection of hearty and filling soups, chowders, and stews made with real food! No condensed soups, processed foods (that you can't omit or substitute,) just real, delicious food ingredients. If you stumble upon a recipe made with canned condensed soup, there is always a way to make it homemade. Try this recipe for homemade cream of mushroom soup!
Beef
Chicken
Easy Homemade Chicken Noodle Soup
Chicken Peanut Stew with Sweet Potato
Awesomely Fantastic Homemade Chicken Soup
Black Bean Soup in Cumin-Dusted Bread Bowls
Slow Cooker Chicken Parmesan Soup
Chicken, Sweet Potato, and Kale Soup
Green Posole with Shredded Chicken
Turkey
Romanian Meatball Soup with Rice
Low Carb Turkey Soup with Zucchini Noodles
Instant Pot Turkey Wild Rice Soup
Thai Turkey Cold Busting Hot and Sour Egg Drop Soup
Pork
Bacon
Instant Pot Loaded Potato Soup
Sausage
Spicy Corn and Sweet Potato Chowder
Southwest Chowder with Cornbread Dumplings
Seafood
Simple Corn and Clam Chowder
Paleo Moqueca Brazilian Fish Stew In The Slow Cooker
Creamy Cauliflower & Crab Soup
Vegetable
Zucchini and Yellow Squash Soup with Rosemary and Parmesan
What is your favorite cold weather recipe?