I have fond memories of cooking with my mom and also my grandmothers when I was little. This is something moms do naturally because it is fun to cook alongside your child and teach them how to eventually, cook on their own. Having three boys has proven no different. The boys have each loved to help unroll dough, cut out cookies, crack eggs, slather on icing, dump in blueberries, stir the meat, etc.
Just like when kids are little and want to run the big vacuum all by themselves, cooking makes them feel independent and "big." Sometimes it can get messy, but if you have the patience and the ability to shrug off any spills and say "it's ok, everyone makes messes, we can clean it up!" then having your child by your side as you cook will prove to be beneficial in the long run. Recipes for kids to help with really help!
So many parents feel like their kids "just aren't ready" when it comes to cooking, but every child can do something to help with cooking a meal, even if it is dumping a cup of flour in the mixer. This is a great time to teach safety rules, where our food comes from, and even proper hygiene while dealing with uncooked foods and foods that people will eventually eat. (No one wants someone cooking their food who hasn't washed their hands!)
I went in search of a *few* recipes that are great for cooking with kids, and I came up with an extensive list. There are over 95 awesome recipes that vary in skill level (and patience level!) that you can make with your kids and they will love to eat when complete. No bake recipes, breakfast recipes, breads, snacks, main meal, desserts, and even holiday themed recipes, all that you can create with your little ones.
Some of these recipe posts have instructions on what kids can help with, and most of these bloggers have experimented cooking these recipes for kids with their very own children, so you will have to read and see what their experiences were! I loved putting this list together and seeing all of the adorable cooking kids!
So, take a deep breath and look through this list, preferably with your kids, to see what you would like to create together in the kitchen today!
Recipes for Kids
Breakfast
Quick Air Fryer Breakfast Pockets
Overnight Oats 3 Ways – We're Parents
Kid Friendly Breakfast Sushi – Raising Whasians
Copycat Gluten-Free Reese's Puffs Cereal – Strength and Sunshine
Strawberry Lemon Cream Breakfast Tarts – Plating Pixels
PB and J Waffle Kabobs with Fruit – The Shirley Journey
Strawberry Glazed Mini Chocolate Donuts – The Shirley Journey
Mini Peanut Butter Banana Muffins – Natalie's Health
Easy Banana Oat Bars – The Lean Green Bean
Oatmeal Breakfast Cookies – Kristine's Kitchen
Easy French Pastries – Eating Richly
3 Ingredient Banana Pancakes – Eating Richly
Breads
One Hour Bread – Momma Lew
Amish White Bread – Practical Self Reliance
Easy Fun Bread Shapes – Veggie Desserts
Main Meal
Quick and Easy Taco Soup – Really, Are You Serious?
One Pan Cheesy Chicken, Broccoli, and Rice – Sheri Silver
Easy Calzones using Biscuit Dough – Platter Talk
Tortilla Pizza Rollups – On My Kids Plate
Pizza Bagels (Allergy- Free) – Strength and Sunshine
Gluten Free Cheesy Chili Mac – Mom Foodie
Cheeseburger Tator Tot Casserole – Baking Beauty
Ginger Lemongrass Chicken Meatballs – Healthy Little Foodies
Coconut Chicken Tenders – Home Cooking Memories
Rainbow Chicken Wrap – Live Love Texas
Muffin Mini Pizza – Life At The Zoo
Crispy Baked Goldfish Cracker Fish Sticks – The Suburban Soapbox
Pizza Empanadas – Latina Mom Meals
Bacon and Pepperoni Pizza Roll-Ups – The Shirley Journey
Air Fryer Pita Bread Pizza – Recipes from a Pantry
Parmesan Crusted Chicken Tenders – Finding Zest
Southern Slow Cooker Pulled Pork Sandwiches – Arts & Crackers
No-Fail Creamy Macaroni and Cheese Recipe – 5 Minutes for Mom
California Rolls – What A Girl Eats
Pizza Quesadillas – The Seasoned Mom
Freezer Chimichagas – Day to Day Adventures
One Pot Sausage Pasta – Cook Eat Go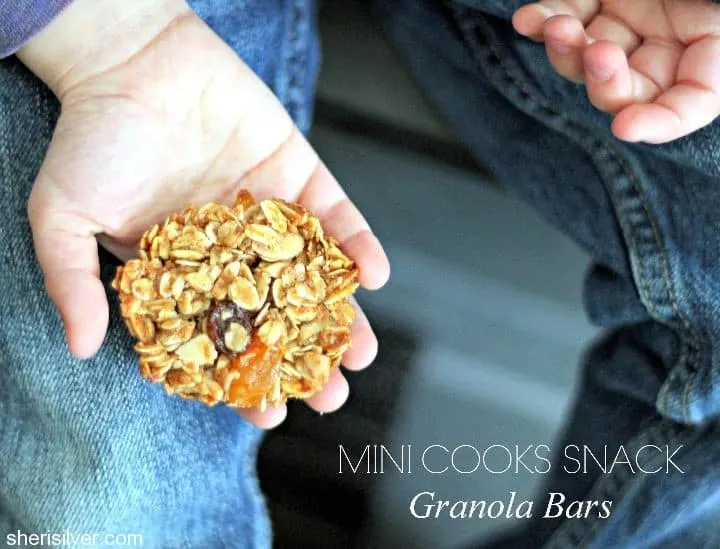 Snacks
Quick and Easy Fruit Turnovers
Easy 10 Minute Strawberry S'mores
Peanut Butter Chocolate Energy Balls
Peanut Butter and Jelly Bagel with Chia Seeds
Granola Bars – Sheri Silver
Greek Yogurt Frozen Pops with Sneaky Veggies – Really, Are You Serious?
Frozen Yogurt Bark – Courtney's Sweets
Pear "Fruit" Donuts – On My Kids Plate
3 Ingredient Banana Popsicles – On My Kids Plate
Cranberry Coconut Energy Bites – We're Parents
Raspberry Banana Cookies – Healthy Little Foodies
Rice Krispie Treats Cars – Nellie Bellie
Goldfish Pizza Snack Mix – The Suburban Soapbox
Healthy Greek Yogurt Chocolate Dip – My Everyday Table
Winter Fruit Salad – Building Our Story
Chocolate Ice Cubes – Planted 365
Oatmeal Raisin Energy Balls – Salt and Baker
Yogurt Parfait – Create Kids Club
Whole Wheat Oatmeal Fudge Bars – Eating Richly
Hulk Smoothie – Healthy Christian Home
Veggies
Seminola Vegetable Muffins – The Belly Rules the Mind
Butternut Squash Latke Recipe – Eating Richly
Cucumber Tea Sandwiches – tikkido
Easy Dill Pickles – Creative Green Living
Desserts
Chocolate Snickerdoodle Cookies
Double Chocolate Oatmeal Cookies
Oatmeal Cookie Fruit and Nut Bars
Quick Microwave Chocolate Candy
Easy Spring Cupcakes with Vintage Seed Packet Cupcake Toppers – tikkido
Cupcake Cones – Sheri Silver
Chocolate Mousse Pie – Courtney's Sweets
Marble Cake Recipe from Scratch – Platter Talk
Supernatural Fudge Brownies – Platter Talk
Strawberry Icebox Cake – Mom Foodie
Unicorn Candy – Mom Foodie
Brigadeiros – Brazilian Chocolate Fudge Balls – Living Sweet Moments
Chocolate Banana Peanut Butter Milkshakes – Adventures in Familyhood
Mango Pineapple Sorbet – Finding Zest
3 Ingredient Oatmeal Raisin Cookies – Adamant Kitchen
Vegan Dirt Cups – Fried Dandelions
Strawberry Poke Cake Cupcakes – Beyer Beware
Gluten-Free Boysenberry Thumbprint Cookies – 5 Minutes for Mom
Quick and Easy Oreo Ice Cream Cake – Frugal Family Times
Dirt Pudding Cups – Moore or Less Cooking
Chocolate Chip Peanut Butter Cookies – Savory Nothings
Gluten-Free Vegan Oatmeal Raisin Cookies – One Clever Chef
Healthy Easy Strawberry Cobbler – Eating Richly
Super Moist Healthy Carrot Cake – Eating Richly
Seasonal Recipes
Christmas Rice Krispie Treats – Courtney's Sweets
Pumpkin Cupcakes with Cream Cheese Icing – Courtney's Sweets
Easter Peeps Cupcakes – Vibrant Guide
Mini Snowman Fruit Tarts -The Analytical Mommy
Honey Bun Cake without Sour Cream – Sweet T Makes Three
Halloween Puff Pastry Mummy Cheese Wheels – Plating Pixels
Vegan Thumbprint Cookies – Fried Dandelions
Traditional Rolled Sugar Cookies – The Organic Kitchen